When it comes to raising babies, there are few things I dread more than potty training and this week we'll be doing it for the 5th and final time. Never thought I could get sentimental over such a tedious, messy and pain in the butt task but here I am with all the feels about it. Guess I've been hanging on for dear life to this sweet toddler stage that Poppy is in and seeing her without her adorable diaper bottom takes us one step closer to being a big kid. Which is so rad too. I love watching my kids grow, but the last one is a hard one.
Like sleep training and just about every other aspect of parenting, we don't have a system that we've used for all of our kids that's been wildly successful, but I do have a few guidelines that might help.
MY 5 TIPS FOR POTTY TRAINING
ALL ABOARD THE HYPE TRAIN: For a couple weeks before you start, make going potty on the toilet a big exciting deal. Talk about it, sing about it, read about it, and generally speaking, build the hype. (My older kids have been doing an amazing job of this for me this time around… I'll share more below.)
BE PREPARED: Like just about everything else in life, it's good to be prepared. I'll share a short list and pic of items we keep on hand and easily accessible while potty training, below.
HAVE A PLAN: Are you going straight to undies, using pull-ups, or a combination of both? What about nap time, bedtime, school carpool, errands and going over to other people's homes? Do you need to clear your calendar for a few days while getting things started? Thinking about these things will help with consistency which is half the potty training battle.
BE FLEXIBLE: Nothing is worse than putting a bunch of pressure on yourself or your child over saying bye-bye to diapers. You know what you and your babe can handle so listen to your gut and try to have a little fun with it.
DON'T GET DISCOURAGED: There will be good days followed by bad days and then eventually a few good weeks followed by a few horrible days and you'll wonder when the accidents will end and if you're doing it wrong and if you'll ever be able to make it through the grocery store without taking a potty break. The answer is yes. And no. All at once. Just remember, no one goes to kindergarten in a diaper and no preschool teacher is caught off guard by an accident. So, just ride the wave… it's less exhausting that way.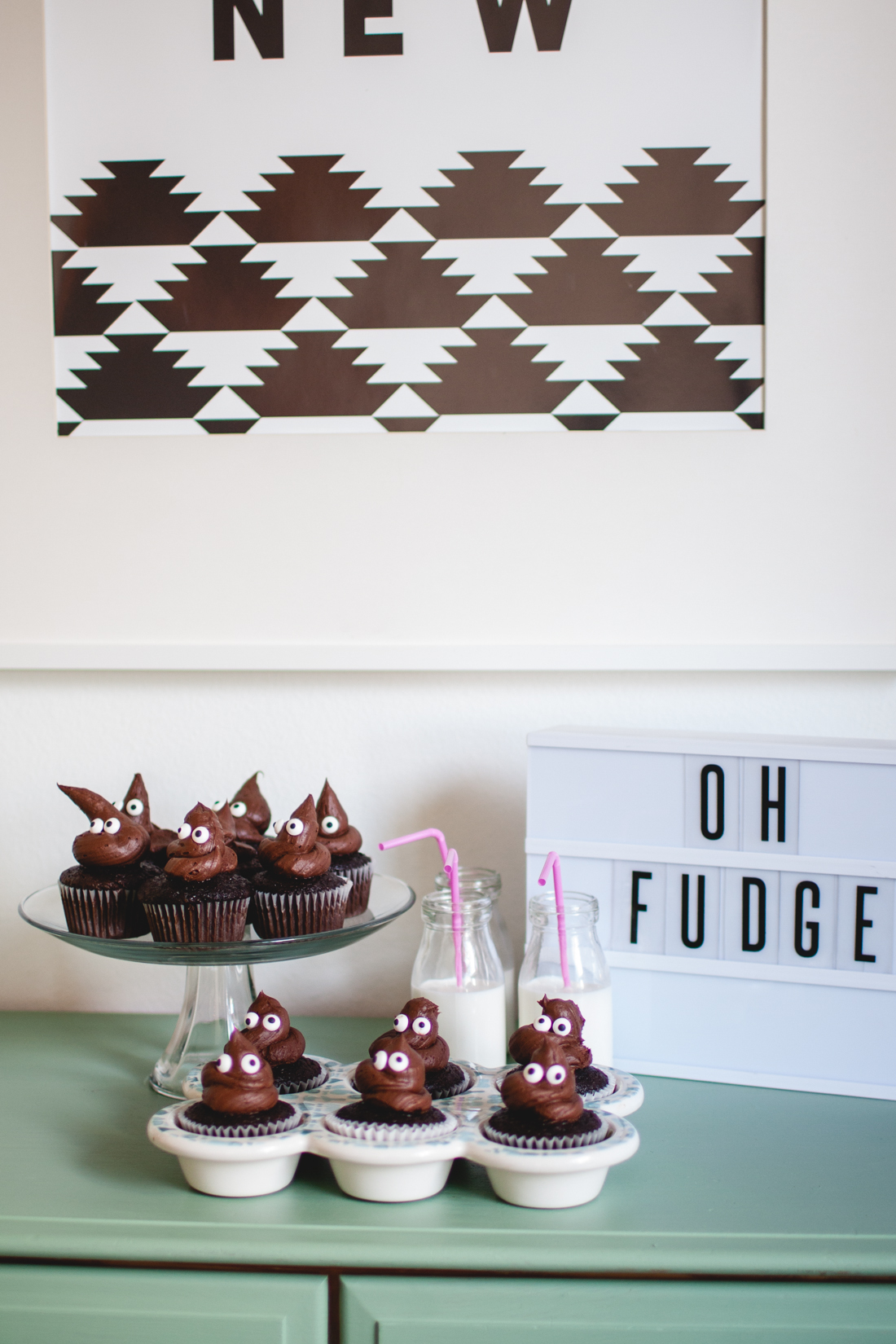 Remember tip no. 1? The hype has been building in our home since Christmas when Poppy got big girl undies in her stocking (I've just been dragging my feet). Her siblings think potty training is like the best, most exciting thing ever and have been doing more than enough hype building. It's really sweet to watch.
Last week Griffin announced that Poppy wasn't just potty training, she was POOPY TRAINING! Which everyone thought was hilarious and somehow lead to making poop emoji cupcakes. So, that's just what we did over the weekend and they actually turned out so incredibly cute.
TO DECORATE THE POOP EMOJI CUPCAKES, I scooped chocolate frosting into a pastry decorating bag without a tip/attachment (a ziplock with big hole cut in the corner would do the trick too) then squeezed a swirl out on top of each cupcake and then added candy eyes (target usually carried them too). Easy peasy!
A peek at what's in our potty training kit that I keep in or near the downstairs bathroom:
wet wipes — disinfectant wipes are a good idea too.
juiceboxes — lots of liquids makes potty training so much easier!
extra undies and leggings
small treats — I love little suckers and smarties because they last the longest but the serving size is still small.
stickers
bubbles — or other activities. This is super important if you are potty training in the winter!
We're officially starting Poppy in big girl undies tomorrow so I would love to know what other tips or supplies would you add to the list?!
XO, Rae