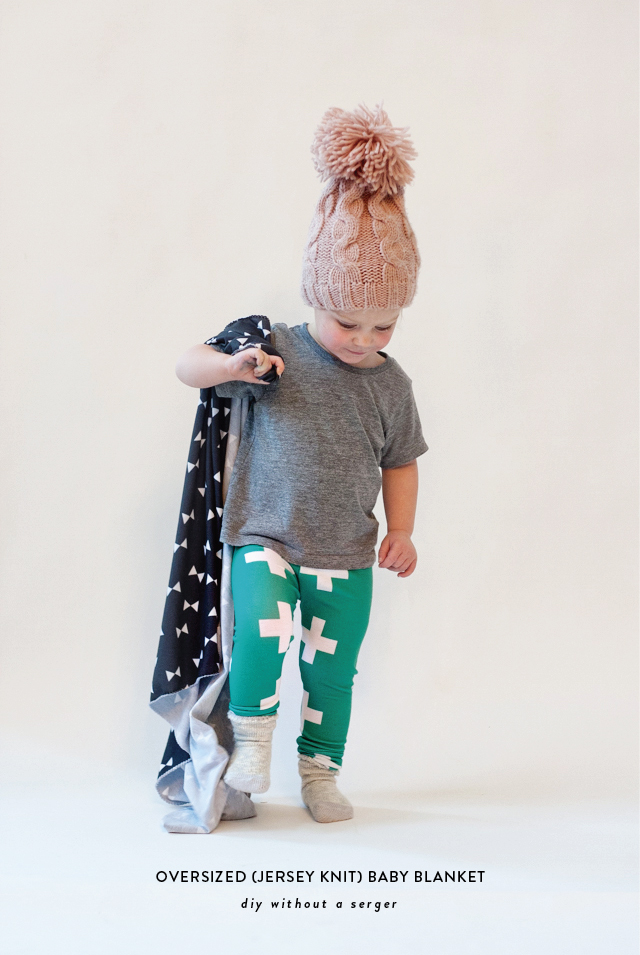 (My friends little girl, Bellamy with one of the blankies)
Shortly before Poppy was born I splurged on a couple jersey knit baby blankets. Partially because they seemed more swaddle friendly than the muslin version and partially because I adored the fabric patterns they came in… (justifying purchases comes easy to me in the 3rd trimester). But I had no idea just how handy they would be. I used them for everything from swaddling to nursing (because of the generous size) to wiping spit up and everything in between.
I also had no idea just how simple it would be to make a few. The ones I purchased were finished with a serging machine but I'm going to show you a no-fuss way to finish the raw edges with a regular sewing machine.
(I'll share a NO-SEW version below as well!)
YOU'LL NEED:
about 1 to 1-1/2 yard of cute jersey knit fabric (stretchy legging type material – I made these designs bows/brrr/bears for a collaboration with Hen&Co. and they are available in my Spoonflower shop now!)
coordinating or contrasting sewing thread and bobbin
sewing machine
scissors (if you have a designated pair for fabric it helps!)
HERE'S HOW:
If needed, trim fabric to the size you want your blankets. Mine are 36×42 inches which is a generous size but could be a little bigger.
Thread sewing machine and set to: zig-zag stitch, stitch length 3, stitch width 7, and normal tension (mine is between 3-4). This is honestly the hardest part, LOL.
Practice sewing a 1/8″ seem along the edge of one of your jersey knit fabric scraps. If you don't have a needle plate with measurements on it (see pic), feed the fabric through the middle-right of your presser food. The raw edges of the fabric bunches and rolls a little which gives it a rick-rack looking edge.
After a little practice, repeat the same technique, sewing a zig-zag stitch along all the edges of your blanket. Tie loose threads, trim and your done!
NO-SEW OPTION: Jersey knits don't usually fray so you can actually just cut and use without sewing. The difference is that the edges will roll up and might get annoying so try brushing cut edges with a liquid stitch to see if that helps!
How sweet is little Winnie Wilde  all swaddled up? You can also find leggings in the new winter fabric designs in her mama's shop at Hen&Co on Etsy…. More on that soon!
Hopefully you have a babe or mama-to-be on your shopping list to gift one or more of these to. They really are so useful. Let me know if you have any questions about the DIY instructions or sewing in general.
XO, Rae