I know I'm not the only one that thinks or feels this way, but who, what, why and how is it so hard to get 'anything' done in the summer??? Ha! I know we all actually know the answer to this (our priorities change and time is never of the essence) but it catches me off guard all the time. Anyways, in true summer fashion, I've been meaning to share this fun cake decorating date we had at Frog Legs since the end of June and am excited to finally sit down and put it all together.
If you are local to the Seattle area and haven't checked out Frog Legs before, then you are in for a (literal) treat and need to plan a day to visit their shop, eat their cookies, do a drop in cake decorating session or sign up for one of their amazing classes (we've taken several).
If you aren't local, hopefully this post inspires you to spend more time in the kitchen creating. I absolutely loved our time decorating cakes and immediately purchased tools and supplies so we could keep the fun going at home… (more on that later).
Mrs. Frog Legs (the owner) was so generous in teaching a few tips and tricks for working with fondant — which has always intimidated me! However, assuming you're not trying to perfectly cover a cake in it, it's actually pretty easy to work with. Griff picked it up quickly too and was verrrrry into it which is always so fun to see!
Do you see all those colors? And the baking supplies? Can my real life kitchen look like this, please????
Griff is my new confectionery muse. I mean, look at that cake and how proud he was of it! So eclectic and unexpected and I love it so much. Just last week he was asking to go back and I think we'll have to do it before school starts.

Like I said, if you go, plan on stocking up on sweets. Every time we're in the area I stop and grab a to-go-box of cookies, cake pops and edible dough to bring home and it always makes everyone's day.
Taste testing the edible cookie dough and looking so big at the counter!
Did I mention they have a walk up window you can order from which is conveniently located across from the kids' play area at University Village? Brilliant.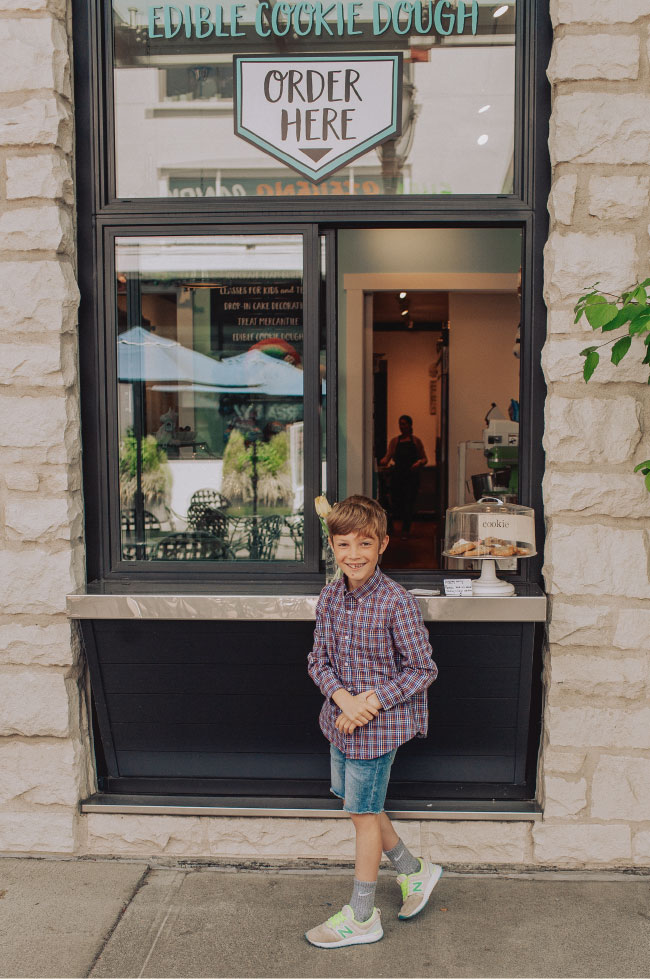 Thank you (so much) to Frog Legs for having us!
Head to their web site for all the location details and class info and be sure to follow along on instagram for loads of inspiration!!!
What kind of cooking class would you want to take if you could? I've always wanted to learn how to make homemade pasta and might have to take their session later this month! Anyone want to join me?
xo, Rae