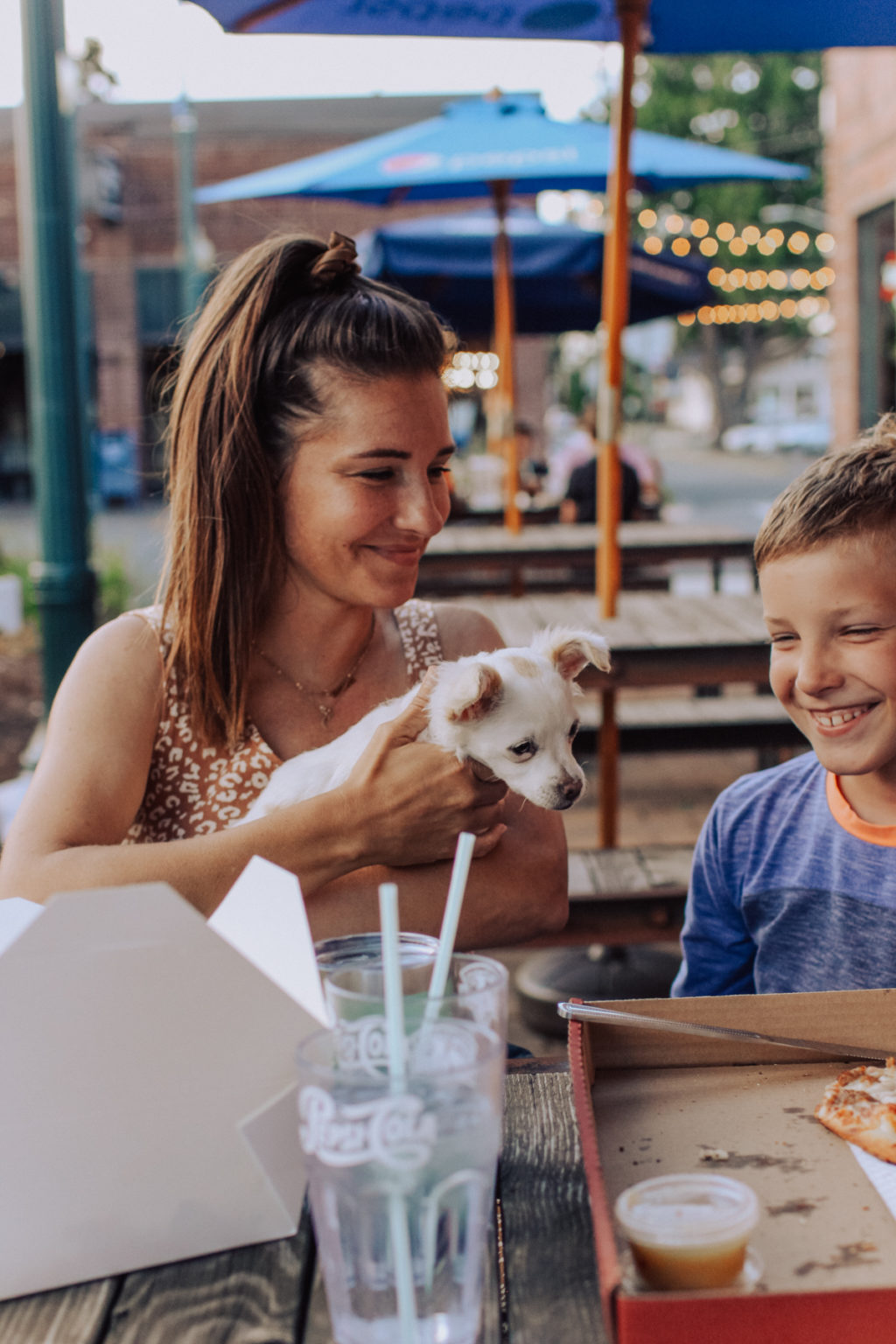 No dogs at the table, unless of course we're eating al fresco at a restaurant… Totally makes sense, right!? Ha! She's spoiled but still the sweetest puppy around so feel like we can get away with it. The further we get from the early puppy stage, the more mellow and predictable she gets which is nice too. However, she's starting to be able to jump up onto furniture, acts totally awkward on a leash, and still isn't potty trained so we have some work to do! But that's not what I'm posting about today, lol (tangent!).
Last night we ended our week with a pizza and no dishes (winning!), and today we're starting the week with a meal plan for the rest of the month! Scroll down for links and ideas!
I tried to capture some really cute pics of Johan and the kids, but all of his snaps ended up so much better than mine! Guess I need to start asking for some tips!
WEEK 1 |
MAKE it EASY MONDAY: Quinoa bowl with Rotisserie Chicken or Fried Egg (chicken or egg quesadilla for the kids with a side of watermelon)
TACO TUESDAY: Slow Cooker Street Tacos, Guacamole + Chips, + fruit
WHATEVER WEDNESDAY ;): Charcuterie for Dinner (or something easy from the freezer or pantry)
THURSDAY GRILL: Burgers, Veggies + Dip, Chips, + Fruit
TAKEOUT FRIDAY: or Leftovers!
YAY! SATURDAY!: Zucchini or Corn Fritters + Watermelon Juice or Lemonade (Options: Swap fritters for zucchini boats or add Grilled Salmon for more substance)
NOODLE SUNDAY: Arugula Pesto Pasta with Garlic Shrimp (butter noodles for the kids)
WEEK 2 |
MAKE it EASY MONDAY: Grilled Cheese + Caesar or Cobb Salad (or combine the two)
TACO TUESDAY: Fish Taco Bowls or This Fish Taco Recipe
WHATEVER WEDNESDAY ;): Breakfast for Dinner! (Our Go-To's: Savory Crepes, Egg + Sausage Breakfast Sandwich or Burrito, Avocado Toast, Quiche, Waffles + Smoothie)
THURSDAY GRILL: Santa Maria Tri-Tip, Tomato Salad, + Rice
TAKEOUT FRIDAY: or Leftovers!
YAY! SATURDAY!: Grilled Pizza
NOODLE SUNDAY: 5 Cheese Pasta + a Side Salad (or take it easy and make Ravioli's instead — Italian food 2 days in a row but not complaining… YOLO)
WEEK 3 |
WEEK 4 |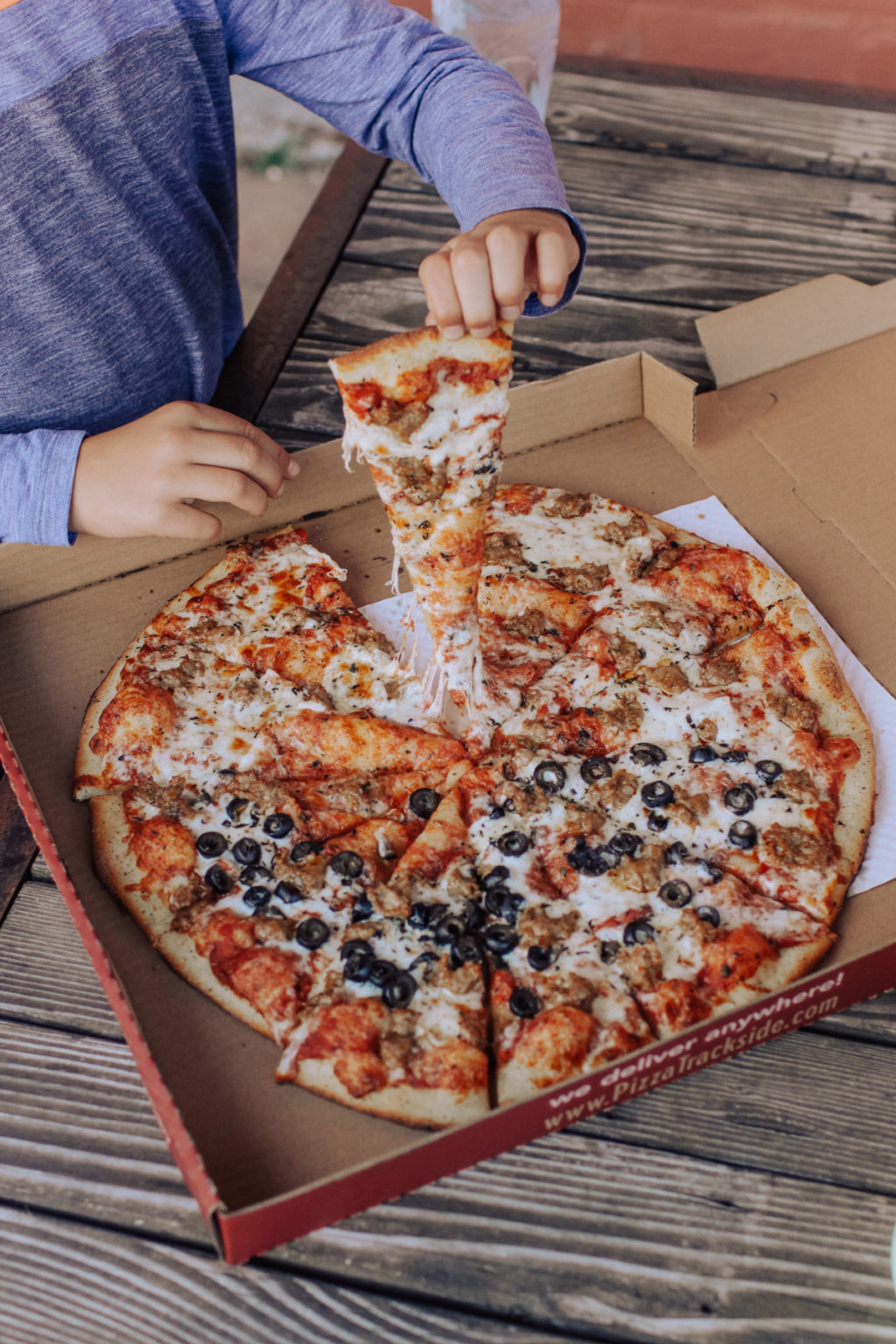 Not sure what it is, but I love pics of a messy dinner table.
BREAKKIE |
Really want to try this green smoothie.
Oatmeal Packets (Griffin + Poppy are on a kick)
Smoothies
Dutch Babies
LUNCH + SNACKS |
Still on a bagel + cream cheese kick over here! Add lunch meat + avocados.
Lunch platters (think casual charcuterie) are the best for the summer, especially if friends are over (a few ideas: sliced or string cheese, sliced meat, yogurt tubes, PB+J's, crackers, fishies, berries, apples, baby carrots, ants on a log, hard boiled eggs, etc.)
Popcorn (forever).
Yogurt Popsicles
Veggies + Dip
Melons
Pretzels + Nut Butter + Nutella
Also need to make banana pudding!
It's going to be a good month!
xo, Rae