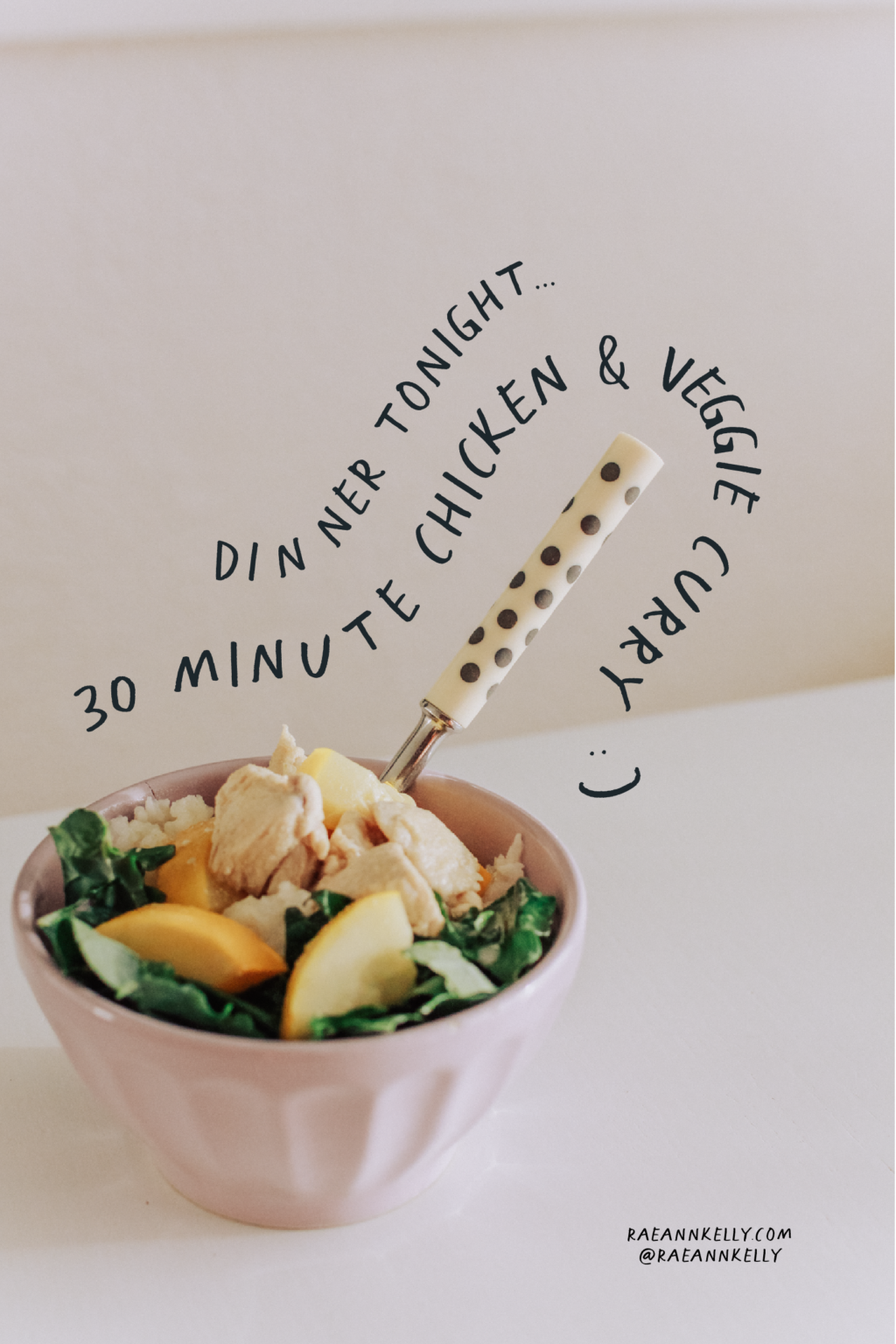 This recipe is a quick and refreshing twist on the basic chicken and rice dinner. We love that it doesn't skimp on veggies, but that they're also easy for picky eaters to avoid. The coconut sauce is also delicious on rice, and the ingredients are fresh and healthy! Let us know if you try this 30 Minute Green Curry Coconut Chicken and Zucchini dish in the comments or @raeannkelly.
GREEN CURRY COCONUT CHICKEN AND ZUCCHINI
This dish comes together in 30 minutes and dirties very few dishes. It's also healthy, easy to make and customize, and oh so creamy! Hope you enjoy!
YOU'LL NEED:
3

tablespoons

Thai green curry paste

1

can (14 oz)

unsweetened coconut milk

1

cup

chicken broth

2

tablespoons

sugar

2

tablespoons

coconut oil

2

cloves

garlic, minced

1

lb

chicken breast, cut into bite size pieces

2

zucchinis, halved and cut into 1/2 inch pieces

3

cups

baby spinach

1

lime, juiced

salt to taste

cooked rice for serving
HERE'S HOW:
Prep veggies and chicken. Cook rice according to package directions (I like to add a little coconut oil and salt to the water).

In a medium bowl, stir together the curry paste, coconut milk, chicken broth, and sugar. Set aside.

In a large frying pan over medium, warm oil and sauté garlic for a couple minutes. Add chicken and cook until opaque (approx 5 minutes). Add the zucchini and continue cooking until tender (another 5 minutes).

While the chicken and zucchinis are cooking, in a small pan over medium heat brinding sauce to a gentle boil unti thickened (aporox 5 minutes).

Pour thickened sauce over chicken mixture and simmer until chicken is opaque throughout. *Add spinach and lime juice and season to taste with salt. Stir to combine. Spoon rice into bowls, top with chicken and veggies, drizzle with extra curry sauce, and serve. YUM!!!!
OTHER POSTS YOU MIGHT LIKE: SCHOOL LUNCH MUST HAVES & NEW ITEMS IN THE SHOP, THE BEST LAZY GIRL'S LASAGNA RECIPE, DINNER TABLE CONVERSATION STARTERS (FREE PRINTABLE)
Happy (easy) dinner making!
xx, Rae