I know i've been a broken record lately when it comes to the weather but it feels like winter and spring have teamed up and are playing a really bad joke on us. Lately, we've been getting a random mix or sunshine and hail with buckets of rain in between. Super fun stuff. Especially while watching a baseball game, lol. Up until last week I was feeling alone in my springtime woes here in the PNW. However, after sharing an Instagram poll asking who was having fun in the sun and who was still having to bundle up, it turns out most of us (74%) are still waiting for spring to arrive.
So I figured we could all use a little pep-talk. I just hope you guys aren't sick of all my lists… Feeling like it's kind of the spring thing to do :)
5 WAYS TO FAKE SPRING
ADD SOME POPS OF COLOR. Pullout all all the brightly colored things from hibernation (i.e. the back of the drawer, closet or linen cupboard) and add to your lips, wardrobe or home! Flowers are always a good idea too!
RETAIL THERAPY THE SMART WAY. No one wants to make a warm weather purchase that ends up going on sale before you're able to wear it! Instead of clicking the purchase button right away, add a few things from your spring/summer wishlist to your virtual cart and wait for those sales to start! FYI: My cotton candy colored jeans are on sale plus 30% off right now at madewell!
DIFFUSE OILS & TURN-UP THE FEEL GOOD MUSIC. My favorite blend right now is 6 drops grapefruit, 4 drops lemon and 2 drops peppermint. As for the music, we've been listening to a lot of country lately. 60's music is always a fun way to lighten the mood too! (we have this diffusor and it works great!)
LOOK ON THE BRIGHT SIDE (even when it's cloudy). Spring is the season of planning, organizing and being productive. Sure, I might feel more motivated to work in the yard or do other spring cleaning items if the weather was nicer, but I would probably also be more distracted.
MAKE SPRING THINGS IN THE KITCHEN. Take advantage of all the new spring produce and flavors and get busy whipping up yummy desserts (like this one), cocktails and dinners! Hoping to try this drink over the weekend… good practice for Cinco de Mayo!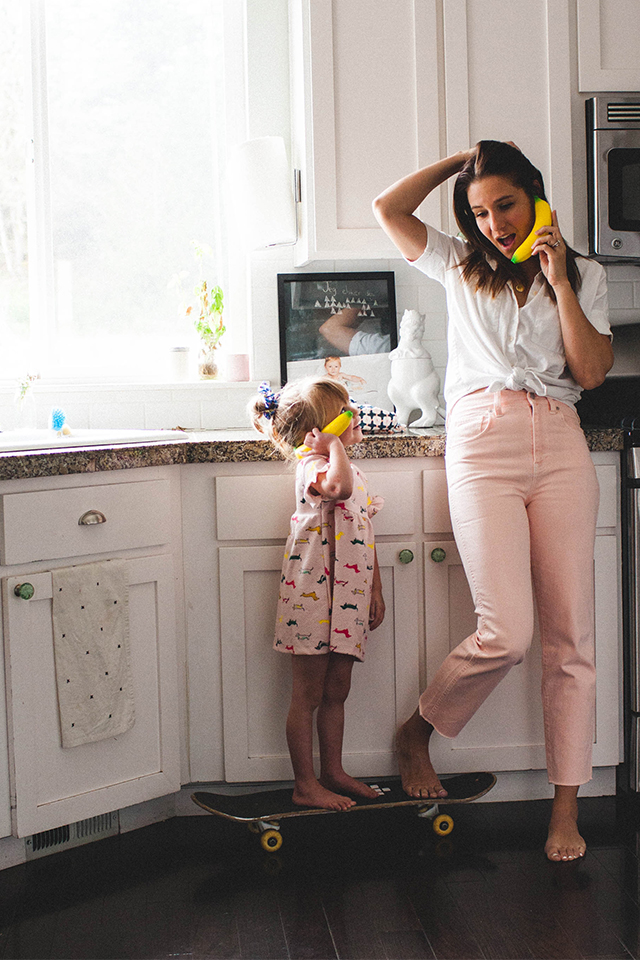 Hello, Spring. Are you there?
Wish I had been eavesdropping on Poppy's convo, LOL.
Also, banana phones have been trending around our house since taking these pics. So funny to hear the kids have pretend conversations with each other!
Summer will be here before we know it so I guess I should be more thankful and intentional with this season, no matter the weather! More planning + prepping and less complaining :)
Rain or shine, what's your favorite part about Spring?
XO, Rae
ME | top, jeans, would be cute with these sandals (also on sale)
POPPY | dress, scrunchie, love, love, love these shoes to go with
SaveSave
SaveSave
SaveSave
SaveSave
SaveSave
SaveSave