The kids are on spring break this week so with the exception of baking with my helpers, my goal is to be in the kitchen as little as possible while still making sure everyone has plenty of healthy food to eat. I'm also guessing we'll be handing out lots of extra snacks so stocked the pantry and fridge yesterday and plan on making lots of charcuterie platters (meat, cheese, crackers, fruit, veggies, dips and nuts).
Here's what's on the menu!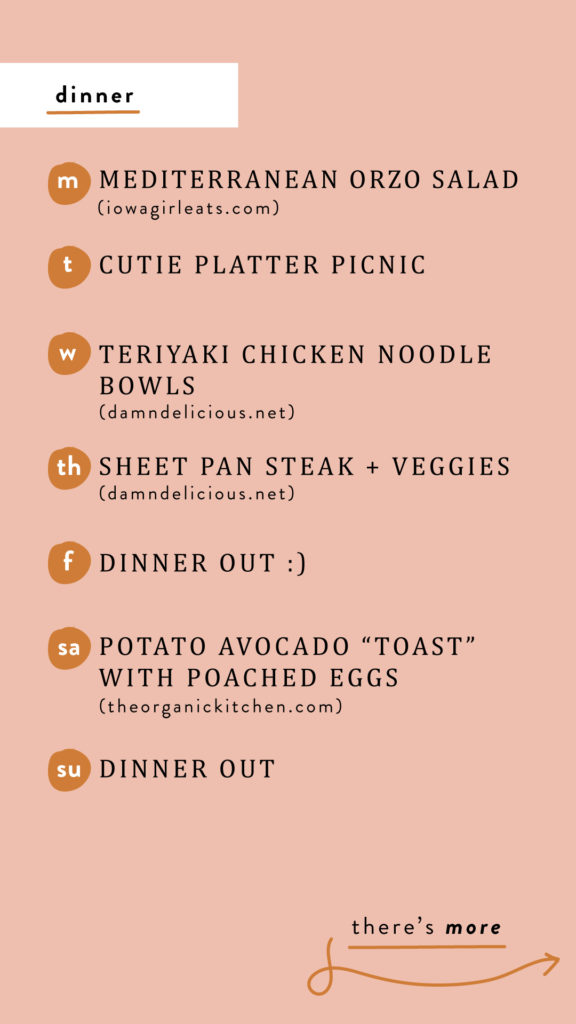 M | Mediterranean Orzo Salad (dice up rotisserie chicken and toss in)
TU | Cutie Platter Picnic (scroll to the end of the video for details… hoping the weather cooperates!)
W | Teriyaki Chicken Noodle Bowls
TH | Sheet Pan Steak + Veggies
F | Dinner Out
SA | Breakkie for Dinner (this Potato Avocado "Toast" — sub hash browns with cauliflower — with poached eggs looks so good!)
SU | Dinner Out
BREAKKIE | firehouse hash (Johan doesn't have an exact recipe, but this one is similar if you add sausage and cilantro and skip the kale), peanut butter banana blender muffins, toast and hardboiled eggs… or just a good old fashioned continental breakfast set up!
LUNCH | leftovers (are going to be good this week), I could eat cali rolls and warm edamame (sprinkled with kosher salt) for all meals, easy quesadillas
SNACK |cutie platter, guac chips, apples + almond butter
Speaking of keeping the kitchen stocked… how do you guys schedule (or not schedule) your shopping trips?
I try to stock up on Mondays, including ingredients for 2 or 3 dinners and then go again on Thursday, but we always seem to make extra trips — wondering if I should just embrace that it's part of life with kids or try to plan a little better, lol?
xo, Rae