How was your Mother's Day, weekend!? Crazy? Fun? Relaxing? Basic? Anyone else stay in bed as long as humanly possible sipping coffee? Whatever your weekend looked like, I hope it was just what you needed! But if you're feeling a little neglected I have a few fun self-care inspired links below!
Kicked off our weekend on Friday with a morning walk to drop Poppy off at her preschool which opened back up last week, then a game of pickle-ball with Johan who is usually off on Fridays (yay!), followed by homeschool, chores, and work and another walk to pick Poppy up in 80 degree weather… Ummmm, someone pinch me because warm weather, the husband home all day to help-slash-entertain me, and some friendly competition is basically my dream day, LOL. On Saturday we branched out and got more social and less distancing (within reason) and it felt so, so good. Like I could feel it in my bones good. The day included burgers, a few friends (that have also been quarantining), sprinklers, and a walk to farm shed wine's happy hour delivery that was in our neighborhood. (Side Note: if you're local to Seattle-Tacoma area you should totally request a delivery! Tell them I sent you! Not that they know who I am, LOL, but we're really good friends with their neighbors soooo maybe they'll connect the dots 🤦🏽‍♀️🤷🏽‍♀️💁🏽‍♀️. Then yesterday we wrapped things up with swimming, grilled pizza, and strawberry shortcake at Gigi and Papa's Lake! If you haven't grilled pizza before, I highly recommend it! Will definitely be adding it to the summer dinner rotation.
Back to reality this morning tho! Woke up at 3:30 to Tilly yelling her friend's name in her sleep, which woke the puppy whom I spent an hour trying to calm down and then couldn't fall back to sleep myself. So, I'm pretty tired and the house is a mess which isn't the optimal way to start a Monday, but my cup runneth over, and when choosing between sleep and a clean home or a full cup, I will choose a full cup 100% I mean, 75% of the time. LOL. I'm not totally crazy!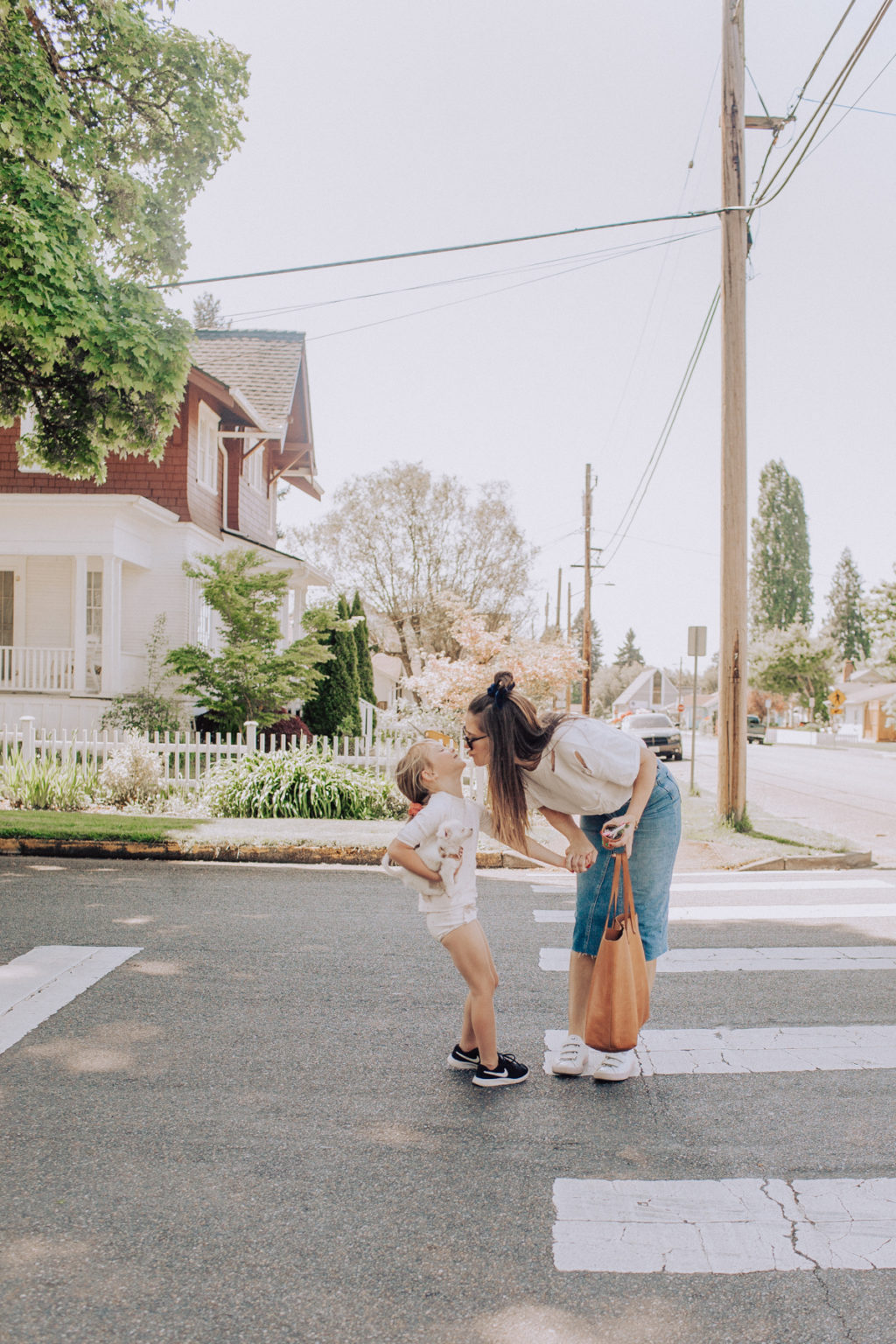 A few totally un-staged pics from our walk home from preschool. JK! We had a hard time finding shade on our walk so continued past our street to the park for a few snaps. Which was totally worth it because I want to remember that swimsuits were part of Poppy's preschool uniform. Not to mention how tiny her cute arm candy 🐶 was. Lucky girl.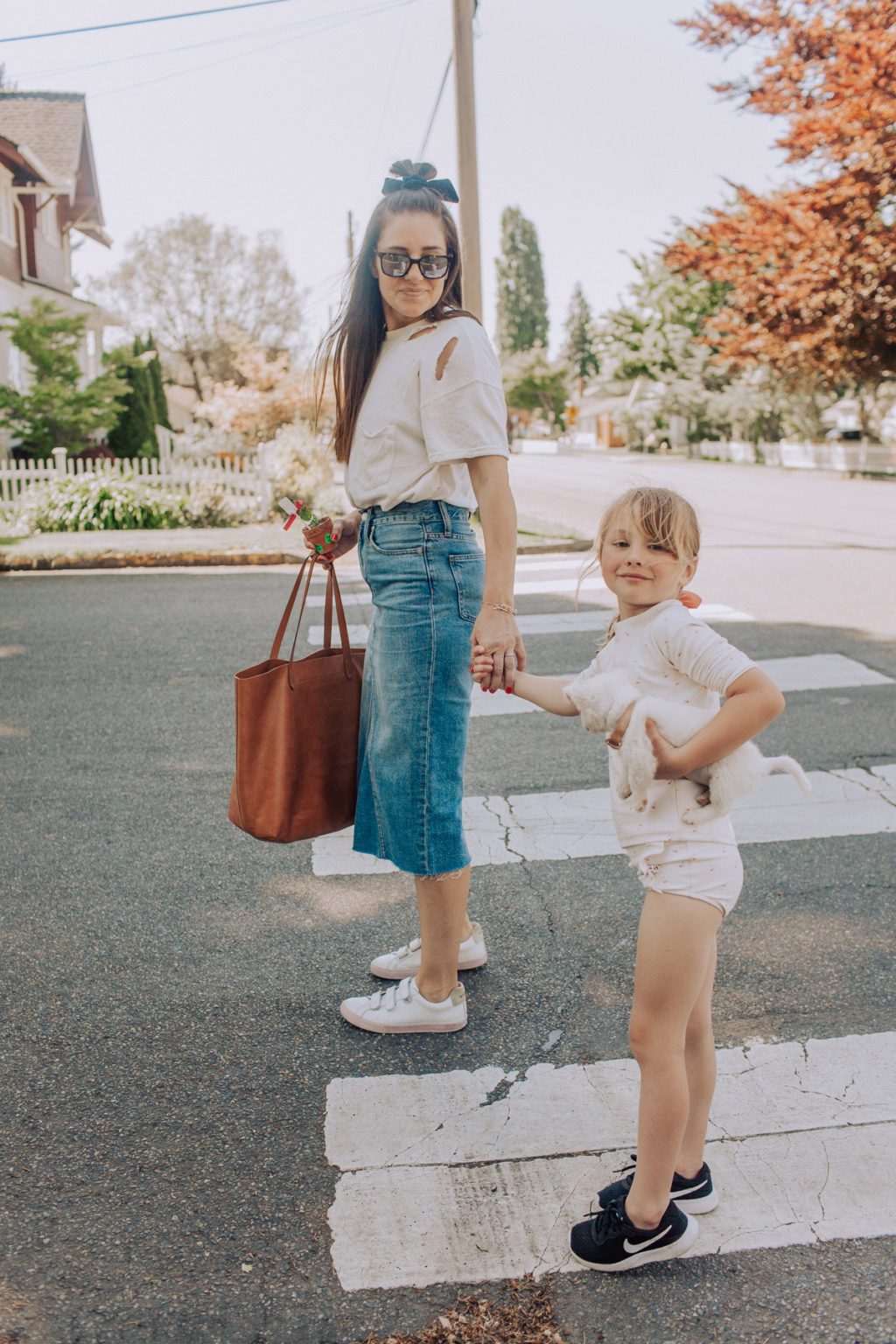 Now for some SELF-CARE goodness!
Poppy's wearing the swim bottoms from this cute set and rash guard (the bikini is on sale + 40% off with code BRIGHTSIDE) in the cherry print I designed for Olivia + Ocean. Lots of other cute designs to choose from, plus NOW would be such a good time to snag a new suit for those randomly hot spring days while supporting a small mama owned business!
One last one because we look like we have places to go + people to see. Watch out! Hahaha!
A peek at how collar + leash training are going, lol. She hates it.
Hope I added a little fun or at least something cute to your day!
xo, Rae