One of the questions I get asked most is, "OMG, how do you do it with 5 kids!" I almost always smile back and giggle not knowing what they mean by "it" and assuming it's rhetorical but inside I'm thinking to myself — OMG, I have NO idea! So I figured it was time to sit down and come up with some kind of an answer and what better way to sort out my thoughts and feelings than with a blog post, right? Or maybe not but I guess we will see :)
Before I get to our schedule, a little note to the moms of one or two (or more) babes who might be feeling overwhelmed and totally inadequate at times. I've been there and still feel that way sometimes. Motherhood is a huge change and adjusting to the needs, demands and lack of personal space (or personal anything) takes time and a lot of perspective. At this point, diaper changes and nap schedules are my norm. I haven't known any different for almost 16 years and will for sure be needing some therapy when those years are over and probably could have used some when they began. So be gentle with yourself. Just because we can "handle" 5 kids doesn't mean that life with two should be easy peasy for you. Motherhood just doesn't work that way. It really isn't about the numbers.
Somedays it feels like we have 10 kids, other days it feels like we have a couple and while our schedules change quickly and not everyday is the same, we do try to find a rhythm for each season. Sometimes it comes easily and at the beginning of a season (summer is that way for me) and other times it doesn't happen until the season is almost over (can you say winter?). But here is what our days mostly look like right now.
6am: I get up, have quiet time, check/respond to emails, plan our day, and/or write a to do list and fit in a little work too. Griffin gets up around 6:45 like clockwork. We snuggle while he asks whats for breakfast (he is my picky one) and we come up with a menu together usually. Espen is typically up shortly after and the two of them watch a cartoon, play legos or (hopefully) find something quiet to do.
7:30am: Get myself ready, work a little, throw in a load of laundry, etc.
9am – 10am (on my fave mornings): Empty the dishwasher or ask an older kidlet to do it, serve them breakkie, get their clothes out, and remind them 10 different times to make their beds and brush their teeth. If we don't have anywhere to be we have a POWER HOUR — a haphazard hour spent catching up on house chores but it works. I also have a friend that cleans our home every other week which is a lifesaver for me. On mornings Johan is home and I have a deadline, he will often take care of breakfast duties. Praise God for help!
10am – noon-ish: If we didn't have a reason to get out of the house before 10am then we will definitely be leaving to run errands, play at the park, etc. Getting out of the house is a must! If the kids haven't been snacking their way through the morning than we have lunch around 12:30.
1pm – 3-ish: This time is kind of random during the summer. On my favorite days we are still out doing something while Poppy (and usually one or two other kids) takes a quick nap in the car. On more productive days, Poppy naps for a few hours while the older kids do an hour of quiet time and then go outside and play together or with friends. Meanwhile, I work, work, work, work, work and hopefully squeeze in 2-ish productive hours.
4 – 6pm: Another mostly random time of day where we tend to fit in a lot but it's always different and requires multitasking. My goal is to tidy-up, make dinner, feed people, keep the kids from melting down and get whoever has a practice or game that evening ready to go. The kids are also in need of a little extra entertaining during this time so I try to think of something to keep them busy. Games, crafts, friends or helping me in the kitchen usually does the trick but when all else fails I turn on a show. Praise God for the Disney channel.
7 – 8pm: We eat if we haven't already and then try to unwind. My favorite thing to do at this time is go for a quick walk. The fresh air does wonders! Then we start the bedtime routine and Poppy goes down.
9-11pm: If Johan is home, one of us finishes bedtimes while the other cleans the kitchen. Then we either tie-up loose ends (fold laundry, finish work, pay bills, blah, blah, blah) or hangout together (watch a movie, have a glass of wine, chat, play a card game, do a garage workout. etc.). Our goal is to be in bed between 10 and 11 but it's usually closer to 11 in the summer.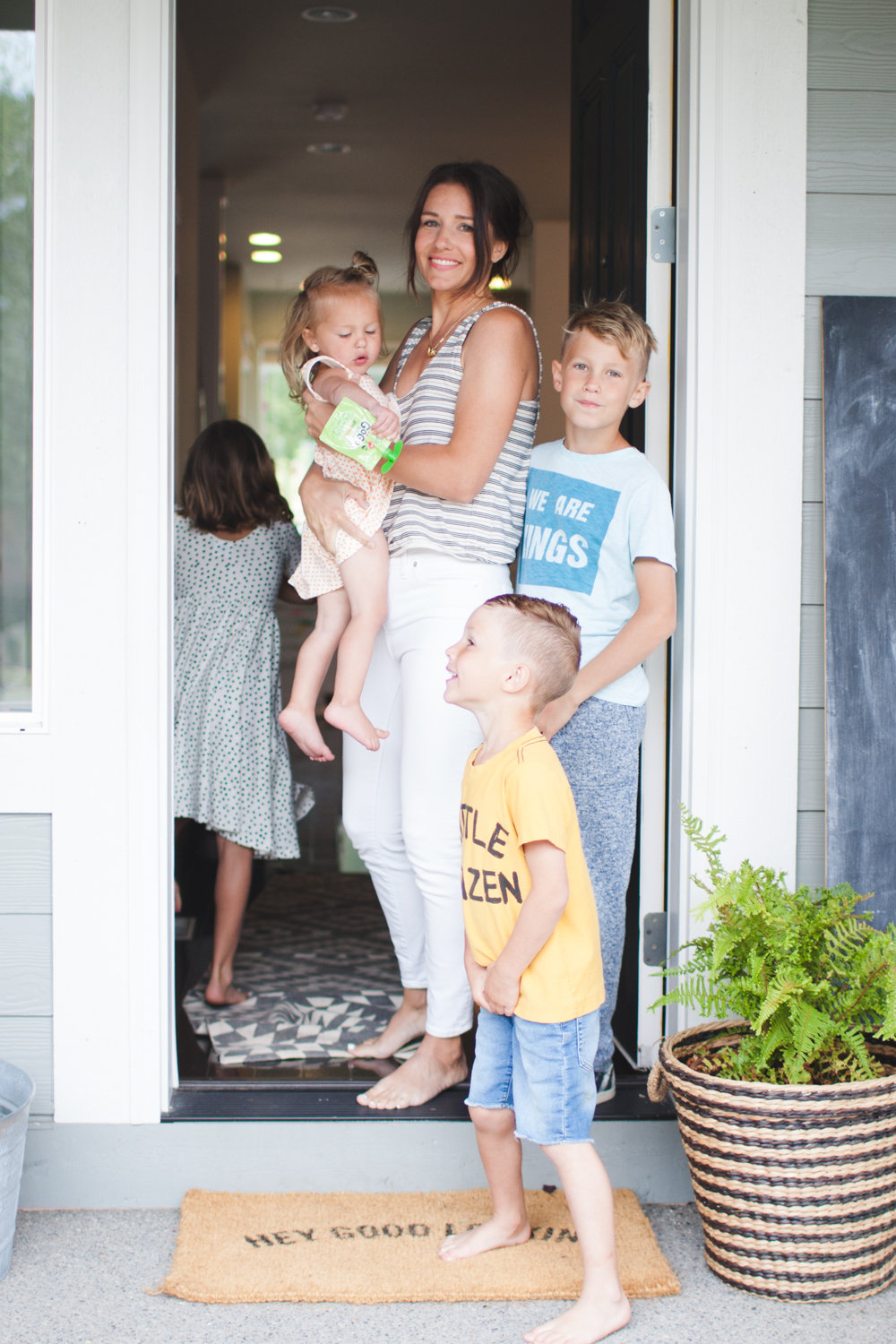 So, I've talked a lot about our schedule, but every mama knows a schedule only get's you so far because real life and kids don't care too much about a schedule. So here is my secret and the one thing that keeps me running the day (instead of the other way around) and rallying when things don't go as planned.
G r a c e .
I'm still learning to lean into it on the good days as much as the, "this day can't end soon enough" days, but I can tell you there is nothing like knowing I don't have to be perfect or hold everything together because God is in my corner, working in my favor and making life that much cooler and sweeter.
"But by the grace of God I am what I am…" — 1Corinthians 15:10
There you have it! A day in the life this summer with 5 kids, a husband and a lot of grace.
How have you guys been scheduling (or not so scheduling) your summer days!? Are you ready for the added structure that back-to-school brings? Although, according to my Instagram feed BTS has already happened for some so, how is it going?
XO, Rae