One thing you guys might not know about me is that I'm kind of a badass.
Totally kidding. But I do have a tattoo. One that I could hardly wait until I was 18 (and still a senior) to get with a group of my friends. Now I can hardly wait to have it removed (LOL), but I do still love tattoos. Atleast the idea of them and when they are on other people…
…Or the fake kind!
So to kick-off SUMMAH, i designed some tattoos and little cards for the kids to handout to their classmates. For the school friends they've gotten extra chummy with we'll also leave notes on the back about getting together for playdates.
You can download them here:
I just bought some tattoo paper (there are cheaper brands but I haven't tried them) and ran them through my color printer. Follow the directions on the packaging and then cut and tape to the cards. A little tip — before using it helps to trim around the design so there isn't as much white.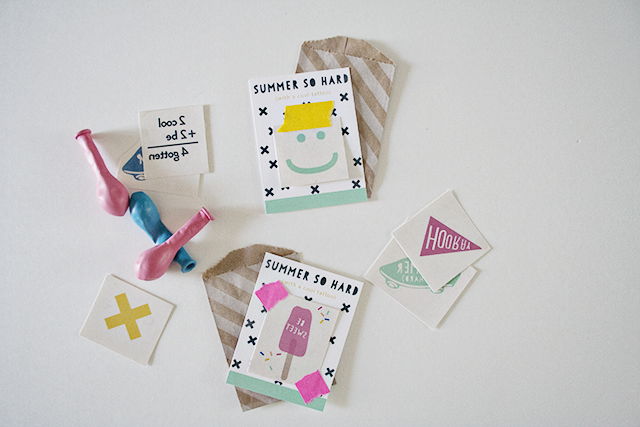 I know many of you have already had your last day of school but think they would still be fun to handout to friends in the neighborhood or as a party favor…. or pin for next year!
XO . Rae
PS (the longest one ever!) – I've been summer-afying our home and can hardly wait until all of the backpacks in our mudroom are replaced with tote bags and beach towels. I also love when the decorative pieces in our home add to the summer vibe and have been working on making new prints for the shop. Here is what I have so far… (minus the "be brave").
and then I'm hoping on adding a new one every week day for the next few weeks. Head to the shop to see everything and Instagram if you want to follow along!