We are fresh off the plane from Nashville and sadly didn't manage to get a single outfit pic (stay tuned, I'll be recreating), but I do have the one above from a few days before we left that I packed for Nash and didn't wear due to the warm weather. Ha! I had been wanting to try a bike short outfit combo that was a slight departure from my usual sneakers and oversized sweatshirts, without looking like I was trying to look super young. You know what I mean? I think we can all agree that there's a difference between looking youthful (i.e. FUN!) and looking like a middle schooler.
A few tricks that I find work well in dilemmas like these is to 1. stick with neutrals and textures 2. go full monochrome and/or 3. mix in some quality pieces.
OUTFIT DETAILS | boots (on sale!), bike shorts (wearing XS – another good option and on sale), tee, sweater (wearing med, 15% off, or options: one, two, three), purse, necklaces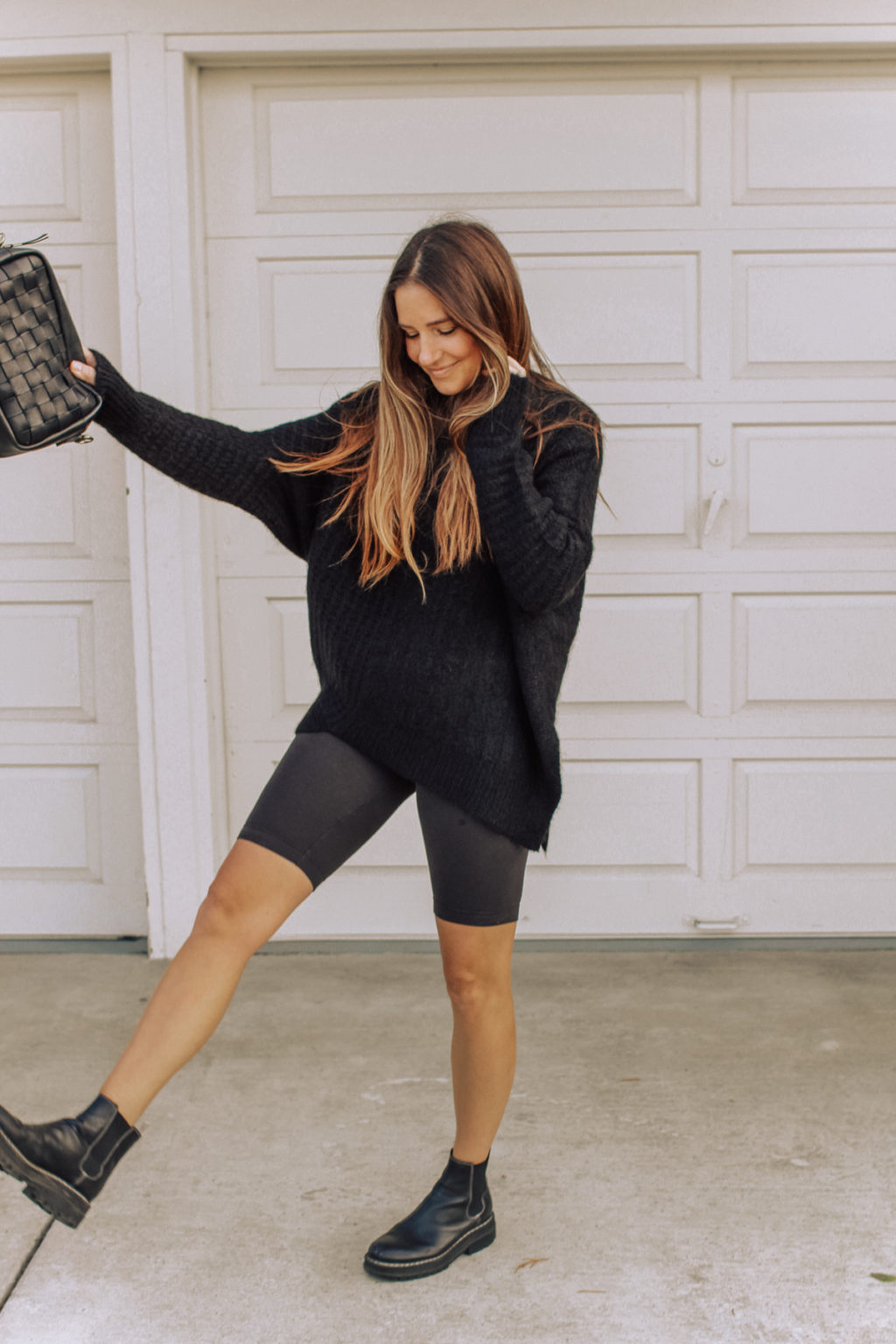 "There is a fountain of youth: It is your mind, your talents, [and] the creativity you bring to your life."

– Sophia Loren
While we're on the subject of youthfulness, let's do a little word study based on the quote above (because I'm a dork):
CREATIVITY | The traditional definition of creativity is, "the use of the imagination or original ideas, especially in the production of an artistic work." However, I believe it's so much more than that and would also define it as, "the tendency to generate or recognize ideas, alternatives, or possibilities that may be useful in solving problems, communicating with others, and entertaining ourselves and others.
YOUTHFUL | to me, youthfulness = playful, energetic, making the most of things, and being present with those around you.
Isn't that beautiful?! And even Biblical? To not be so consumed and discouraged by the challenges of adulthood that you forget to have fun!? Kinda like the crazy girls in the pics below…
It's hard to know when to be concerned with the laundry and paying bills, and when to let loose and have fun — which I'm wildly thankful we had the opportunity to do while in Nashville. I'm also thankful for my kids who serve as everyday reminders to create, and do, and love life. It's too short to not be fun and have fun. And that includes your outfits.
XOXO, Rae