Last week or maybe the week before — they're all kinda running together these days — Johan and I took our usual third wheel (Poppy!) out for a lunch date at a little cafe that's been on my bucket list called The London Plane. Part restaurant and part bakery, flower shop and market, it made for a fun outing as a little fam. The food was delicious but we cleaned our plates before remembering to snap a pic (oops)… guess we'll have to go back!
I wore a dark green peasant style top that felt like it was made just for me — if you love the look of flow-y tops but the peasant-y, ruffle-y, girl-y style isn't exactly "you" — then this top was made for you too. Linked it below along with a few other similar styles!
MY OUTFIT DETAILS |
shorts, shoes (30% off at madewell — or norstrom will price match), top (love all these similar style tops all 30% off here, here and here under $40– just bought this one and wish I could have bought this one too, lol)
POPPY OUTFIT DETAILS |
sweatshirt + shorts (both on sale), rainbow purse (so cute!)
Pioneer square is close to all the Seattle sports stadiums and doesn't have the most "family friendly" reputation but I actually love going there with the kids. There are lots of little shops and restaurants to choose from and a giant brick path to walk, run, scoot and play on. There's even yard type games out, statues and ping pong tables!
I'm a sucker for old buildings and a path lined with trees.
Don't you just want to go in? Love that you can eat, chat, shop, order some pastries to go and leave with a handpicked bouquet of flowers. Brilliant!
I love seeing people enjoying meals together. Makes! Me! So! Happy!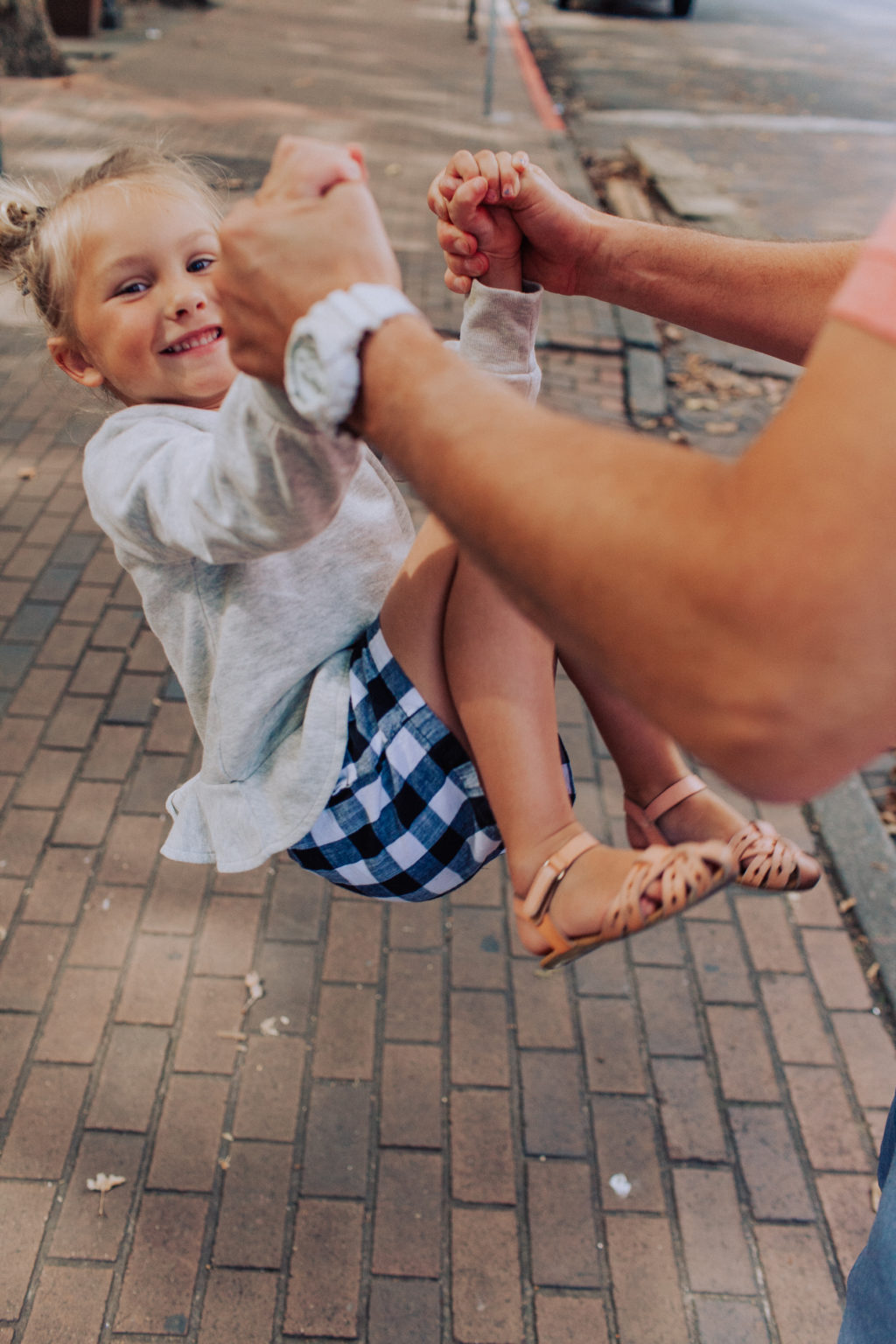 Some of those games I mentioned :)
One last closing thought… how is it October already?!!!!!!
xo, Rae