In so many ways, I was completely unprepared for Easter this year. The few weeks leading up to it, my mind and energy was being used for other life happenings… (the sorta things that come up when you have kids and careers and people in general in your life, but nothing earth shattering!) We unintentionally skipped egg dying and holiday decorating and almost everything for their Easter baskets was purchased just 2 days before. To top it off, on the day of Easter I forgot the bucket of stuffed eggs to hide at Gigi and Papa's house later that day. Basically mom-failing left and right, but you know what happened? It ended up being a magical weekend anyways. The kids freaked out (in the best way) over their very simple Easter baskets, no one noticed or even mentioned the lack of decorations or egg dying, we got lots of family time with ALL the kids, and an "egg" hunt still happened at my parents house.
A few pics of our weekend…
Tilly was in tears on the car ride to the egg hunt at church because of the size of her basket which I strategically picked out for that reason. But because kids are so ridiculously resourceful, they found away to collect all the eggs their little hearts desired by stuffing them in their pockets and boots too, then emptying the eggs and going back for seconds and thirds! We now have way too much candy in our pantry (something I was trying to avoid) but the whole situation was completely comical.
Poppy wouldn't sit still for the youth group girls hosting the face paint table so I took a stab at it and painted a few whiskers and a pink nose on her. Safe to say I will not be adding "face-painter" to my list of skills or volunteering for future events. Ha!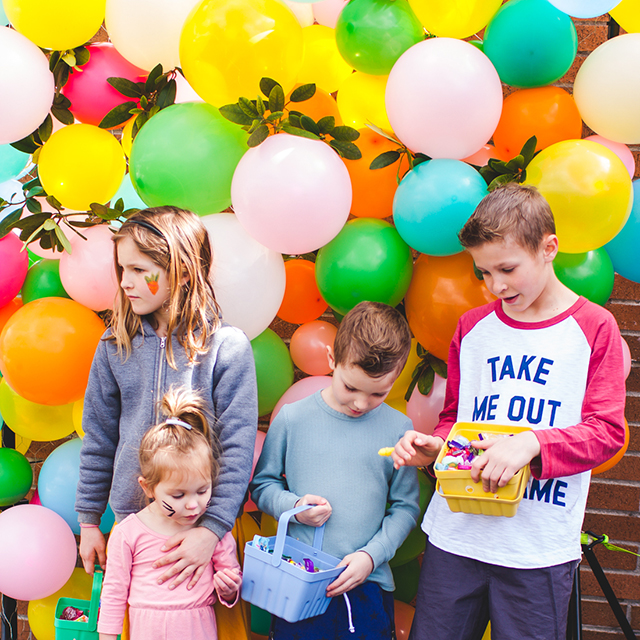 Someone at our church made the cutets photo backdrop, but getting the kids to look at us while taking a picture in front of it, instead of their candy or the bounce houses was impossible! Out of the 10 or so we took, this is the best one, lol.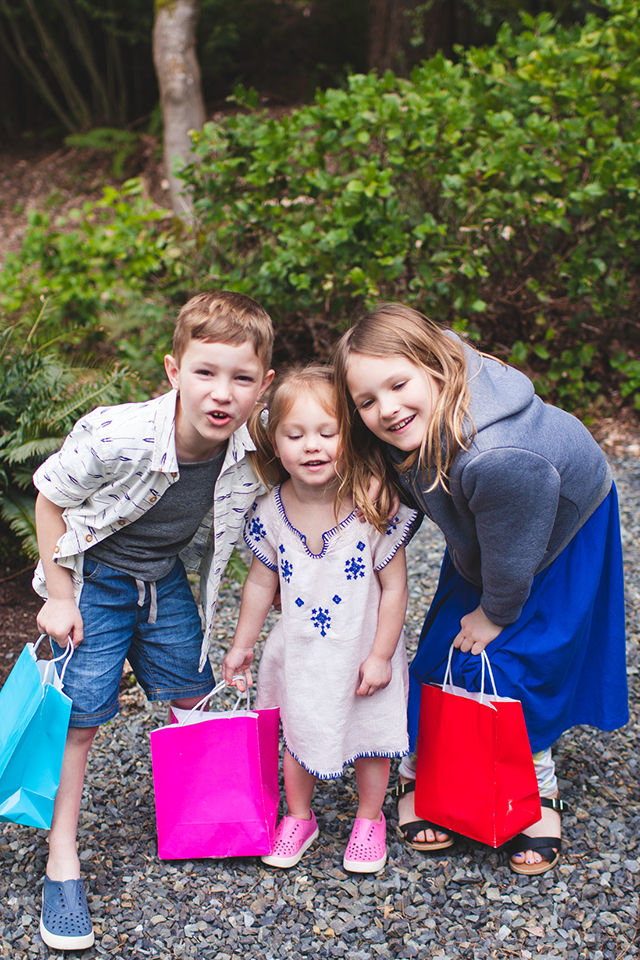 After an early church service and a quick bite on the run, we finally made it to Gigi and Papa's for some fun, a yummy dinner and egg hunt!
And of course a little dancing and glass of wine, too!
(…Excuse the totally comfy grandma sandals I dug out of my mama's closet, but the healed huarache sandals were not working with all the gravel in their yard :)
The show (errr, egg hunt) must go on even without plastic eggs or things to stuff them with! After stopping at three different stores with no luck, we settled for a box of dixie cups, a bag of chocolate eggs, and quarters from my mom's change jar. It worked perfectly!
(Love them… A slightly unexpected duo so I especially like seeing them together.)
Currently sitting here wishing I could turn our weekend into a metaphor for how life-giving and powerful Jesus is because He is and because I love sharing my faith with you guys, but my thoughts are much more simple this morning.
I know He loves me.
And not just because he died for me 2,000 years ago and then raised from the dead, but because He is moving and active and I can see His goodness in the best, worst and most mundane of circumstances.
I know He loves you too, which is possibly one of the more cheesy Christian things to say but it's also the truest.
xoxo, Rae
Outfit sources:
OZZIE | polo
TILLY | dresses
GRIFFIN | top, shorts, navy shoes (couldn't find online, but from target!)
POPPY | jumpsuit, dress, pink shoes (couldn't find online, but from target!)