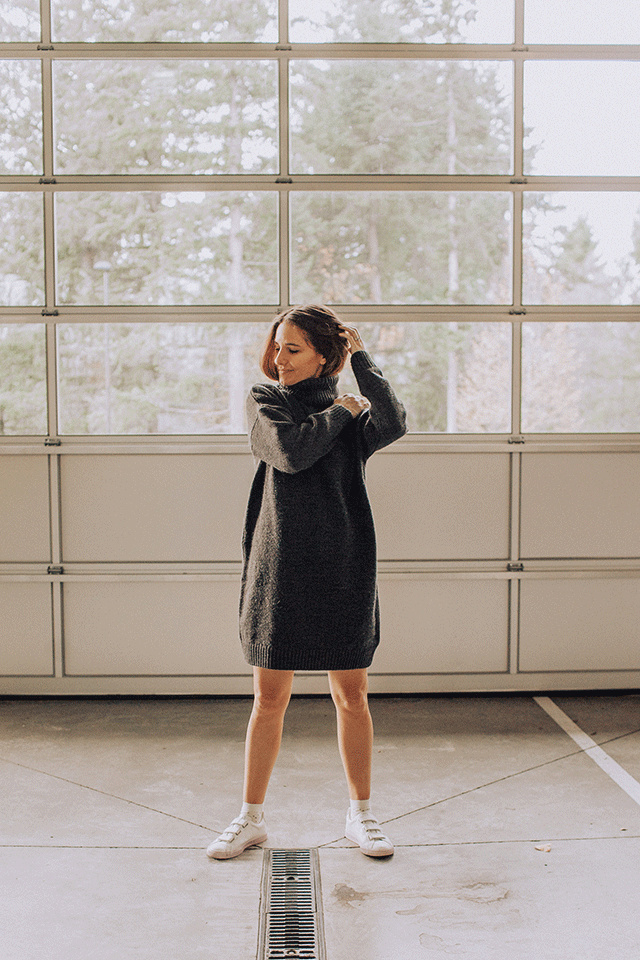 I've been chatting with some of my mom friends both online and in person lately about their style wants and needs and for the most part, they all have similar answers:
TO LOOK STYLISH-COOL-EFFORTLESS WHILE FEELING COMFY-RELAXED
Pretty much sums it up, yeah?
I've got some fun stuff planned for us around this updated idea of mom-style for the start of the new year (so freakin excited about it!) but today I thought I'd share my favorite way to elevate a comfy outfit and that is with fun, quirky, trendy or unexpected accessories.
I know this isn't a new concept. We all know accessories are a great way to make an outfit pop a little it's just that I've got some great tips for pulling from a longer list of accessories, getting outta your comfort zone and having fun without trying too hard. I'll get further into that list as the new year approaches (sorry, not sorry for the teaser… again, too excited to not share a little).
For today we'll stick to talking about this comfy sweater dress (wearing size 6), my current favorite sneakers and all the cute socks.
We were mostly running errands on this day so I kept things pretty simple and added my favorite quirky (velcro on adult sneakers qualifies I think, lol) shoes and patterned socks. For chillier days I'd add a pair of ripped boyfriend or straight leg jeans under my dress and a cross-body bag over the top or a felt hat. Swapping out my sneakers for a pair of mules or oxfords would be v cute too. So many options!
This also happened to be the day I tripped over backwards while holding Poppy, in front of my husbands co-workers. Poor guys.
Not my finest moment. You can see the evidence on my left calf in the bottom picture… Where's the monkey emojis when you need them?
Mom life forever.
What are your hangups, needs and wants when getting dressed for your busy days of kid wrangling?
Would love for you to send this post to any and all of your mama friends you think would be interested in more tips and tricks for "on duty mom" type style. I'll take all the feedback I can get and find that there is so much more to the topic of fashion and style for moms than just the clothes… like confidence, purpose and identity and I want you all to know just how amazing and awesome you are!
XO, Rae
PS – Don't forget to sign up for emails!
PPS – Thanks for being so sweet about my blog and instagram posts from yesterday! It always feels a little awkward sharing more of my story and journal-y thoughts but I love how it makes this online space more personal and meaningful. Makes me wish we could chat about all the deep life things over coffee or a large glass of wine… Maybe one day!