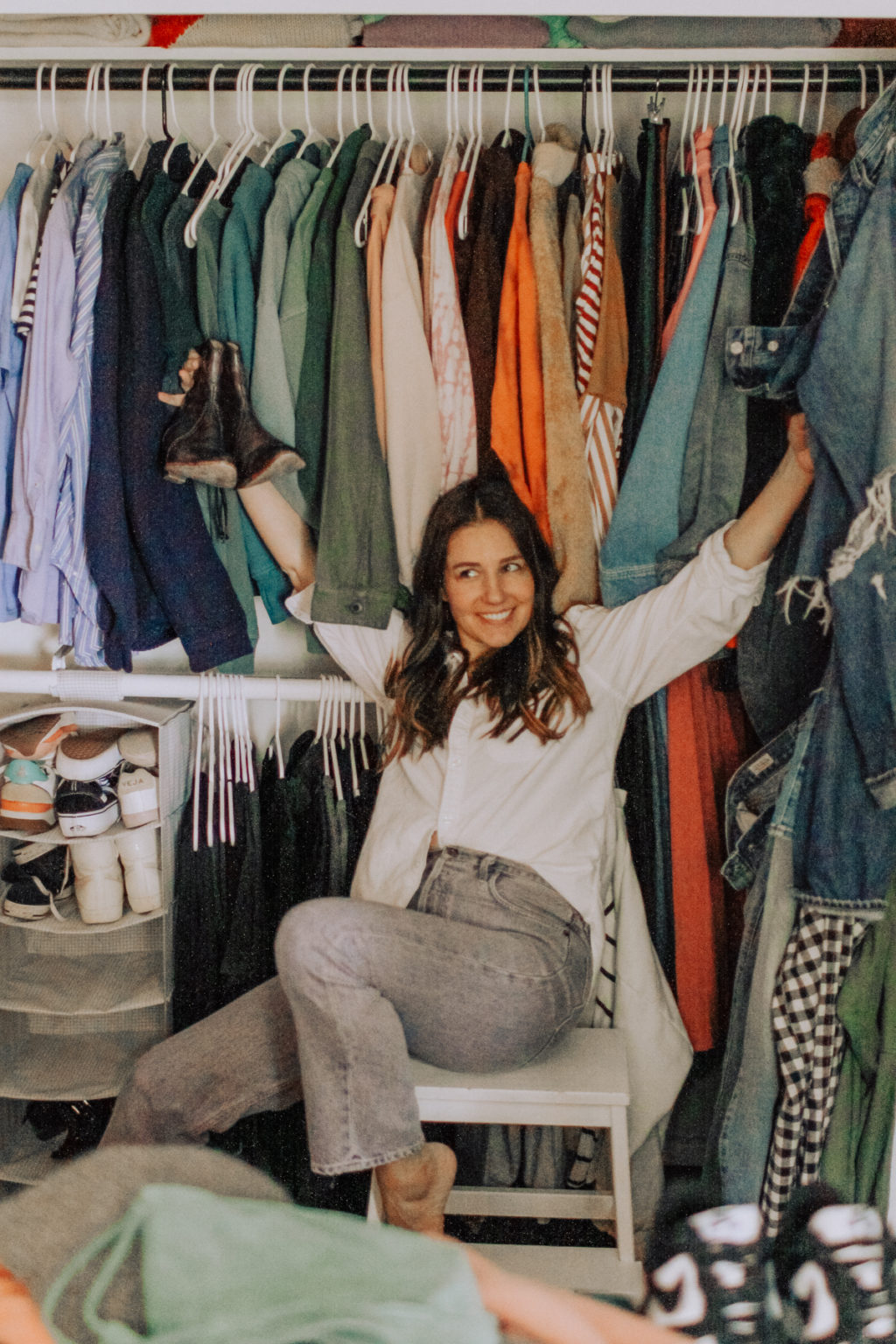 If you have ever stood at the door to your closet and thought (or said out-loud), "I have nothing to wear!" then this series is for you. I'm going to walk you through the process of building a wardrobe full of clothes you love, that fit your lifestyle, and that you'll wear over and over again. The first step is a good ol' fashioned closet clean out. Ready to get started? Keep scrollin'…
HOW TO DO A FULL CLOSET CLEAN OUT:
Pick a day and time when you'll have a few hours and your decision making skills are fresh or you have a burst of productivity. You'll also want to make sure you have enough hangers, drawer dividers, etc. and a place and bins/pouches to store your out of season items. Somewhere easy to access but that's also out of sight, is best. The Container Store is a no-brainer for all of the above!
Grab bags or boxes to collect the items you want to sell and/or giveaway. ThredUp is a great option for selling clothings. I've also had lots of luck in the past with local consignment shops for both my stuff and the kids.
Set out a separate bag or bin for items that need to go to the dry cleaner or tailor.
Pull everything out of your closet and go through it one piece at a time – including your shoes. Decide if it's going back in your closet, going in a bin to be stored, or being sold/handed down. Option: You can always break this step up and make a "maybe" pile to go through the next day. Ask a decisive friend to help if you need it!

Not sure how to decide what to keep? Start with Marie Kondo's signature questions, does it spark joy? And then on a more practical level, does it serve me? Do I wear it? Does it fit me? Is it functional for my life?
Still not sure? Put it in your out of season bin and if 6 months from now you haven't missed it or you still have no desire to wear it, then it's time to say adios!

Organize your closet based on color, function (tees, tops, sweatshirts, sweatpants, dresses, etc.), or a combo of both!
Make a plan to drop off or ship the piles that remain!
Stay tuned for how to really hone in on and have a clear picture of your personal style, so there's no more buying things you love (in theory) but never wear.
THE GOAL AT THE END OF ALL OF THIS: To have a closet full of clothes you love and wear.
I also want to make it easy for you to see where the holes in your wardrobe are so that shopping and making wardrobe decisions come more easily!
If you have any questions or requests, let me know in the comments!
xo, Rae