Just over here eating our way through January and not mad at it one bit! Been working on a delicious Chicken Noodle Soup recipe that even my non-soup-eaters will love and think we've finally perfected it, so posting here for safe keeping. The recipe also happens to be easy enough to make on a weeknight and is a big win for those of us that prefer not to mess with raw meat, lol. Be sure to read through the entire recipe before starting because there's a couple tips.
WEEKNIGHT ROTISSERIE CHICKEN NOODLE SOUP
1 cooked rotisserie chicken, picked apart (save the carcass!)
Olive oil for sautéing veggies
4 Celery stalks, chopped
3 Carrots, sliced (and halved if preferred)
1 Onion (or 2 shallots – my fave), diced
Garlic powder, salt, + pepper – to taste!
5 Sprigs of fresh rosemary (can sub for thyme or other favorite herb)
1 Bay leaf (optional imo)
8 Cups chicken broth (plus more just in case)
1 lb dry Rigatoni pasta (usually 1 boxe — works well because it's a bit thicker so doesn't get mushy)
TOPPINGS: Pecorino cheese (don't skip this!), fresh parsley (if desired), and crusty bread (like a baguette) for dipping!
First, chop celery, carrots, and onion and pick apart chicken meat. (Save time at dinner and prep this earlier in the day or the night before!)
Heat olive oil over medium high in a large dutch oven and add veggies. Saute until onions are translucent and carrots are softened (but really until everything looks how you like it!). Add garlic powder, salt, pepper, and rosemary and sauté for another minute.
Add broth (I start with 6 cups and add more as needed), bay leaf, shredded chicken meat, and carcass (it's a good way to make the broth extra healthy, but you can also just add the wings and drumsticks for extra flavor and meat).
Let soup come to a slow boil and then turn heat to low and let simmer until carrots have softened, about 20 minutes.
While the soup is simmering, cook pasta very al dente so it doesn't become mush in the soup! Strain and rinse in cold water. Remove rosemary sprigs, bones and extras from soup and then add pasta.
Lastly, serve into bowls, sprinkle with cheese (yum!) and bread! Enjoy and be sure to share with friends or store extras for later because this recipe makes a lot!
Tag me @raeannkelly if you try our recipe so I can see and share or leave a comment below!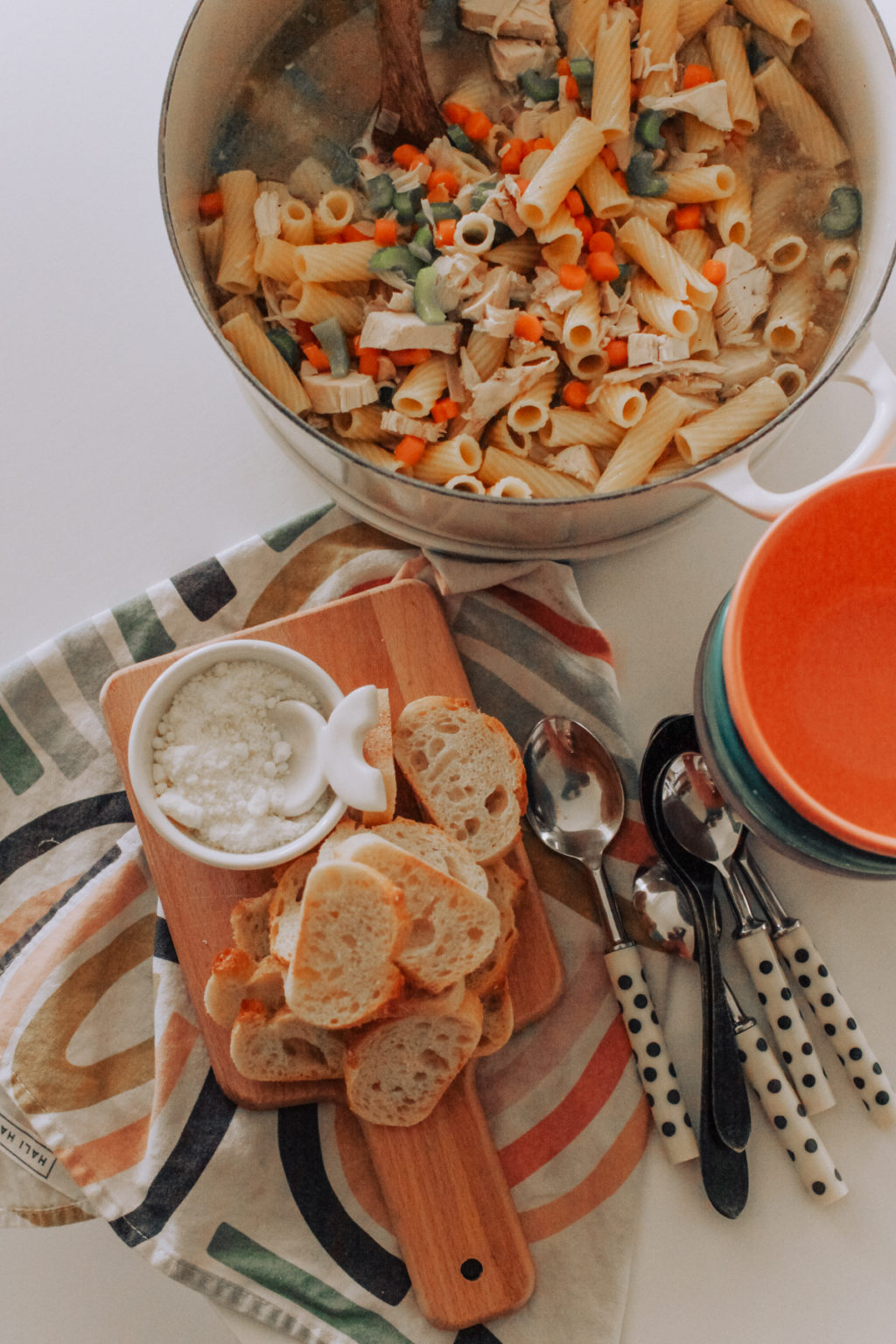 Borrowed this beautiful 7-1/4 qt. dutch oven from a friend and loved cooking in it! In the past we've spent more money investing in kitchen gadgets than really good cookware but having a smaller kitchen in our current home has made it hard to even have a toaster (lots of burnt oven toast happening over here, lol) so I'm thinking now is the time to splurge on a few essentials.
What's one kitchen item you've splurged on and haven't regretted!?
I think it's the lack of green and brown flakey-floating-herbs that makes this soup more appealing to the kids than other recipes. Pasta always helps too! Regardless of the reason, as the only soup connoisseur (not counting chili) in our fam, finally finding a combo of simmered goodness that everyone will devour feels like the motherhood equivalent of winning the super bowl (can you tell what was on our TV this weekend?). Hope it works for your non-soup-eaters too!
xo, Rae