Move over nachos, there's a new favorite in our house! The fresh toppings balance out the frozen tots, and the meat layer makes it really filling. Trust me, you're going to want to give it a try! Full Tex-Mex Hamburger & Tater Tot Casserole recipe is below!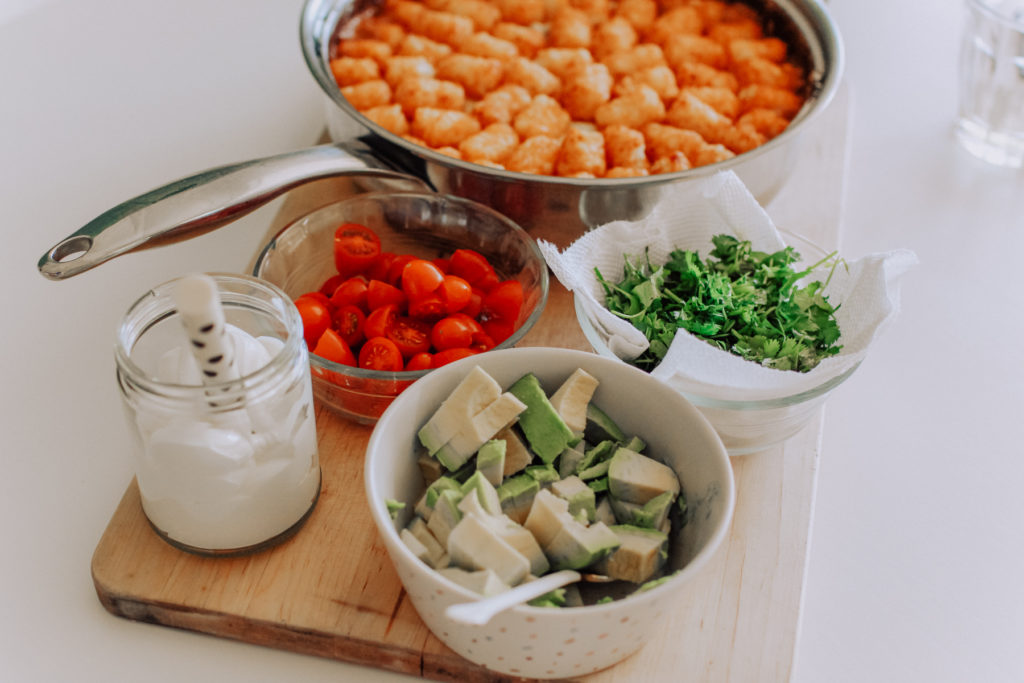 MEXI BURGER TATER TOT CASSEROLE
YOU'LL NEED:
2 TBSP Olive Oil
1/2 Onion, diced
1 LB Ground Beef
2 Cloves Garlic, minced
2 TBSP Taco Seasoning
1 TBSP Cornstarch
1 cup Half & Half
1/2 Cup Tomato Sauce
Salt & Pepper, to taste
1-1/2 Cups Mexican Blend Cheese, shredded
32 OZ Frozen Tater Tots
TOPPINGS: Sour Cream, cherry tomatoes, Green Onions, Cilantro, Avocados, Black Beans, Black Olives
HERE'S HOW:
Prep all ingredients. Preheat oven to 400 degrees.
In a large oven safe skillet, heat oil over medium. Add onion and garlic, and cook until translucent.
Turn heat to medium high and add in ground beef and taco seasoning. Use a spatula to break up the beef and cook until no longer pink.
Turn heat back to medium and stir in half and half, tomato sauce, salt, pepper, and cornstarch. Cook until sauce has thickened and begins to bubble and pull away from the sides of the skillet — About 5-10 minutes.
Remove from heat, top with cheese and arrange frozen tater tots in circles around the skillet. Bake for 25-30 minutes, until tots are golden brown and cheese is fully melted.
Prep toppings while you wait.
Remove from oven and layer toppings directly in the skillet, or dish into bowls/plates and let individuals add toppings. ENJOY!
Tater tots aren't usually something I crave, but they somehow never disappoint. And I promise this dish will have your kids (and probably husband) singing your praises. Let me know if/when you make it! Leave a comment or tag me @raeannkelly.
xo, Rae