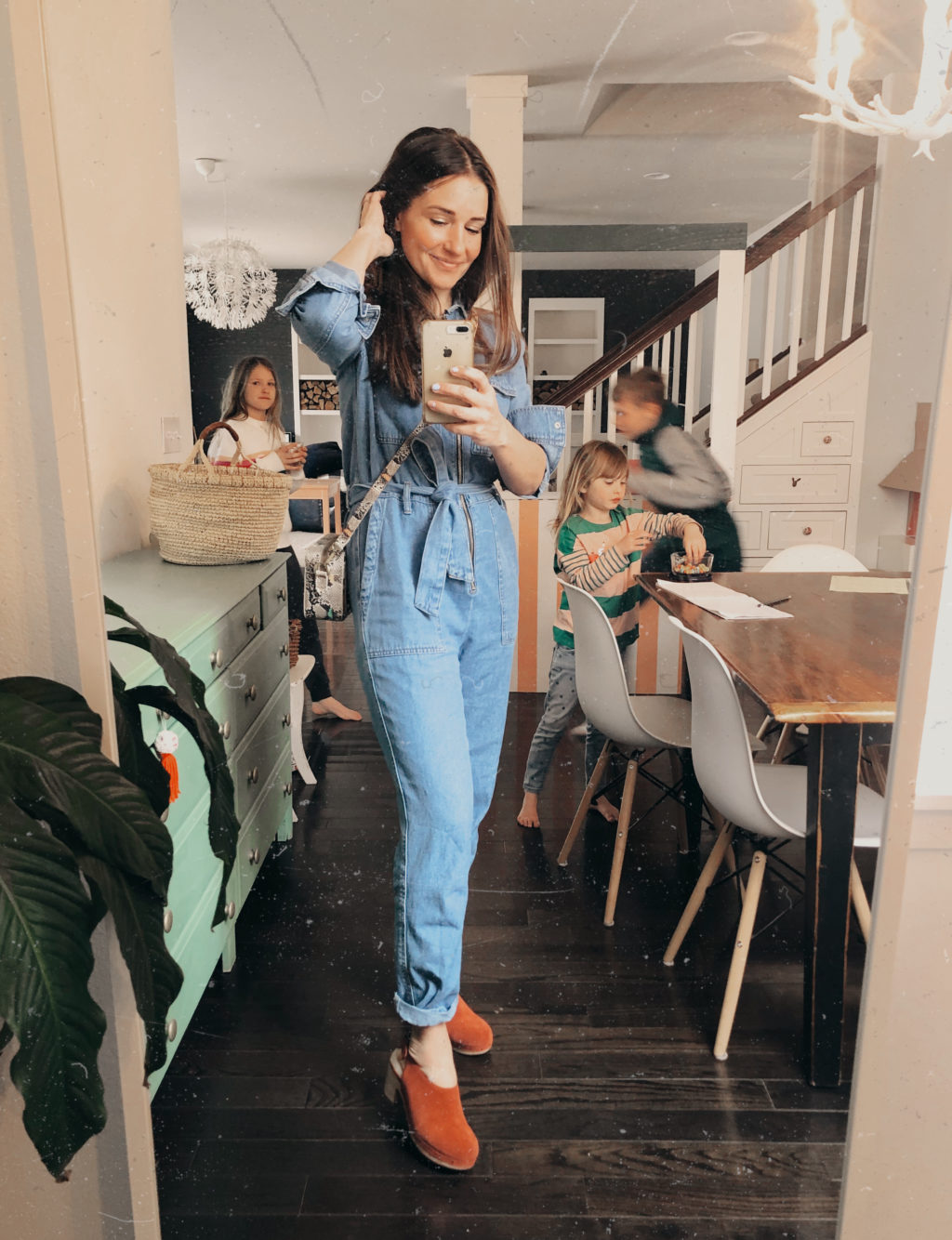 It's almost 8am as I type this from my bed, while listening to Poppy + Griffey empty the dishwasher and it feels like a little slice of heaven. I've been up since 5:30am trying to get a little bit caught up with work stuff. If this was a normal week day, I'd just be starting round 3 of getting kids ready and dropped off at school — which typically starts at 6am. Safe to say I'm loving this slower pace and prefer our quarantine morning routine over our usual ones. That being said, I'm also completely wiped out by the end of the day, haven't worked out all week (quarantine 15 will definitely be a thing, ha!), check off about 1 + 1/2 of the 10 things on my to do list each day (aside from kids' school stuff), can't seem to keep everyone on schedule (probably one of my more obvious mom-shortcomings before the world turned upside down — but feeling extra annoyed with myself about it now, lol) and still have too many boxes to pack before we move this Saturday. Oy vey, you guys. It's crazy (as the pic with blurry kids above would suggest).
Sharing my dirty laundry so hopefully you don't feel alone in whatever has been extra hard for you this week, but also to illustrate that there's a lot on all of our plates at the moment and if we're not careful we could hit burnout status reaaaaal quick. And that would suck because we have little (and big) humans depending on us to set the tone. Been thinking about this a lot and thought I'd share a few ideas that might help keep that proverbial wall at bay, along with some outfit links because SELFCARE would make all the difference right now!
TUESDAY'S OUTFIT | the best oversized sweatshirts everrrr (wearing my usual Lulu size 4), leggings (sold out but these are a cute option or these pink ones!), shoes, scrunchie (or these!)
A REENACTMENT OF FRIDAY'S OUTFIT | jumpsuit (cute in army green too + this one's a little more fitted and sooo good but also love the ruffles on this one!), clogs (similar + summery + 25% off!), purse (a best seller from the white tee post!)
I wasn't going to share this outfit because well, 'tis the season of sweats and leggings, but this jumpsuit with sneakers (errrr, let's be honest, slippers) would be super comfy and fun to wear around the house or out on a walk and might even add a little pep to yo' step! Plus planning ahead for post-quarantine life makes me feel proactive and prepared to do all the THINGS.
Really feeling Pop-Tart's expression in this pic :] Ha!
5 WAYS TO AVOID QUARANTINE BURNOUT
COMMUNICATING + ASK FOR HELP: we've all been thrown into a world of homeschooling, working from home +/or having a husband now working from home (potentially a dream scenario but also a hard adjustment), less of our social outlets or outlets in general (bye nail salon and circuit classes, ugh), and probably a lot less outside help from grandparents (their health being top priority!), babysitters, etc. But that doesn't mean you have to pick up allll the slack and overflow. Talk to your kids about how they can help. Workout a more equal division of labor around the house with your other half. Talk about expectations — whether they need to be lowered or stepped up, but flexible expectations would probably be the most helpful!
PRIORITIZE SELF-CARE: find workouts on YouTube, go for a run, read a book, go to bed early, drink water, say no, say yes, journal, do a face mask, ask for help, set a mandatory quiet time for the kids, shave your legs (lol), take your vitamins + supplements, get outside for those good endorphins and immune boost (yay, vitamin D!), etc.
PLAN AHEAD: Make a schedule, start a "quarantine" Pinterest board, order craft supplies (working on a good list to share!), use meal plans (LIKE THESE) to plan ahead and order groceries, gather resources (also making a list of online ones to share!)etc.!
BE THANKFUL + FIND WAYS TO BLESS OR ENCOURAGE OTHERS: As hard as this situation is, I know there are so many blessings too and I don't want to miss them in real time! For our morning activity I think we'll be starting a gratitude jar if anyone wants to join us. In a couple months I'm hoping it will be overflowing with good things! With that in mind, there are also a lot of people in far worse situations right now, especially if they work hourly or have a service or restaurant business. Finding ways to support them or check on neighbors to make sure everyone has what they need puts our focus on how we can help instead of festering and feeling sorry for ourselves :)
GET CREATIVE WITH WAYS TO CONNECT WITH FRIENDS + FAMILY: Even the most extreme introvert still needs relationships and a good chat. This morning we FaceTimed with my brother and his family who live in Brooklyn. It was so good for my soul + my sister in law gave me a couple really good ideas (thanks sis!)! Now would actually, also be a good time to try new churches if you don't have one you attend since you can skip the awkward "new person" feeling and just tune in online, ha! (a few of my faves to visit virtually: mosaic, church home, Zoe, Vous Church and Hillsong)
What would you add!?
xo, Rae