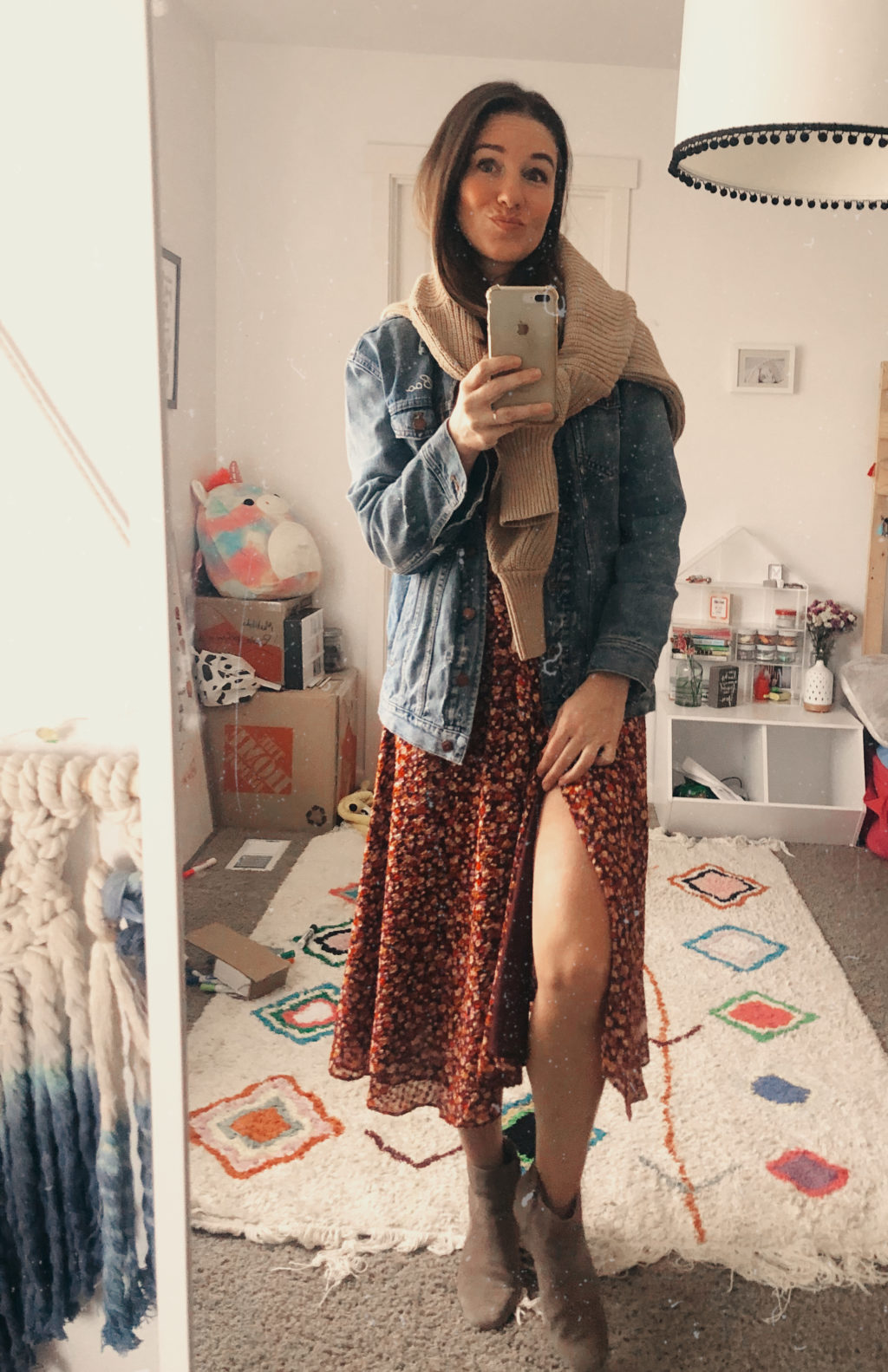 One of my personal rules I try to follow when purchasing new clothes is that I have to be able to style them a few different ways with things already in my closet. This dress definitely checked that box as it looked so cute all by itself, with boots, sneakers or sandals, topped with a sweater a jean jacket or a leather jacket and probably a blazer too!
Here's a few more outfits from the last couple weekends!
LAST SUNDAY | dress, sneakers, denim jacket, sweater on sale + boots are old (similar or these are on major sale!) from the first pic
LAST SATURDAY | overalls, turtleneck on sale and in so many great colors, socks, birks, purse (so fun!)
Love these overalls — the looser fit makes them easy to wear year round! They sold out at madewell but you can find them at nordstrom.
THIS SATURDAY | leggings, tee, sneakers (love these too!), hoodie on sale, purse
Basically wore these Free People leggings all weekend while taking care of a couple sick kids, cheering on Griff at a basketball game and packing and couldn't be happier about them! They're so comfy and the waist band stays put without making my mommy stomach pooch out over the sides (if you know what I mean?!).
Never been much of a purse girl, but decided it would be a good way to jazz up some of my basics and I'm pretty happy about it. Plus I think it'll be fun to pass them onto the girls when they're older!
THIS FRIDAY + SUNDAY | leggings, a long tee (lots of colors to choose from and looks so cute styled with the sleeves bunched up!), denim jacket, sneakers (love these too!)
Did a little questionnaire on Instagram Stories about leggings last weekend and had fun looking at all the results… 80% of mamas said they wear leggings 4 or more times a week and are interested in more athliesure outfit ideas.
Would love to know if you guys agree!?
xo, Rae
PS — more weekend wardrobes here + here :)