Today we're starting a new series that incorporates two of my favorite things — cute clothes and playing with my kids — called, STYLE + PLAY (!!!) There have been some requests for more style content and tips and I thought this would be a really good way to share my style in an authentic way since I'm always on the hunt for outfits that make me feel good but that also allows me to wrangle the kids!
With that in mind, I want to make sure these posts are relatable and fun so you'll see a mix of everything from mom-uniforms and everyday staples to cute dresses and seasonal trends.
I'm also hoping to get a mix of the kids so you get to see outfits and activities for boys and girls at different ages. However, you will probably be seeing a lot of Poppy since she is my only sidekick during school hours these days and even though I do my best to incorporate items I know my kids like and wear into their wardrobe, she is the easiest to influence style wise. Not counting on that lasting much longer though since picking out her PJ's last night took a crazy amount of time. Hoping it was a one time thing, lol.
I'm so excited for this new series, so let's get started!
STYLE |
As a graphic designer it's hard for me to resist a good message tee that uses simple typography to say something cute or relatable and as far as I'm concerned you can't have too many in your closet. They're so versatile and easy to pair with leggings, jeans or a flirty skirt.
Both of our tees are from Ramble who was sweet enough to offer a discount! Use code: ramble10 for 10% off through September 24th
I have my eye on this RALLY tee!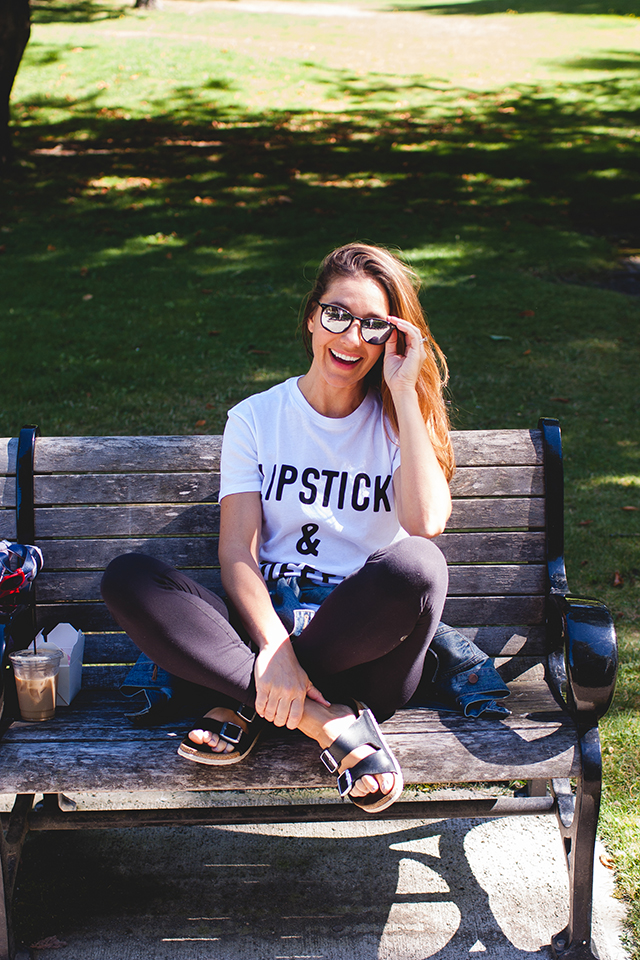 MY OUTFIT | lipstick & coffee tee x leggings x jean jacket x similar sunnies x similar birks
These photos were taken after dropping Griffin off on his first day of kindergarten and before running errands and coaching Tilly's soccer so leggings were and obvious choice. I knew I'd be living for coffee and lipstick for the remainder of the school year so my tee seemed perfect and festive and then a structured jacket of some kind is usually my go with an outfit like this — it gives more of a "don't I look productive and sporty" and less of a "I might have just rolled out of bed" vibe. Not that there is anything wrong with a good hoodie instead!
POPPY'S OUTFIT | "you can't always get what you want" tee x shorties x navy pumas (found for $20 at Marshalls) x backpack from state (in a preschool size)
PLAY, HAND GAMES |
These games are free, requires zero props, supplies or prep, will keep kids busy and engaged just about anywhere (at least for a few minutes) and serve as a really good distraction and mood changer when things seem to be going downhill.
A few ideas to get you started!
Hand (or fist) stack. Super simple, just keep moving the hand thats at the bottom to the top!
Thumb war
Pat-a-Cake
Down Down Baby hand clap (Tilly and I did it here without the singing)
Say Say Oh playmate (the daddy daughter duo is pretty cute)
Pick which hand…. has a small toy, candy, pine cone, etc.
Make up a handshake!
Hand slap game
Learn/practice sign language
Learn the hand jive from Grease
Ro-Sham-Bo (or rock, paper, scissors)
Chopsticks… a game Tilly + Espen taught me that I still don't get, LOL
Broken finger trick. Hint: your dad or uncle probably did this for you at one point or another :)
Shadow puppets
Please share any hand games that I missed, in the comments!
That was fun! And is there anything better than grabbing a coffee and then walking to the park!? Wish we could do it every day.
xo, Rae
SaveSave
SaveSaveSaveSaveSaveSave