I stumbled upon Tilly's sweatshirt while browsing Zara and wondered how I could possibly pass up such a cozy sweatshirt with the sweetest reminder. Especially since loving people with our words and actions has been a topic of conversation a lot with her lately – she can be soooo spunky! Doing all things with love seems simple enough, doesn't it? But when I saw her running around in her new sweatshirt it occurred to me how huge that calling is. To LOVE ALL the time. Even when we don't feel like it or the recipient of those "things" doesn't really deserve it or it requires some sacrifice and humility.
"Do all things with love."
Gosh I have some work to do in this area and a lot more patience to extend to Tilly while she does the same.
All that from a pint sized sweatshirt, LOL. Can't help but laugh at myself!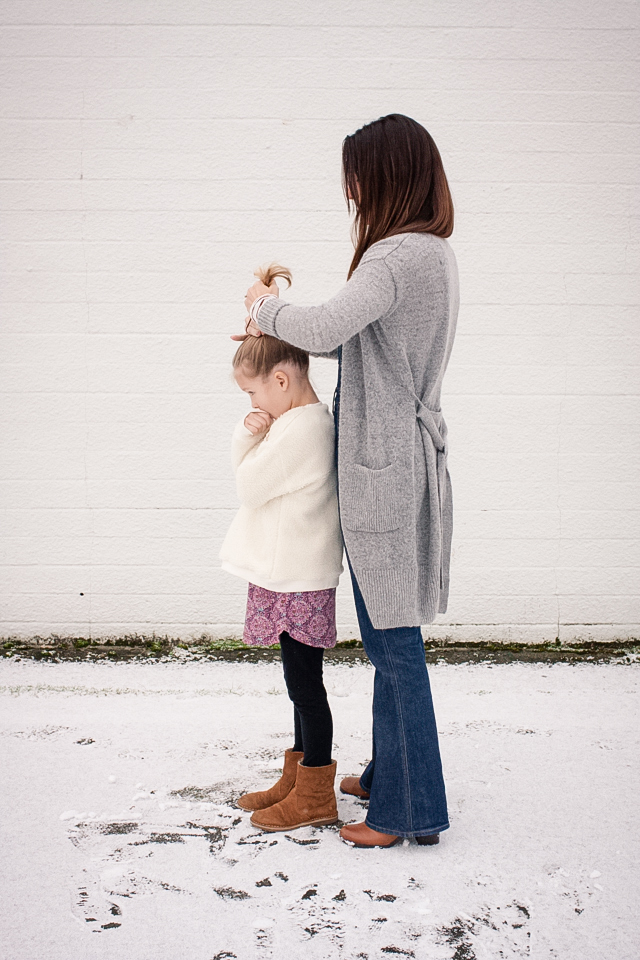 TILLY – sweatshirt from Zara, dress from Peek (similar), leggings from Old Navy, boots from Boden
ME – sweater from Topshop, turtleneck from J. Crew, overalls from Madewell (on sale!), boots from gap (similar)
Are there any "things" you could do with a little more love?
For me it is defiantly bedtime! Once 8 o'clock rolls around happy mom clocks out and someone much less patient and loving checks in. It's actually one of my goals for the year — to start enjoying bedtimes instead of dreading it everyday. Feel free to share bedtime tips below if you have any!
XO, Rae
PS – Pictures by my very awesome husband. One of the goals we made together for 2016 is to learn to take better and more pictures of our family… Wish us luck!