Anyone else get the urge to nest a little once September rolls around?! Add a few fuzzy layers and just cozy things up a little bit? After having our furniture mostly bare of knick-knack, pillows, and throws all summer, I've slowly started adding things this month and thought I'd share link and details below. Let me know if I missed anything!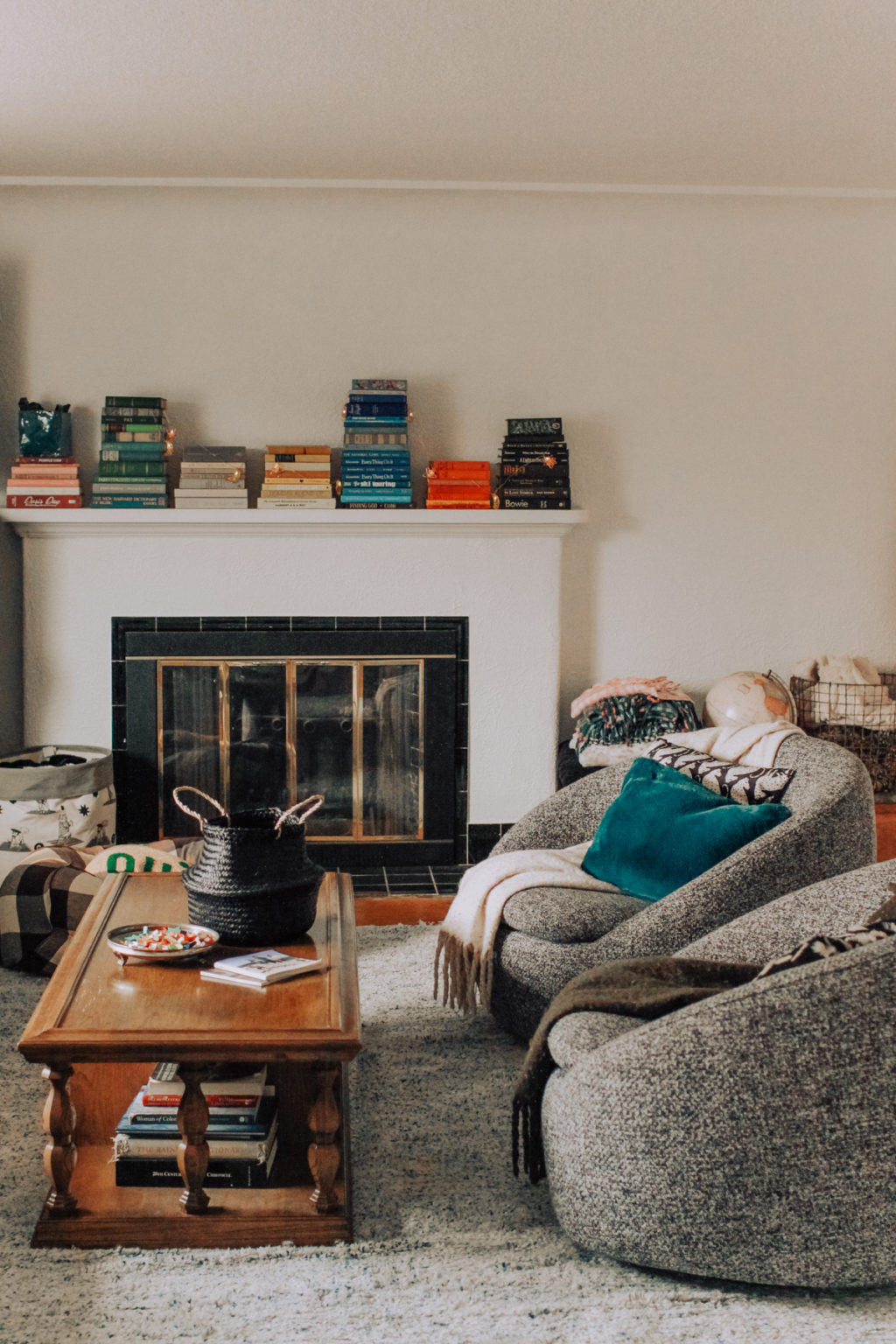 PILLOWS + THROWS + ACCESSORIES
Love these baskets! Have both sizes — the XS holds our masks and the S sits on our coffee table with games inside.
Black and white polka dot faux fur pillow (so cute + perfect for fall).
CONFETTI THROW BLANKET — I'm not sure if there was ever a more perfect name for a throw so I bought in the green and ivory.
Faux fur pillow in teal, but love all the colors!
Was kinda iffy about the black and white Feline velvet pillow but it's a really fun patten that layers well and breaks up the less busy accents!
Working on replacing all of our wedding dishes with these speckled ones. Ordered a set of bowls just to make sure I like them and I do! Currently using one to hold keys, sunnies, and loose change on an end table by the front door.
The swivel chairs of my dreams… and one of my favorite purchases ever.
The books on our mantel are a collection of ones we had and took the covers off of, picked up at a used book store (the one by our house has a $5 and under section), and thrifting.
Can't talk about our family room without talking about these chairs. They are a fan favorite, super durable, and really fun to sit (or pig pile) in.
Something I never thought I'd have sitting next to our front door… a basket full of masks. LOL. The mask spray is a favorite tho! Will share a toot on stories this week — Let me know if you want one posted to the blog for safe keeping too!
A corner of toys and dress up in our family room… a few favorites tucked into the dresser drawers and I just added a bin of legos.
One of Ozzie's clay creations holds our remotes and it makes me so happy when I can find a use or home for things the kids have made!
Just designed an oversized print for this wall space next to the fireplace. Will share when it's finished and framed!
Also feel like out teepee gets used often since it's out in the open… always contemplating purchasing another one (this one's too cute)!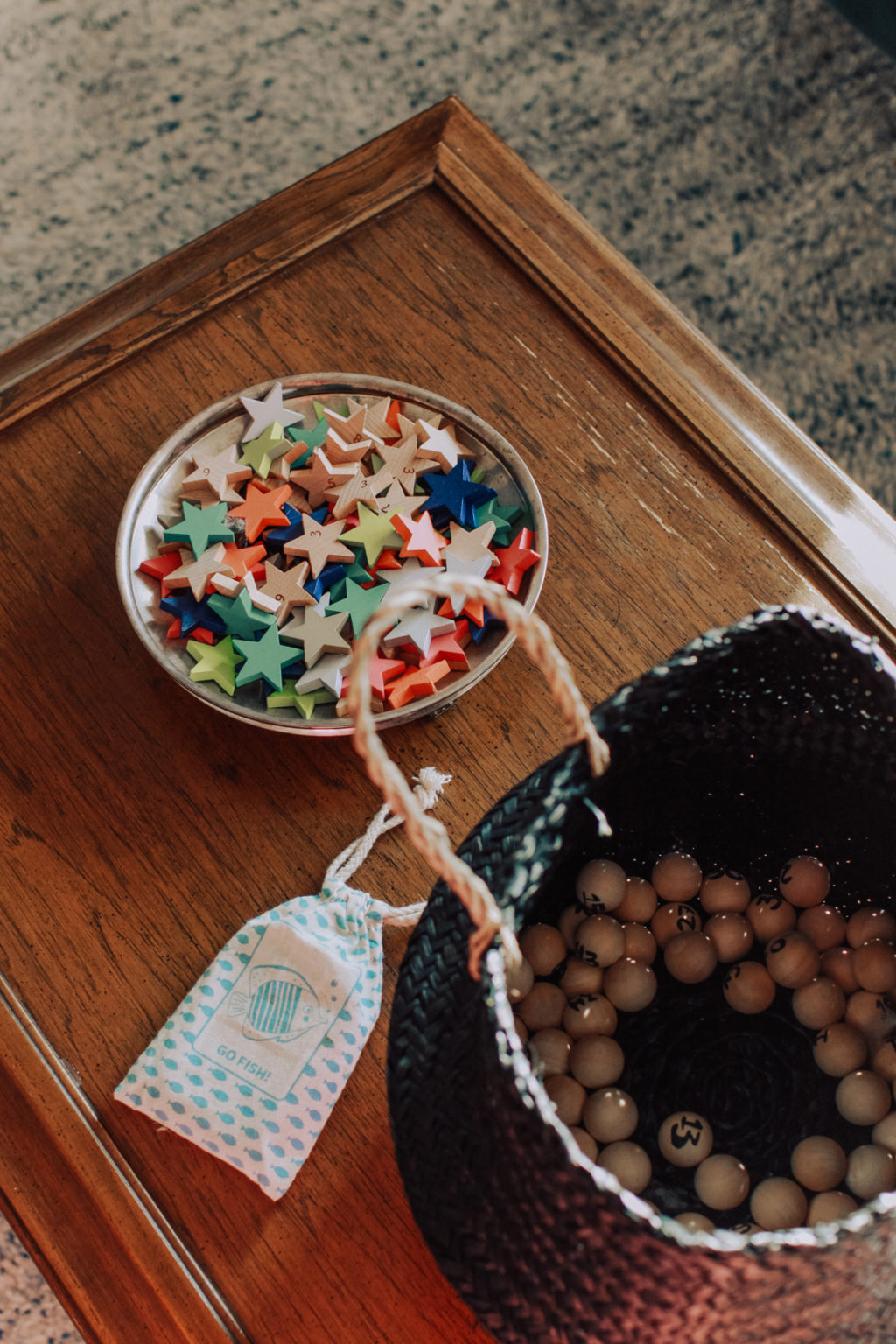 COFFEE TABLE GAMES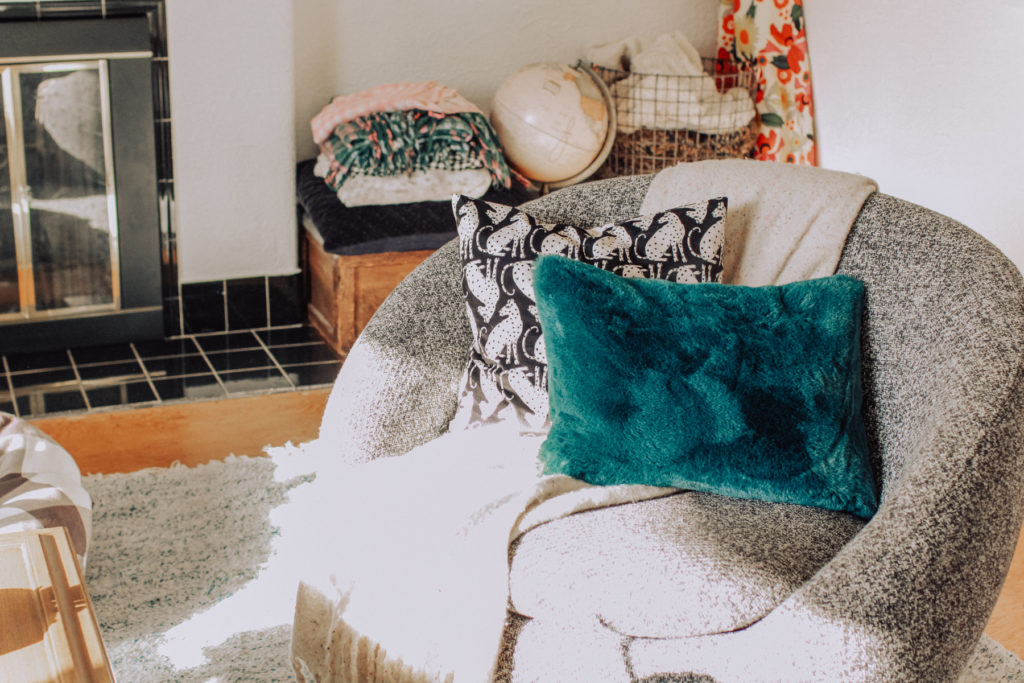 I leave you with this… I'm not much of a yeller but I like to think I have a fairly effective mom-look. I think Poppy was trying to cheat a little at our go fish game and mama don't play that, lol.
Are you in a nesting mood? Or fully decorated for Halloween!?
xo, Rae