The way I see it, traveling with kids is fun and adventurous, but also unpredictable, stressful and the opposite of zen. One of the things I know fo-sho helps with the latter half of that statement is packing well. While I might not be an expert and don't have all the answers, I do have packing our family up for a trip down to a science and feel like a well packed bag helps balance out the chaos just a little!
Here's what and how we pack for a typical 3 or 4 day getaway.
PACKING THE KIDS
The Suitcase | Depending on where we're going and how we're getting to our destination, I either pack the 4 younger kids into a giant suitcase or 2 separate laundry buckets (Target carries a kind that bends, comes in different colors and has handles that I love but couldn't find online). After they've taken an outfit, jammies, and a few items, such as toiletries and blankies, out of each basket, I combine their stuff and use the empty one for dirty clothes.
Clothes | I pack the 4 younger kids 1 outfit per day, including underwear, socks, and layers, plus 1 or 2 extra outfits depending on our destination and how long we're staying. Then I throw in pajamas (1 set for every 2 nights), an extra pair of athletic shorts or joggers for the kids to lounge in, and a pair of shoes and either sandals or boots. Best case scenario they put a pair on before climbing in the car too. I'm always amazed at a child's ability to lose, burry, destroy or forget footwear so packing 3 pairs usually means they will each have 2 wearable pairs for the trip (hahaha!). Oh, and if we're headed somewhere with a pool then I pack a couple swimsuits for each kid too!
Next addition to their suitcase is accessories which might seem like overpacking but I've found that they often double as toys. Little purses (like these!) work great for scavenger hunts and finding treasures, hats are fun to catch things in, scarves make good blindfolds, and sunglasses are just handy to have and look really cute in pictures!
Our oldest, Ozzie (16) packs himself, but often has me participate in the process as he's laying things out and putting together outfits. Raising mostly self-sufficient kids that still want your input is like the best of both worlds. I love it!
Toiletries | Toothbrushes, tooth paste, travel shampoo/body-wash, bandaids and ointment, children's ibuprofen, and melatonin all get thrown into a toiletry pouch. I love these carryalls from Ban.do (only $10 for set of 2). The smaller size is perfect for hairbands and clips on trips I remember. Otherwise we're stuck with whatever hair accessory is floating at the bottom of my purse which surprisingly usually works out just fine :)
Carry On | Each of the kids brings a small backpack with a few items to keep them busy during the ride or after we arrive. You'll usually find some combination of tech devices, 1 or 2 books, small toys (like hex bugs or shopkins), coloring supplies, small travel games (land of nod has fun ones!) and a stuffed friend. Espen and Tilly are really good at packing up by themselves while Griffin and Poppy need a little more help. On our way out the door  I'll hand them a snack pack to add to their bags and depending on how long until our next potty break, water bottles too.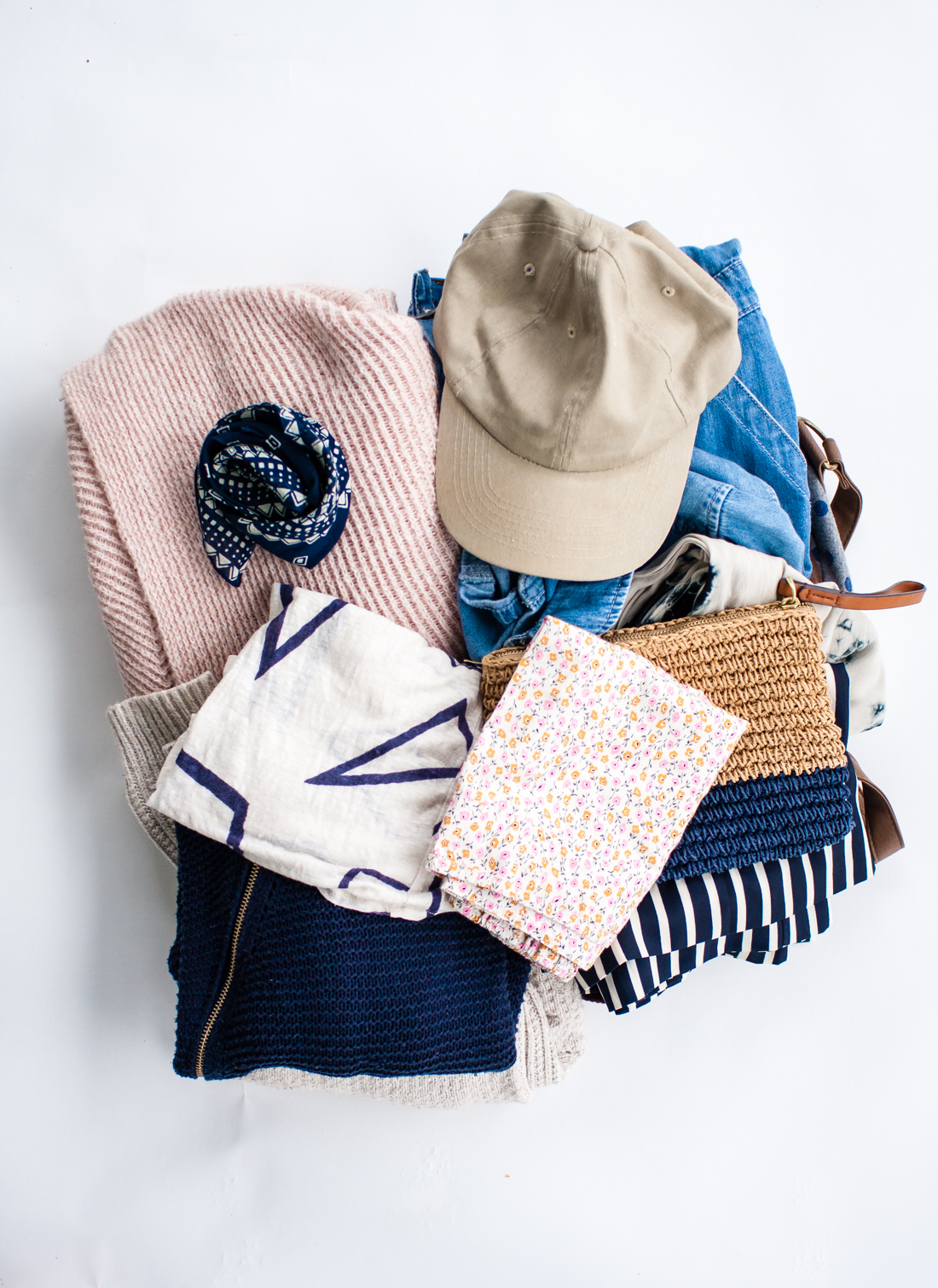 PACKING ME :)
The Suitcase | Most 3 or 4 day getaways, I pack my clothes and shoes in a weekend sized duffle bag like this one. If there is a wedding (i.e. fancy shoes and dress) involved or we're flying I pack in a hanging bag or small roller suitcase.
Clothes | I typically do one of two things when packing clothes for myself 1. pack a mini capsule wardrobe with items that are in the same color palette that mix and match really well or 2. pack the last three or four outfits I've worn that I feel cute in. Either way I usually make sure to pack one outfit per day with layers plus one alternate outfit. Then I almost always throw in an extra casual dress (unless it's freezing out), one or two outfits to lounge/workout in, a swimsuit (if needed) and pajamas. Shoes are the hardest item to narrow down for me and take up the most room. I'm usually wearing sneakers on travel day and then bring whatever else I know will get worn depending on our destination and planned activities.
Toiletries | I throw all my makeup, travel sized lotion, shampoo, etc. and hair products into one of those small lululemon manifesto tote bags that they send when you order on line. It's probably not practical or efficient but it works and is easy to rummage through and unpack. Actually, I should just splurge on another set of catchall pouches from ban.do for myself!
Carry On | My carry on consists of charging cords, my laptop and card reader, the big camera, my Bible, planner, and a book that rarely get's read on the car ride or trip, LOL. I also try to remember to include a treat of some kind for when we are in need of a reward, distraction, or something bribe worthy.
Packing for Activities | A few days before our trip I'll set a basket or tote out downstairs and start filling it with relevant items such as sunscreen, bug spray, towels, a favorite board game, etc.  Johan is really good at gathering and adding recreational equipment such as tennis rackets, kites, etc. too!
I like to think I've found my happy place somewhere between minimalist packing and over packing :) Regardless, it takes a lot to keep everyone dressed, playing and comfortable while we're away but it's so worth the hassle!
Now if I can just figure out a less daunting and more fun way to unpack, ha! If that is even a thing? No but really, please share any tips or tricks you have for packing or unpacking as we have a few weekend getaways coming up and mom-hacks are always helpful!
xo, Rae