Come Christmas morning, our stockings are mostly stuffed with gum, chapstick, socks, and starbucks gift cards, but I always love including a few special surprises too. Since we're doing the 4-Gifts again this year it also leaves a little wiggle room in the stocking budget. Here are a few potential stocking stuffers (and a couple gifts) that have caught my eye lately.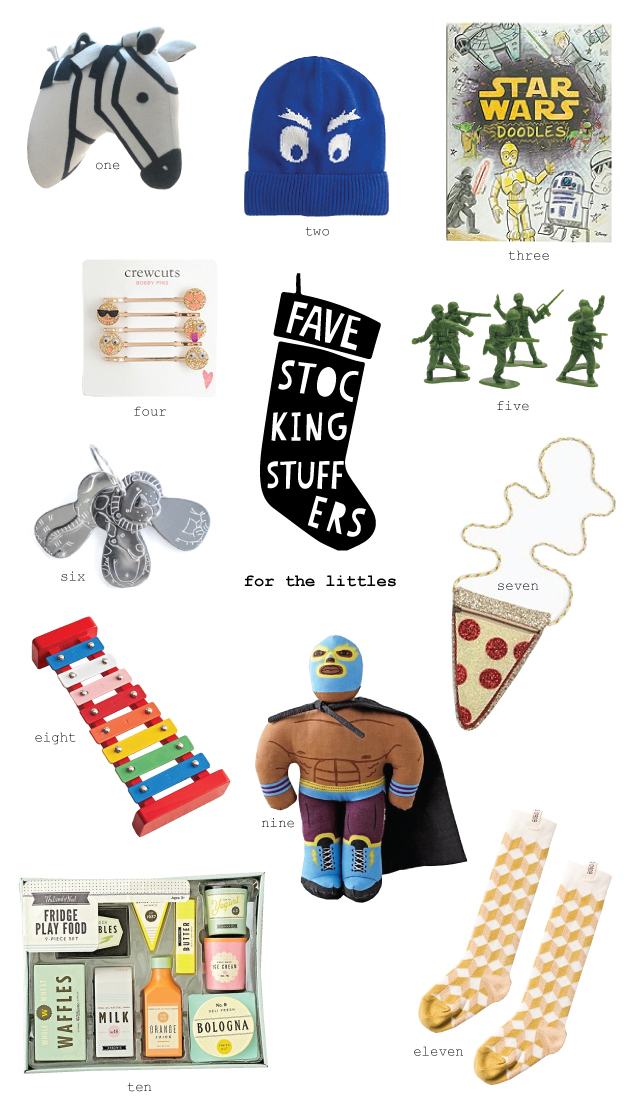 one | Pillowfort zebra head from Target. Love the bear one too. Actually, love them all!
two | Blue monster beanie from Crewcuts.
three | Star Wars Doodles book from Amazon.
four | Emoji bobbies from Crewcuts.
five | Toy army guys from Amazon (or just about anywhere). Perfect for target practice ;)
six| Stainless steel teething keys from Kleynimals… We've outgrown the need for teethers, but love these and they make great baby shower gifts too so had to share!
seven | Pizza purse from Crewcuts.
eight | Colorful xylophone from Land of Nod.
nine | Pro wrestling dolls for the win! Too expensive for a stocking but such a fun gift.
ten | Wood fridge play food from Land of Nod. They have a pantry set too.
eleven | The cutest knee-high socks from Bobo Choses.
Years ago, in the middle of the night on Christmas Eve, my mom realized she had totally forgotten about buying stocking stuffers. Like any good mom would do she rallied, headed to Rite Aid and filled a shopping basket with deodorant, toothbrushes, drugstore underwear and the like. From that year on (and now even as an adult), our stockings always included a slightly upgraded version of my mom's Rite Aid finds and I don't think anyone would want it any different! Funny how traditions sometimes get started.
Do you have any stocking stuffer traditions?
XO, Rae