Whether you're sending kids back to school or just ready to transition from lazy summer mornings to more structured fall days (hello earlier bedtimes!), getting everyone back onto the same morning routine is key. With 5 kids that have very different morning tendencies I've put together a list of tips and tricks that make it easier to get out of the house on time(-ish).
1 | STOCK THE DOWNSTAIRS BATHROOM WITH TOOTHBRUSHES + HAIR SUPPLIES — Unless we have a good 10 minute cushion before heading to school or the bus, sending my kids back upstairs to brush their teeth and style their hair (if they haven't already) is a terrible decision, because the distraction struggle is real. They find a million other things to do like rough house, find that toy they haven't seen for a couple weeks, or count the money in their piggy bank. It's a serious talent and maybe it's just my kids but storing tooth brushes and hair supplies downstairs keeps everyone moving in the right direction.
2 |ONE + DONE OUTFITS FOR MAMA — It takes me way too long to get ready once the kids get up and I try to use as much of the hour or two before they do so to get some work done so having cute dresses and jumpsuits to throw on is everything. Add a hat or sunnies and some lipstick and 15 minutes is all it takes to be ready for the day! Unless of course it's a hair washing day :)
At least until the weather starts to freeze in which case I stay in my sweats or jammies as long as possible, and opt for driving the kids instead of walking, LOL.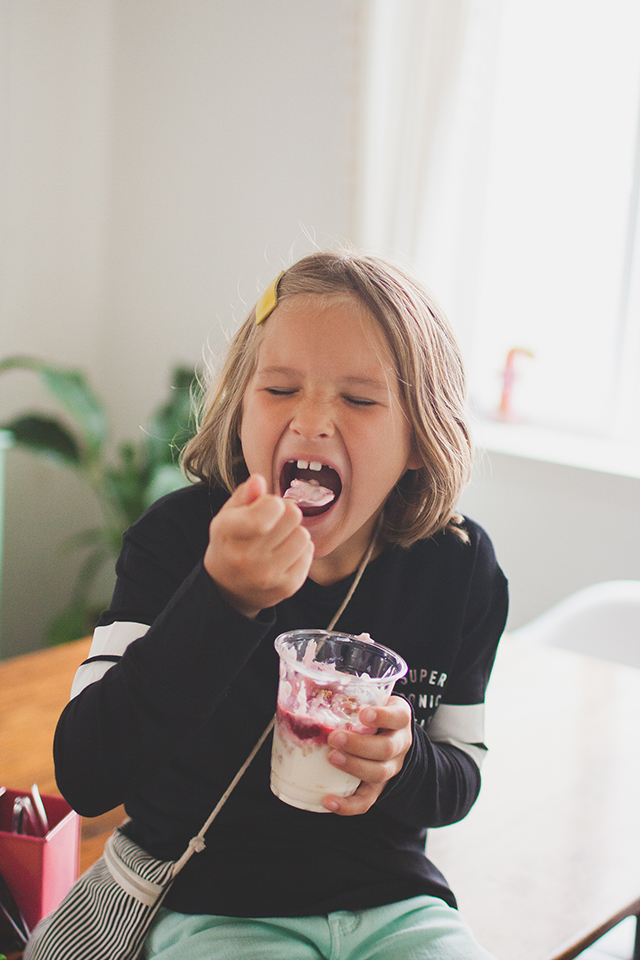 3 | CONTINENTAL BREAKKIE TO SIT AND EAT OR TAKE + GO — this is key for Tilly who would prefer not to eat breakfast until 10am. She just isn't hungry, but not eating before going to school is not an option for many reasons but especially because she goes from hungry to hangry in a few short minutes. To make it easy on all of us we'll be setting up a continental breakfast for the first couple weeks so there will be lots of choices and easy options to grab and go or throw in their bags for snack time later. A few things on our continental breakfast menu: no-bake energy bites, cereal, yogurt, granola, bananas, apples, peanut butter, hardboiled eggs and muffins.
4 | INCENTIVES! — Who doesn't love a good incentive!? At the top of my kids' wish list is Starbucks, a special after school snack, family bike rides to school, or "parent pick-up" instead of taking the bus.
5 | CUE THE MUSIC, DANCING + LAUGHTER — There is nothing worse than sending the kids off to school when one or more of us is frustrated or upset. Luckily — joy, cool dance moves and laughter are contagious. It's also not a bad way to start the day!
I absolutely loved and appreciated all the comments regarding my thoughts on homeschooling. You guys are the best and seriously know how to encourage a girl!!! Instead of rushing into things this year, Johan and I have decided to spend more time thinking about the logistics and looking into co-ops, programs, and other resources that are out there. In the meantime the kids will be going to their usual school (that we love!) down the street and I'll be scheduling one day a week to volunteer… something I'm sure Poppy will look forward to just as much as me!
Now back to morning routine hacks. Please share any tips you might have in the comments!
xo, Rae
SaveSave
SaveSaveSaveSaveSaveSave
SaveSave
SaveSave
SaveSave
SaveSave