happy day after father's day weekend! hope you were able to spoil the important men in your life. we facetimed with family on the east coast, made (and devoured) yummy food, and had a couple little adventures at my parent's house.
i've missed you the last couple weeks… despite my best intentions and a list of fun posts we wanted to publish i had trouble finding time to get them up! however, tilly and i are back from so-cal, life has settled down and i'm excited to get the belated posts up!
let's start with this little travelers map we put together (before leaving for LA) so we can start keeping track of our adventures together as a family. it's still hanging up in the kitchen, but will probably be moved upstairs to the hallway outside the kids' room.
we cut triangles from patterned scotch tape (washi tape would work) to mark the places we've been with the kids. our map is pretty bare…. looks like we have some traveling to do!
—-> a little peek inside tilly's carry-on: trail mix, string cheese with crumbled tortilla chips to dip them in, ipod touch & headphones, colored pencils & a journal, candy wrappers to make this bracelet, sunnies for when we get off the plane, & some DIY postcards (download below).
—-> not pictured, in my carry-on: blow pops, gum & a copy of the friendship show.
(side note – no matter what kind of outing we go on i find that snacks or treats that take a longer time to eat are always a good idea… keeps em busy & content longer!)
i had fun putting together a carry-on for tilly's first plane ride. so much fun in fact that i totally failed to prep my little girl for what happens during take off. she's so daring and wild by nature and i was so excited to dig into her bag and play that it didn't even occur to me! well. there was a minor freak-out episode involving threats of puking and wanting to get off the plane NOW. ooops. luckily she settled down quickly once the plane leveled out and barely acknowledged the takeoff on the way home.
a-few nights before our trip i stayed up late making a new messy bag out of drop cloth and this cute peacock fabric. i fully intended for the body of the bag to be the peacock pattern, but i guess that's what i get for sewing at 1am. instead of getting my seam ripper out i opted for some painted polka dots to add some color and like how it turned out with such a pretty lining.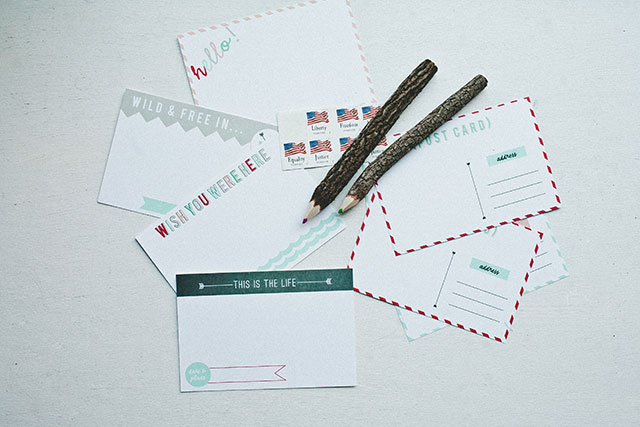 we included these DIY postcards with the map poster download, but wanted to share them here (for freeeeeeee…. guess that movie?) to use during summer travels.
C L I C K H E R E T O D O W N L O A D
speaking of summer travels, do you have any trips planned!? road trips? camping? weekend getaways? or maybe just lots of trips to fro-yo…. totally counts!
xo . rae
Want to receive goodies like this in your inbox? Sign up below…. (it's free).