We got back last night from our annual camping trip with friends and immediately unpacked, washed laundry and repacked the kids for church camp where I dropped the older ones off earlier today…. (I could really use a nap right about now!)
Both trips are a summer favorite so I thought a simple post about our favorite summer fruit, watermelon, would be appropriate. It also happens to be national watermelon day which is a happy coincidence. Love when things that happen!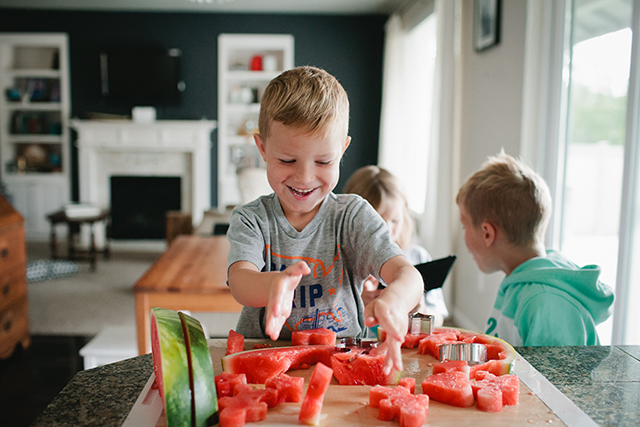 Griffin hates (with a passion) all fruits and veggies but is obsessed (also with a passion) with helping in the kitchen. One day I hope all his kitchen adventures will persuade his tastebuds to try all the fresh foods he cooks but until then I do my best to give lots of opportunities to help and play with food.
A few weeks ago we sliced up a watermelon into half-rounds, picked our favorite cookie cutters and made watermelon cookies. Although Griffin didn't end up trying any of the cutely shaped fruit pieces he did have a blast making and feeding them to Poppy. The older kids really got into it as well.
Snacks that double as an activity is always a win so I thought I would share :)
What is your favorite way to eat watermelon?
XO, Rae
(Images by Stacy Jacobsen)
PS – Here's another watermelon recipe to checkout!