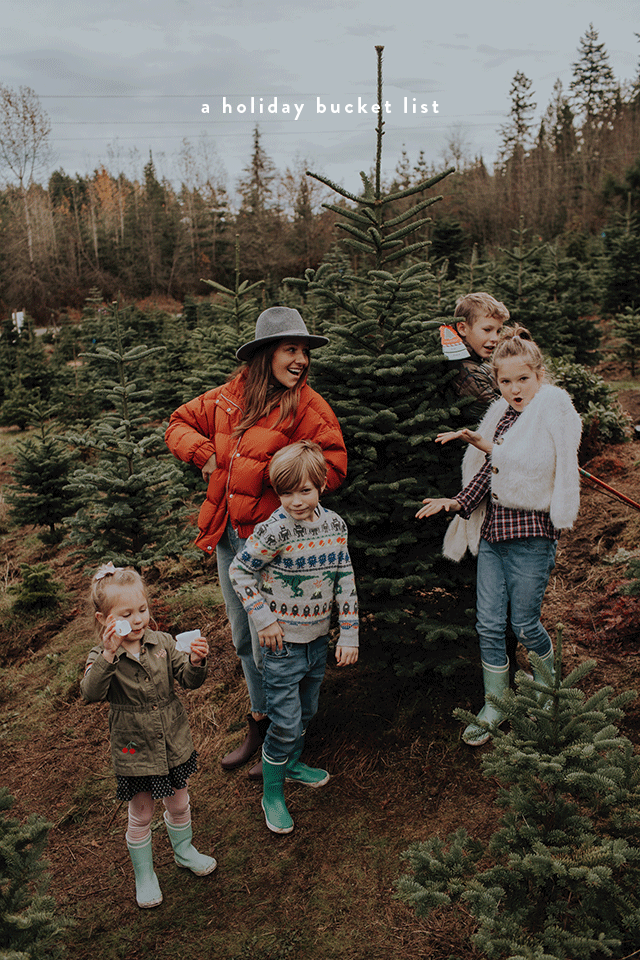 There are two different kinds of people. Ones that see what they like and devour it because it's just so good and those that see something they like and take it in small doses so it lasts as long as humanly possible. I think this concept can be applied to almost every area of life from eating a bowl of ice cream to deciding what (or how much) to watch on Netflix and even holiday festivities. My husband, being more of a devourer, suggested we head to the tree farm last Sunday right after the kids sat on Santa's lap and had their pictures taken. Like, in the same day you guys. And I guess I can see where he was coming from. Everyone was having fun and being good so why not take advantage and keep the christmas party train going. But the idea of doing two holiday traditions in ONE DAY almost gave me an anxiety attack (ha!) because I really like to spread things out in small bites.
So I did something I do every time I start to feel anxious about our schedule – I made a list. It started as a bucket list but ended up being a list of all the things that would be fun to do over the next month. Because really Christmas time is not like ice cream… there is more than enough holiday magic to go around. Here's the list so far.
25 THINGS TO DO IN DECEMBER
watch an old christmas movie at an old theater, preferably in our jammies
attend/support a local event — we usually attend a pancake feed fundraiser at a local firestation (not Johan's) and this year Tilly is singing with the school choir at that same event!
go see the nutcracker (or other holiday play/musical — seeing elf was so fun last year!)
go to the tree farm (again) for a tiny tree, the train ride and hot cocoa of course.
make paper snowflakes
make a garland, paper chain or countdown chain
read the story of baby Jesus from the Bible
collect toys, clothes, coats, warm socks and blankets to donate
host a christmas movie night for the kids and their friends (this was a new addition to our fall bucket list this year — we watched transylvania 3 — and it was so. much. fun.)
take the kids to see the new grinch movie
make teacher gifts
write and snail mail a letter to santa or a handmade christmas card to a friend or family member.
go on the polar express
campout in the family room by the tree!
bake cookies to share (and eat)
leave candy canes on car windows
go caroling (hoping i can convince friends to do it with us!)
go ice skating
go skiing
go sledding
plan a staycation and swim in the hotel pool (ps – our favorite swim co is launching a resort collection on monday and i'm hoping to snag a few!)
go to snowflake lane (or other Santa parade)
grab hot cocoa and go look at christmas lights
buy a new ornament and/or christmas book
zoo-lights
Now the next time I feel like things are moving too quickly, i have a list of big and little things we can do (preferably in our pjs) to keep the celebration going.

No idea why tilly is throwing her cup and actually don't remember Johan taking our picture… might actually be by Griffin now that I think about it!
On the hunt for the perfect Christmas tree. Everyone agreed on the same tree which is not the norm and setting it up in the family room with lights and ornaments just made us fall in love with it more. The next day, one of the kids had a friend over and the first thing out of their mouth when they saw our tree was, "why is your tree so small?" HA!
I guess we're Charlie Brown tree kinda people.
Everyone took turns trying to saw the tree down while Poppy offered moral support.

Tilly + Poppy playing "stylist" in the pics below. I die! Mostly because Tilly usually resists anything style related… I know she secretly likes it :)
Ran into our sweet friends and their snuggly dog too!
I love you Christmas. I love you family. Missed you Oz.
When it comes to life or eating ice cream, do you prefer to fit it all in or make them last?
What's on your holiday bucket list?
xo, Rae
PS – OUTFIT DETAILS (for those that are interested): my coat, hat, boots (jeans are levis but couldn't find a link) | tilly's top | kids' rain boots