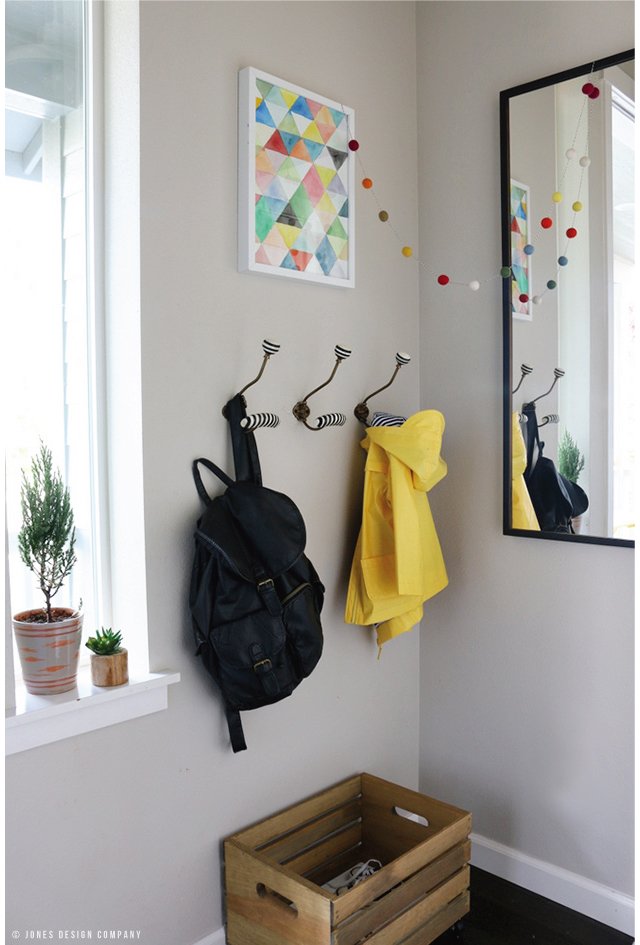 Remember the entry refresh I briefly mentioned awhile ago? Well my home dec savvy friend, Emily, stopped by to help me add a couple finishing touches (like that cute watercolor she made!) and take pics. For more of the back story, here's the original post she did.
As much as I love interiors and styling spaces, home dec can get me feeling a little intimidated. While I've been getting more and more comfortable piecing together different areas of the house, having a friend that knows what she's doing is a lifesaver.
Here's a quick look at all the changes….
Our entry is long and narrow, and felt slightly awkward. It was also dark and I had a difficult time making it feel welcoming.
A painted yellow door, black and white wall hooks, pendant light, patterned runner, wood crate, old mirror, framed art and pictures later and it's a bright and cheery space for my little tribe and guests to walk into. The best part? I spent no more than $150.
Head to Emily's blog (you'll love it!) for more details, sources and her take on the process. Thanks Em, for all your help!
Keep reading for a quick tutorial on how to make the wood shoe and catch-all crate pictured. It's been so handy and adds a nice handmade touch to the entry.
ROLLING WOOD CRATE:
You'll Need:
Wood crate, approx. size 18x14x9 (like this one)
4 casters
Drill or screw driver
16 small screws (short enough to not poke through the wood)
Small can of wood stain (I used one with a gray tone)
Small paint brush
Small vinyl sheet
White paint
Here's How:
Brush wood crate with stain and let dry. Repeat until its as dark as you would like.
For stenciled bottom, measure wood slats in the bottom of the crate. Type out a phrase that will fit. Lay vinyl face up on work surface, trace phrase and cutout. Peel backing, arrange on wood and paint over with white paint. Let dry and add a second coat if needed. Once dry, peel off vinyl.
Using a drill or screw driver and some elbow grease, secure a caster to each corner of the crate.
That's it! Let me know what you guys think of the entry refresh and if you have any questions.
If you are visiting from JDC, welcome! I have lots of fun projects to share over the next couple weeks so be sure to check back or sign up for emails.
Mi blog es su blog :)
XO, Rae
For a couple more house pics, head here: GIRL'S SHARED ROOM / MUDROOM + STAIRS