These mini bites are legit-ness and I'm not just saying that. Even my 14 year old Ozzie and his friends are obsessed and since said 14 year old is graduating from middle school today (insert crying emoji) and would die if I posted a picture of him and then gushed about how amazing he is and what a proud mama I am, I thought I would share his favorite snack recipe instead!
In addition to being Ozzie's fave, super healthy, a cinch to make, and easy to pack they are also a perfect summer treat because you don't need the oven. Read on for the no-bake recipe!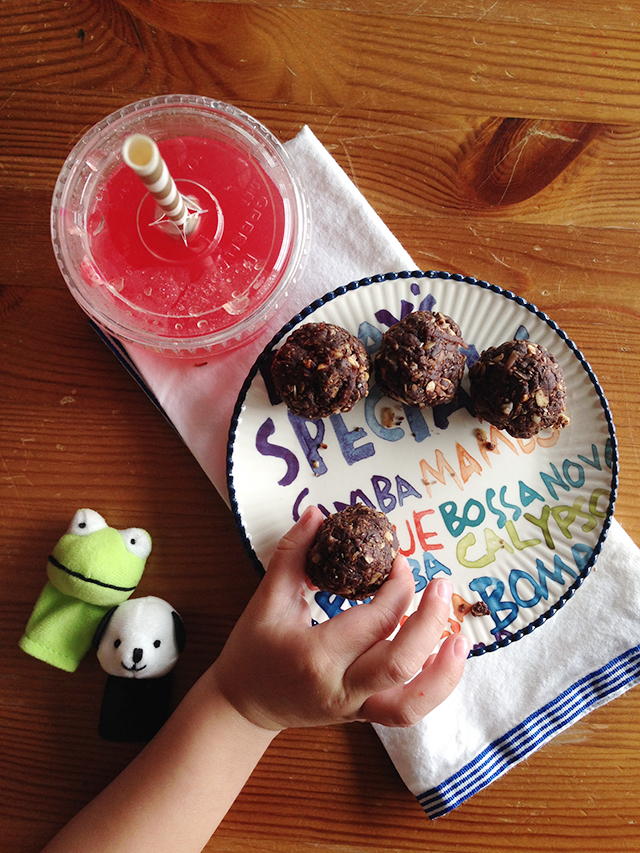 MINI (super healthy) COCOA & PEANUT BUTTER (no-bake) BITES — makes 30, takes 30 minutes start to finish
Ingredients you'll Need:
1 cup natural peanut buter
2/3 cup honey (agave works too)
2 cups old fashioned oats, uncooked
1 cup coconut flakes (sweetened or unsweetened)
1/2 cup unsweetened cocoa powder
1/2 cup ground flax seed
1/4 cup *chia seeds (if you have them!)
1 tablespoon vanilla extract
Here's how:
Combine all of the ingredients in a large mixing bowl or stand mixer and mix until combined.
Roll 1″ balls (a cookie scoop is helpful) and place on a rimmed cookie sheet or tupperware container.
Eat right away or let chill for 10 minutes (I like them better chilled first). Store in an airtight container for up to a week. However, they will probably be eaten long before they expire!
NOTE: When rolling the balls, if the mixture is too sticky, cover and chill for 20 minutes in the refrigerator or stir in some extra flax seed or oats. If mixture is too crumbly or not rolling together add a little peanut butter or honey.
I've had a few questions about how our family does the whole food thang. Not perfectly would be my response but we have also made lots of progress and I would love to share what's worked for us. Let me know if you have any specific questions, below.
Now, run (don't walk) to your kitchen and make some of these bad boys. I promise you'll thank me!
XO . Rae
*Have you heard, the same seeds grown on the cha-cha-chia pets are also loaded with antioxidants, fiber and protein (among other things) and are making their way into everyday foods? We buy a big bag of them at costco (thanks for the tip, dad!) and add them to smoothies, pancakes and oatmeal mostly. I've also heard they are delicious on roasted veggies and in baked goods and probably loads of other things.