soooo, i did the math yesterday and discovered that i've packed or contributed to packing approximately 192 lunches so far this school year. that's about 3 lunches per week for 4 kids and i think this is their 16th week of school (right? just 20 to go!). which explains why lately i've been feeling a little burnt-out and blah about what goes into their lunch boxes.
imagine my excitement when i stumbled upon these pics (also hiding in a random folder on my computer) from october. (it's funny the things that i get excited about as an adult and parent. i remember the first time i did a happy dance over receiving a kitchen appliance as a gift and how i almost cried when yoder and i purchased a real nice, working, non-hand me down vacuum that didn't smell like it was going the catch on fire when turned on!… now back on topic…)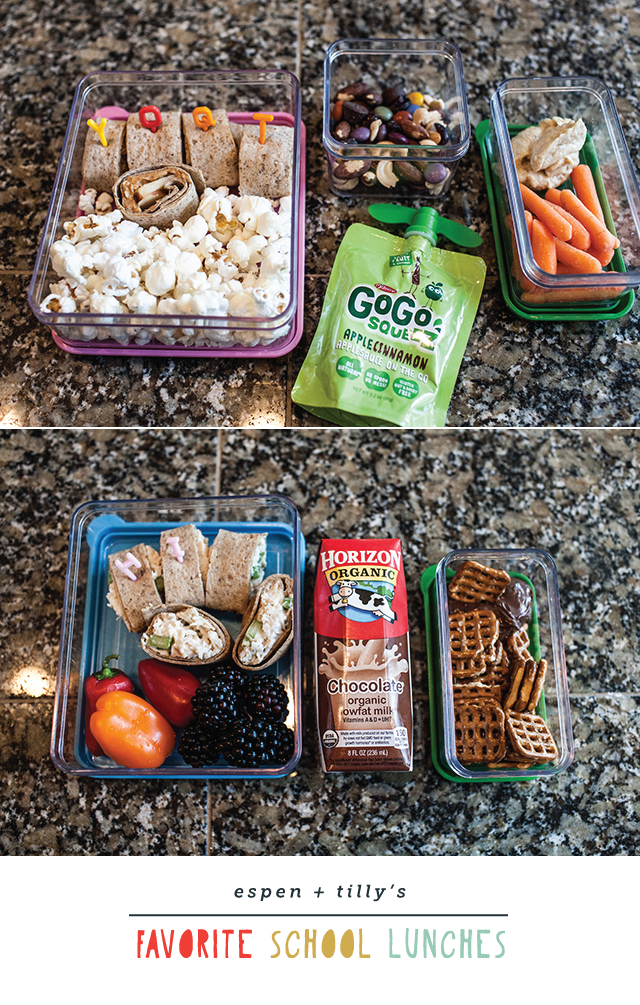 so, if you happen to be in a school lunch rut like me, her's a peek into what espen (8) and tilly (6) love to see in their lunchbox.
ESPEN (top lunch) – updated pb&j sandwich (peanut butter, sliced apple and honey), popcorn, homemade trail mix, applesauce pouch, baby carrots and hummus.
TILLY (bottom lunch) – chicken salad pinwheels, blackberries, baby bell peppers (these are the best!), chocolate milk, pretzels and chocolate almond butter.
hope that sparked some inspiration! this lunchbox wish list is super helpful too.
what do your kids like to find in their packed lunch or favorite snacks when your out and about? please share!
xo . rae
ps – the cute letter food picks are from here and food storage (we've had for 2+ years and love) from here.