I go through stages when it comes to my color preferences and the things I buy for my closet or home. Depending on the season, I tend to gravitate towards a certain color, palette or hue, but there is one color I will always say yes to no matter the season or trends:
RED.
It's bold and bright and yet feels very classic. A red dress or coat is the perfect statement and yet a pop of red on manicured nails or a pair of shoes is just right too. It really can do no wrong.
Which is also how I feel about this red sonnet james dress (wearing xs)… it can do no wrong. I've worn it to church, date night, running errands and you can bet I'll be putting it on for all of the kids' Christmas performances and classroom parties.
A few other sonnet james red dress options, here, here and here. Oh, and don't forget to checkout their 12 days of giving. (not an ad, just love their dresses and brand!)
A few pics from when I wore my red dress during our stay at the Palladian Hotel in Seattle — which we booked while using the kayak app and was honestly one of my favorite hotel stays to date. (also not an ad :)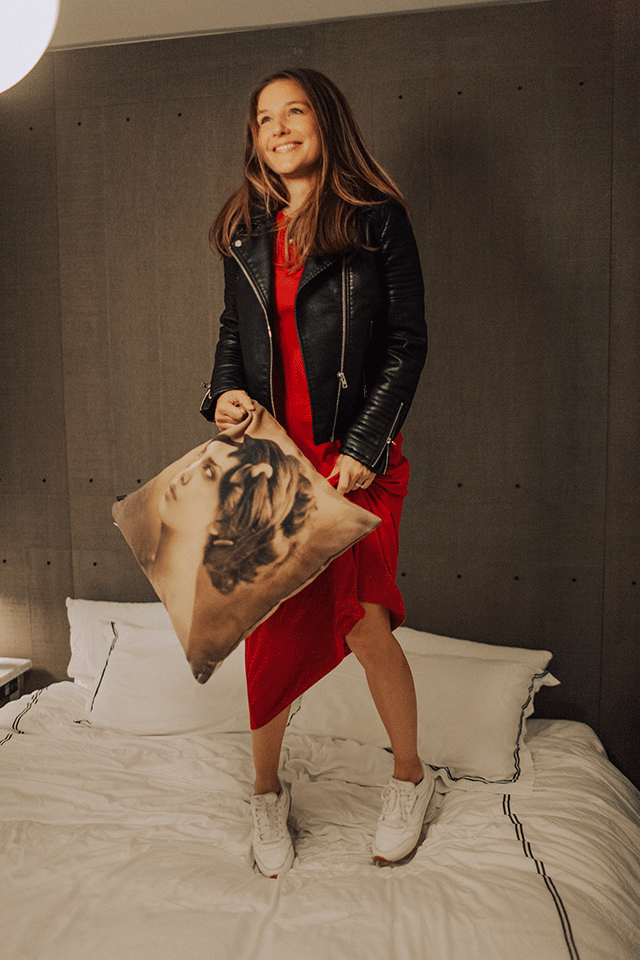 Will never turndown a chance to jump on a bed. Also, there is something so silly and fun about getting our camera out when it's just the two of us. Makes me feel like I'm a teenager again!
Crushing hard on the pic of Johan holding flowers :)
More red!
The view just to the right of our hotel. And Pike Place Market was a quick 5 minute walk away!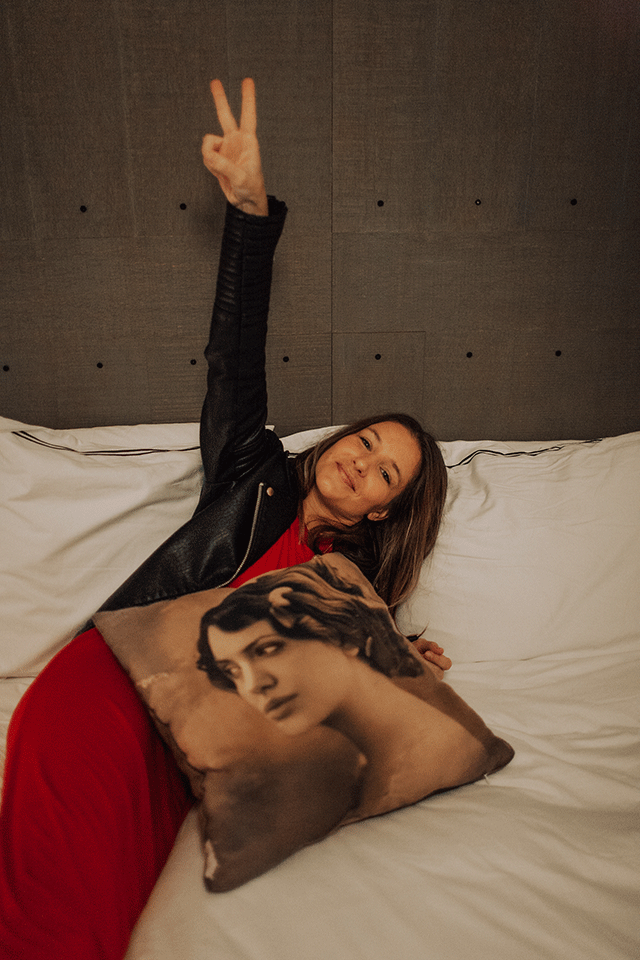 See what I mean by teenager, ha! "Take a pic of me snuggling Angelina Jolie!"
How this hotel managed to be fancy yet quirky is beyond me but it worked so well. My favorite part was the  unexpected paintings and pillows of famous people in vintage styles. So cool and unexpected and tasteful and fun.If you have a minute, the hotel photo gallery is worth a scroll, HERE.
All these pics really make me want to plan a date night!
Do you have a color that you love no matter the season? What color do you see most of when you look in your closet?
Just ran up to check mine (lol) and see lots of white, gray and denim with shades of red and pink… kinda makes me want to organize things by color.
xo, Rae
OUTFIT DETAILS | red dress, leather jacket, white reeboks