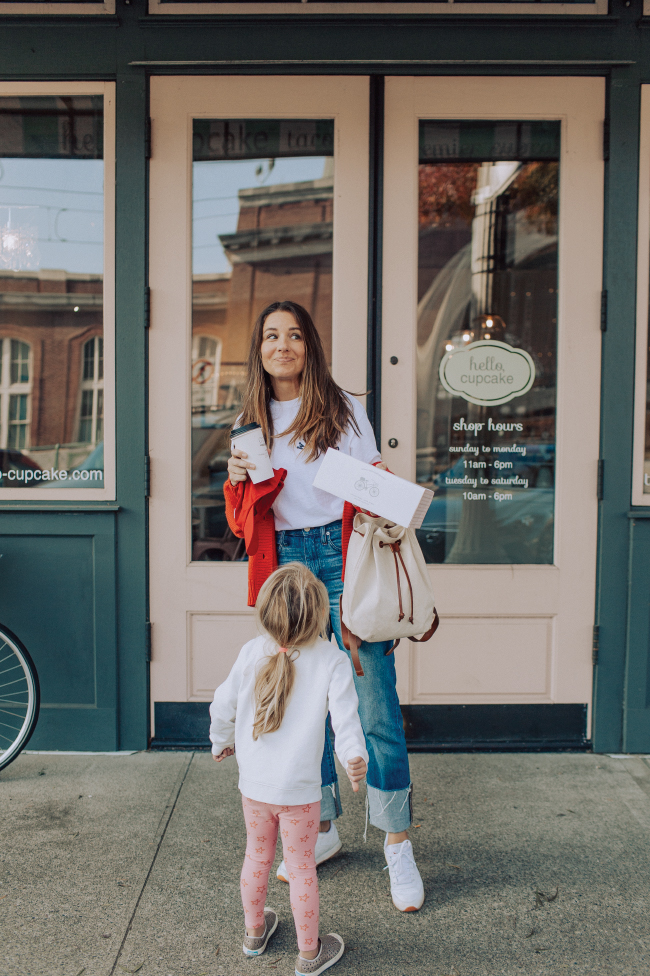 Last Friday after a busy week and what felt like forever since Johan and I had a chance to chat or hangout for more than 5 minutes, we took Poppy out for a little date to Hello Cupcake in Tacoma. It was such a fun and needed break and as you can tell, I'm  a happy girl anytime there's a coffee and cupcake (or 12) in my hands!
Also love that "sweater weather" means I get to add a cozy, textured layer to my usual jeans and a tee uniform. Bonus, every time I think or hear the word "cardigan", I can't help but sing, "Cardi-Cardi!" in my head. Ha! Add a bright color to the mix and it does wonders to brighten up tired eyes and a fading summer tan.
Linked outfit details and more pics from our outing below!

(I typically favor cozy quarters over a giant home, but dream of having a prep kitchen with a giant pantry and fridge hidden behind swinging doors with round windows like above. A little over the top but think of how amazing it would be!)
We ordered a dozen mini cupcakes to grub on and share with friends before Ozzie's football game later that evening. Plus one to eat right away of course! Gotta love places that make their sweets in a tiny size for kids and adults to enjoy. No sugar rush (and invitable meltdown) for them or sugar crash for us.
As we walked down the street with our basically homemade cupcakes from a small shop and stared through the windows of other small shops and restaurants along the way, I thought about how much I love supporting small businesses and appreciate the people who put their heart, creativity and finances out there to make our communities thrive and our everyday lives feel extra special. It's honestly heroic in it's own way — even if it means paying $2 for one mini cupcake when you could buy twelve for $5 at target. The value is so much greater. And the lack of preservatives is pretty awesome too.
I'M WEARING | sweater also available here (I sized up 1 for a bigger fit), vintage tee, jeans (similar. also saving up for these), shoes
POPPY'S WEARING | leggings, sweatshirt, hat
Our little outing also made me wonder what kind of a shop I would open…? As much as I have dreamt about opening up a clothing or home goods store (for the obvious personal perks), I would for sure open up a bakery that also served ice cream and breakfast until 10pm (def. the reason I should never open a store, lol — way too hard to decide on a niche!)…. something about knowing my bakery slash cafe would be a great place for family and friends to gather or grab treats for an afternoon pick-me-up or special occasion would give me lyfe.
Do you guys ever daydream about what kind of a shop or small business you would open? Tell me bout it in the comments!
XO, Rae