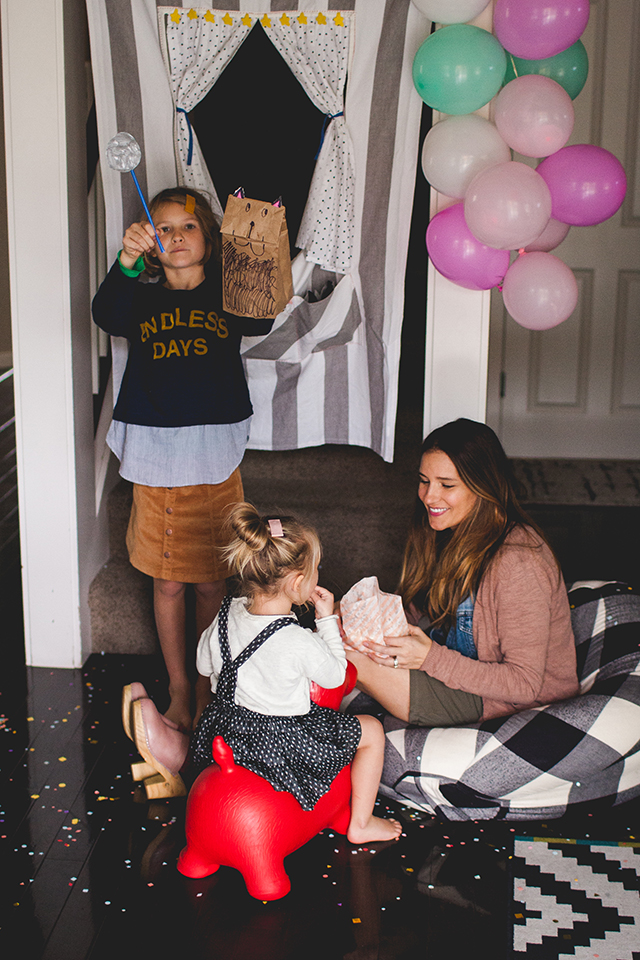 Happy Monday! I'm back with a second edition of STYLE + PLAY and even though my once-a-month attempts at being a style blogger could use some help, I'm super excited for this post!!! Inspired by our visit to the Seattle Children's Theater to see Go, Dog, Go! (HERE'S the post if you missed it) I thought I'd share a list of ways to encourage pretend play at home. You'll also see some of my favorite fall colors and a trend I've been wearing a lot lately.
Ideas and links to outfit sources below!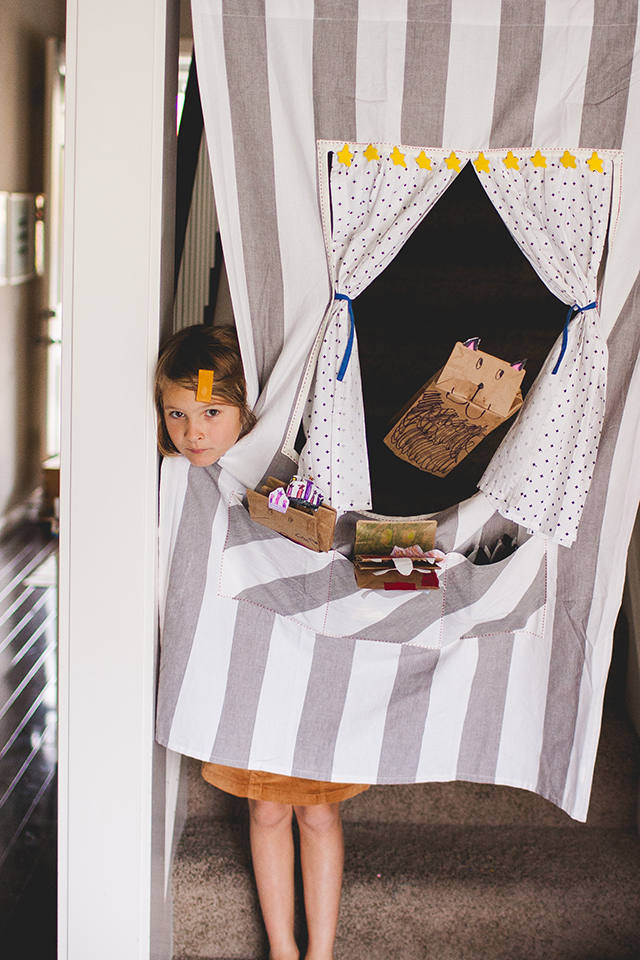 P L A Y :
If you saw our kid date post, then you know Johan and I have decided to do a better job of exposing our kids to the Arts while we're out and about, but I also think there's lots of things we can do at home too! Over the last couple weeks I've found that kids are naturals, but it's more fun when us parents get involved too. Here's a few ideas.
Act out a book, song or favorite movie
Write a story, play or song.
Cook together.
Build a fort and then pretend it's a home, cave, igloo, etc.
Play dress-up.
Make puppets and put on a puppet show. (The theater pictured is from The Land of Nod.)
Play kitchen.
Set up a stuffed animal audience for a dance or theater performance.
Set up a restaurant and let kids take your order, etc.
Build a town for playing with cars or action figures.
Stock up on art supplies and play dough!
Schedule in some downtime without a screen or a smartphone (ahem… mostly talking to myself) — I recently listened to a podcast about how boredom leads to brilliance and creative thinking and after being more aware of how often I check my phone I totally believe it! Johan and I also decided to schedule a couple hours every evening where we're phone free and it's been so good for us!
After seeing Go, Dog, Go! I immeditely hopped online and ordered THIS puppet theater but was half expecting the kids not to be that interested in it. However, just a few minutes after hanging it up, Tilly grabbed brown lunch bags and went to town making puppets and before I knew it all of the kids were getting involved.
S T Y L E :
Can't get enough of that fall color palette! Shades of green, pink and toffee, mixed with dark neutrals are my current favorites. Add in a layer of denim, stripes and scrunchy socks for interest and texture and you have an easy fall outfit!
POPPY | please more broccoli tee x skirt x hair clip
Her outfit is even cuter in person but thought I should mention that the straps don't stay up very well. Poppy didn't seem to mind so I just kept letting her pull them up, but they look just as cute hanging down by her side!
TILLY | endless days top is old from zara but love this and this x similar skirt x hair clip
Always try to take advantage of this in-between fall weather that still allows for bare legs!
ME | dress, similar denim vest, similar cardigan (on sale!), clogs, socks
Sonnet James dresses are the perfect base for a fall outfit when you add a few cozy layers. I also love layering a denim vest or jacket under a coat, bomber jacket or even a bigger cardigan. Adds warms, texture and interest!
Trying so hard to catch that popcorn!
What have you been wearing lots of, lately?
How do you pretend play at home?
xo, Rae
SaveSaveSaveSaveSaveSave
SaveSave
SaveSave
SaveSaveSaveSave
SaveSave
SaveSave
SaveSave
SaveSave
SaveSave