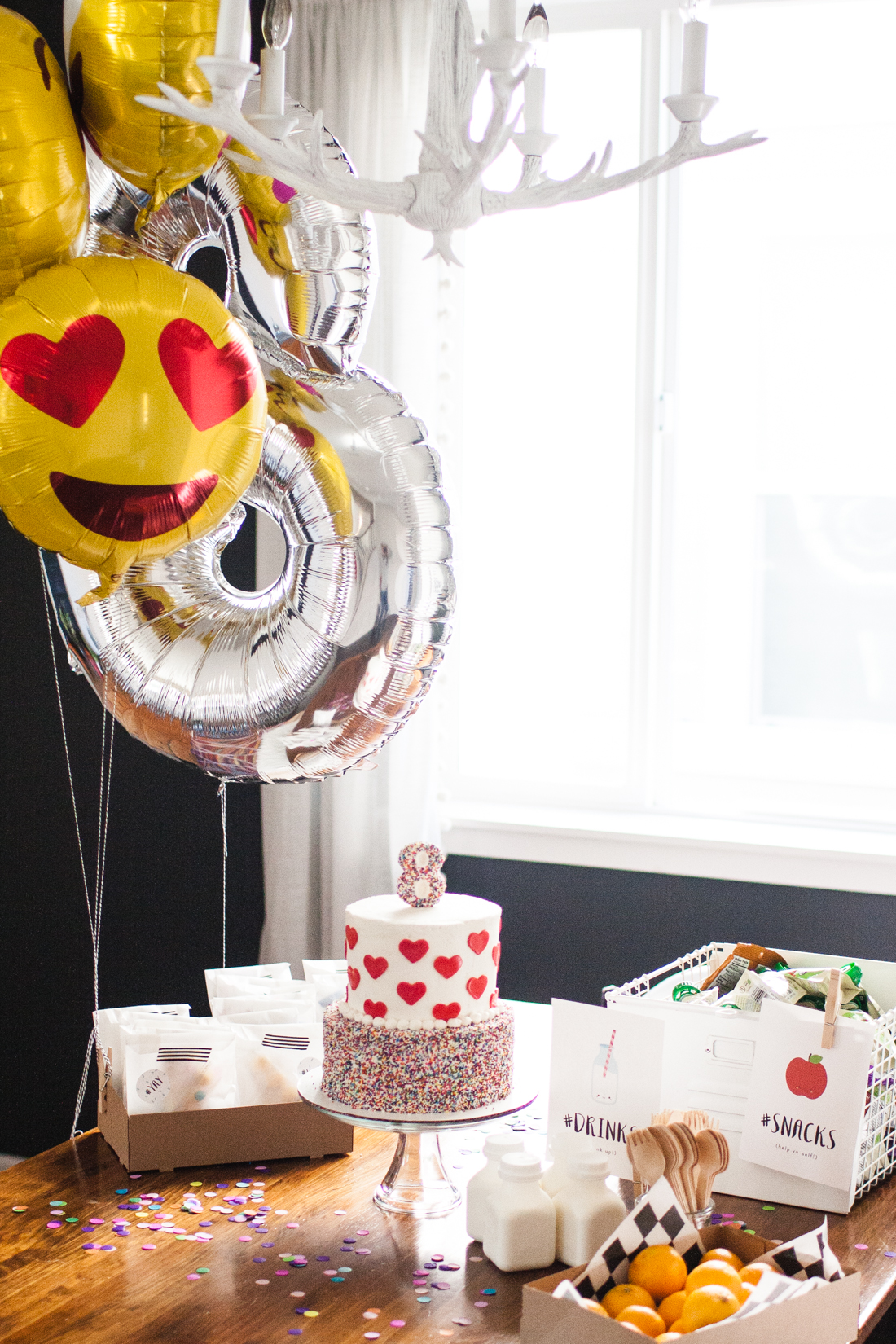 The last week of October is full of Birthdays in our home with Tilly going first, then Ozzie, and finally myself on Halloween. I usually try and squeeze a party in for Tilly early but our Disney Land trip made me think a belated celebration for her might be best. Of course we had festivities and family get togethers in between, but last weekend we ended her very long Birthday week with an emoji party with her friends at a gymnastics center. Tilly helped a ton with all the party planning, designs and decisions (so proud of her!) and was very happy with how everything turned out.
Sharing more details and party sources below!
CAKE: Tilly had been dreaming up (and bugging me) for a tiered cake since before her last Birthday. I have zero cake baking or decorating skills and didn't necessarily want to splurge on a custom cake, but her persistence and excitement about the possibility could not be ignored. So Tilly and I spent a few minutes on Pinterest getting ideas and then reached out to Christina of 4kids Cakes to see if she could whip up something delicious and adorable (and of course tiered) with sprinkles on one layer and hearts on another. Thankfully she agreed and then blew us away with how it turned out and the chocolate "8" topper she added. It seriously made Tilly's day! That and her friends of course. (*Served with wooden spoons.)
BALLOONS + CONFETTI: Since we were partying at a gymnastics center, there wasn't much point in spending time or money on decorations, so we kept it simple and ordered emoji and a number 8 balloon.
PARTY FAVORS: We filled glassine bags with confetti, and emoji stickers and gum balls. Then sealed them with washi tape and #YAY stickers you can click to download HERE.
SNACKS + DRINKS: Our party started at 3pm so we grabbed some favorite kid snacks from Costco, filled 8oz. beverage bottle (or here!) with milk, bottled waters, and LaCroix for the mamas and papas. Click to download "#DRINKS" and "#SNACKS" signs HERE.
TILLY'S OUTFIT: Sweatshirt (50% off!) and leggings from Peek and boots from Target.
T w i n n i n g (! ! !) with a bestie.
There wasn't much of a chance to take pictures before or during the party with the entire crew of kids and parents. But, you know those people that just don't want to leave a good party? That's how we roll and these are our friends who do the same thing. And I'm so grateful they did so we could get a few pics to remember the day with! Of course we love and missed the ones that had to scoot out earlier.
(Johan sneaking in one of the older brothers :)
Oh my goodness how I love celebrating my people. Just look at that face!
All in all, her big day went smoothly and I'm not sure who had more fun — the kids or parents — which is always a good sign! Let me know if I missed any details.
Happiest hump-day!
XOXO, Rae