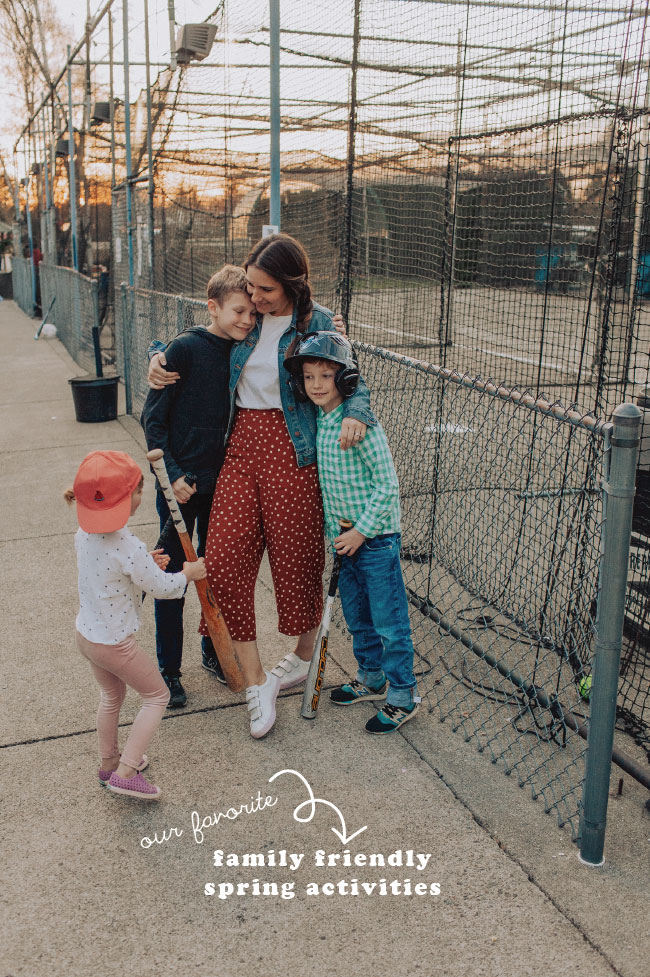 Okay you guys, so I could probably come up with close to 100 fun things to do as a family in the spring butttt, sometimes long lists are more of a distraction than they are productive and since I'm trying to be more present + intentional (hey buzz words) as we get into a very busy spring, I thought I'd share a few low stress ideas to add to your calendar.
Here's our TOP 5 (but actually 6) FAMILY FRIENDLY SPRING ACTIVITIES:

the batting cages and putt-putt — and for kids too young to swing a club or bat, there are usually lots of things to climb on, golf balls to hold onto and holes to hide things in… also be sure to ask for a tee if needed in the batting cages!
the zoo or wildlife reserve — or save money and opt for a nature walk and scavenger hunt.
exploring new parks or beaches + bringing a grocery store picnic — bonus if there's a place to play soccer, run around, fly kites or ride scooters! This is a fun one to do after church on sundays… throw all the scooters, blankets and balls in the car, head to church, stop at the store, then drive long enough for little ones to take a quick nap before hopping out to play!
a staycation — we aren't usually able to travel much during the spring but a close to home road trip or overnight at a hotel feels extra special… still trying to finalize plans for spring break next week and am tempted to head to Seabrook again this year.
any spring sporting event — we love going to Mariner's games but sometimes a minor league game with grass seating, picnic tables and a less crowded kid zone is more relaxing and fun for us parents!
BBQ's +/or happy hour with friends at home — could become a weekend tradition to host or help plan! Since spring weather is often unpredictable having a backup plan
Just signed up for a family fun run and am hoping it will become a new spring favorite. Also wish "family bike ride" made the cut, but we haven't had a successful bike ride since before Tilly was born, lol. We're basically chaos on wheels.
Checked batting cages off our spring activity list Sunday night though… a few pics below!
After sitting through a dozen baseball games and practices for the older boys the past few weeks, I thought the rest of the fam deserved a chance to get some 'at bats' and even though they all thought I was crazy and gave me a million reasons why we shouldn't go, I persisted and eventually got everyone in the car, ha! We ended up hitting until dark and then going out to pizza. It was a school night so you know everyone was having so much fun!
Ozzie and his smart, sweet and incredibly patient gf (you kinda have to be to hang with us!). She's the youngest of 3 so I'm sure tagging along with Oz as the oldest of 5 has been an adjustment for her. However, she plays it off well and will do fun things for and with the kids… we love having her along for adventures!
Poppy had no interest in getting in the cage while the pitching machine was on but loved hitting off the tee! Thankful that the owner brought it over to us… We've been coming here for years and never thought to ask about a tee for younger kids!
Do you have any spring plans you're excited for! What are your favorite things to do as a family once the weather warms up!?
xo, Rae