a couple weekends ago the kids and i spent the morning at the farmer's market and came home with a bucket full of cherries.  after we ate a few handfuls and i put the younger kids down for naps, ozzie asked if we could spend time in the kitchen making something sweet and summery.  now, i don't typically give up nap time to make a mess in the kitchen, but  because he is 12, and the words made my heart melt, i said yes…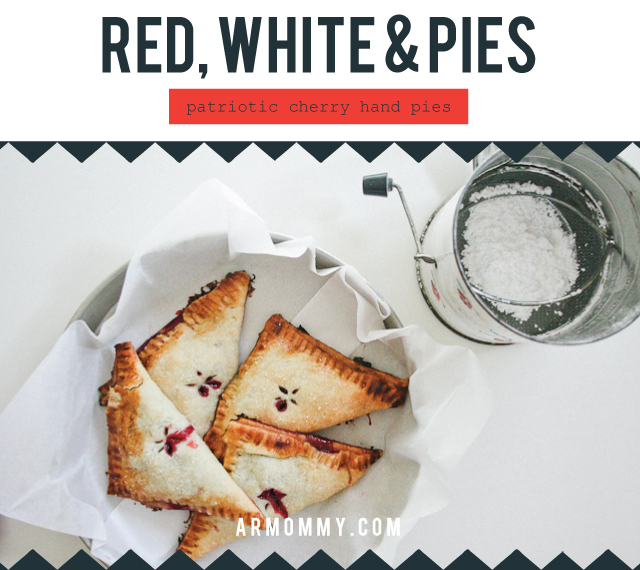 … even though he requested we make cherry pie, and i am not a pie girl unless it involves pumpkin.  not sure what it is, but desserts that involve fruit don't really do it for me.  i prefer my fruit fresh and my desserts with chocolate. usually.
then we decided to make hand-pies which changed my perspective on fruity desserts, because they are too cute not to eat. am i right!?
INGREDIENTS to make the filling –
3 cups pitted cherries, roughly chopped (1 to 1-1/2 pounds whole cherries)
1/3 cup granulated sugar
1/4 teaspoon ground cinnamon
Pinch of salt
1 tablespoon cornstarch
1 tablespoon fresh lemon juice
1 egg, lightly beaten
powdered sugar
DIRECTIONS –
 make pie crust according to directions (link under ingredients).

preheat oven to 375.  line two cookie sheets with parchment paper.

In a large bowl, mix together fruit, sugar, cinnamon, salt, lemon juice and cornstarch; mix until well combined. Set fruit mixture aside.
remove dough from fridge and let sit for 5 minutes. on a lightly floured work surface, roll out one piece of dough to a 16-by-11-inch rectangle. trim to 15-by-10 inches. cut into six 5-inch squares.  repeat with remaining dough, stacking squares in between pieces of parchment.
working with one square at a time, place 2 tablespoons of fruit mixture in the center. then fold in half to enclose and crimp the edges with a fork to seal. repeat process with remaining squares.
place hand pies on prepared baking sheet. brush pies with egg wash and sprinkle with sanding sugar. using a paring knife, slit the center (or make a design) of one side of each hand pie to allow steam to escape.
place baking sheets in oven and bake until crusts are golden brown and filling is bubbling (about 25 minutes).
allow pies to cool slightly and finish with a little dusting of powdered sugar. serve with vanilla ice cream, if you have any handy.
so sweet and festive they would be perfect to make & bring to a 4th of july celebration.
speaking of 4th of july, what are you most looking forward to that day?  fireworks, yummy food, good company, ….? all of the above?
talk soon.
xo . rae