We've officially given into the cold weather and are trading our favorite ice cream shops for coffee shops! This one is C & P Coffee Company in West Seattle. Doesn't that bright colored door just beg you to come in and see what's on the other side? The answer is delicious coffee and an eclectic and cozy atmosphere. It was too busy to try and take pics inside so the equally cute front patio area will have to do, but you guys would have loved it!
The weather was decent (aka, not raining!) so we grabbed our drinks and snacks and sat outside. Americanos are my go-to but opted for a latte just for the foam. Best decision I ever made :)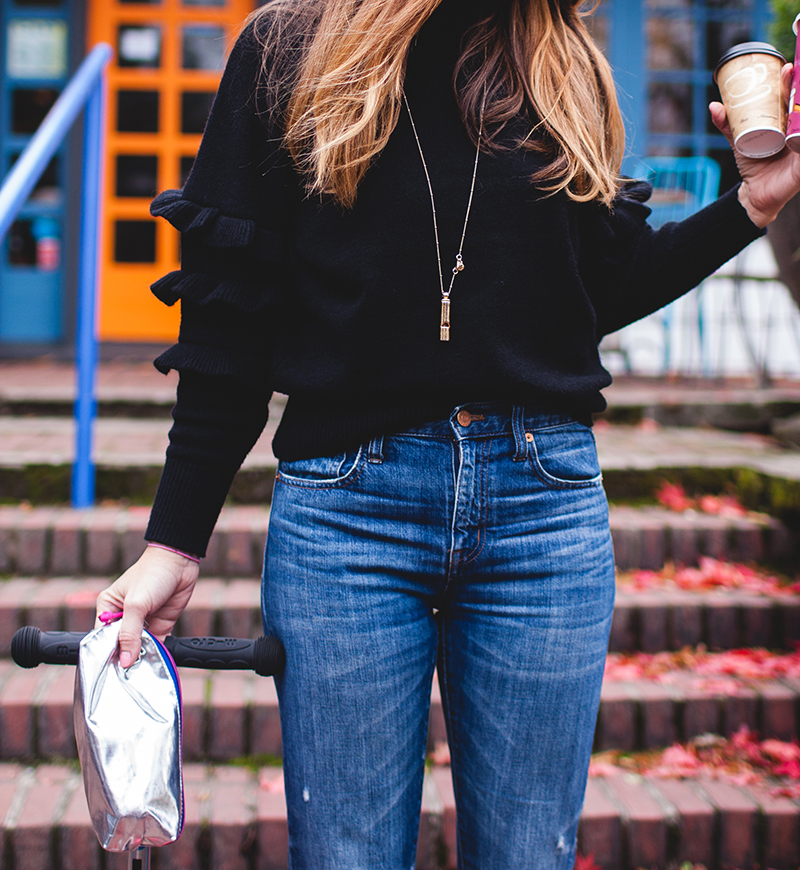 I've also traded in my tees for sweaters (and sweatshirts of course)! And thanks to a Happy Birthday coupon code to Anthropologie, I have a new one with ruffles. There are so many cute ones out there to choose from but I'm loving the detail and placement on the sleeve.
Can we also talk about how cute Poppy's little ruffle dress is!? I'll link all outfit details below!
Poppy had fallen asleep on the car ride and woke up on the wrong side of the car seat, if you know what I mean? Come to think of it, she's always kind of a bear when she wakes up! Could it be a blood sugar thing? Or just a personality thing? Snacks always help but I think that's just a general rule of being human.
Aside from snacks, we haven't left the house lately without a travel bag of shopkins for Poppy. They're easy to sort, line up in a row or pretend play with.
Poppy perked up on the walk back to the car, so we decided to stop by a friend's house just a few blocks away for some playtime. Not a bad way to spend the morning!
What's your favorite way to spend a morning?
xo, Rae
MY OUTFIT | sweater from anthropology x straight leg cropped jeans from madewell (similar or same jean in a slightly diff wash and on major sale!) x metallic mules from nordstrom (similar)
+ POPPY'S | coat from gap (similar) x ruffle dress from rockets of awesome x tights from target x puma shoes (in black at nordstrom rack for $25)
(images by Johan)
SaveSave