If you've been around here for awhile, then you might remember my love and appreciation for essential oils, how I got hooked (read more here!) and the sets of roller blends I sold for awhile. For way too long I spent way too much time researching and shopping around for what I thought might be the best oils only to feel very uncertain and super limited. So last spring, after hearing from so many reliable sources and experienced friends, I purchased a Starter Kit with Young Loving and have been geeking out about it ever since. I never had the intention of doing the business side of oils (weird since I sold them a couple years ago, lol) but over the last few weeks of quarantine life I've been feeling so thankful for all the resources and tools that I started feeling a little guilty over not sharing more with you guys… I'm literally bursting over here with good DIY's and oil blends, ha!
As someone that benefited and continues to benefit greatly from growing up in a wholistic home (I owe my mom so much!), I want to make sure you know that while I would love for you to sign up for Young Living and join our team (YOU TOTALLY SHOULD!) I mostly just want to share any info that might help you and your fam-bam, however that looks.
So let's get to it…Here's 10 reasons why I love using oils:
IT MAKES TEACHING MY KIDS WELLNESS + SELF-CARE SO MUCH EASIER: As I mentioned above I was lucky to have been raised by a mama that believed in a wholistic approach to our wellness. She taught us how to pay attention to our bodies and then be proactive about how to make ourselves feel better. While I'm definitely not at her level, I've done my best to give my kids a similar upbringing… Having oils makes this feat so! much! easier! A roller for their ear ache, Lavender for sleep, oils for a bug bite, etc., and it has definitely caught on! Several weeks ago, Griffin started feeling a little scratch and cough in his throat before bedtime and immediately asked where the eucalyptus oil was for his diffuser (we use this one in the kids' room often). He knows from experience this helps make him feel better so he sleeps instead of being up all night with a cough which works out well for all of us (AMEN, mamas!?)!
I CAN SET THE MOOD + MAKE MY HOME SMELL YUUUUM-MMMEEEY: Finding the second part extra wonderful since getting our new puppy, and it's so nice not having to worry about open flames or chemical scents to make my home smell nice. But what I love even more is having the ability to influence the mood in our home. Whether we need to focus on school, put a pep in our step, or wind down (there's a reason spas use oils!), etc. there's an oil or blend we can drop in the diffuser!
DIY'S: Just in the last few weeks I've been able to make my all-purpose cleaner, stain sticks, window cleaner, laundry spray, detox bath salts, hair detangler, puppy spray (to clean up accidents), wellness, allergy, and happy rollers, and a produce wash. All things I would normally be buying at the store! I also have a full line up of skin care recipes I'll share later today and if you are all about the recipes + DIY's you should sign up for our monthly subscription of oily goodies HERE!
PROVIDING SUPPORT FOR OUR EMOTIONAL + PHYSICAL WELL-BEING IS SO EMPOWERING: Knowing I have options other than Ibuprofen when someone in my family isn't feeling 100%. Or that I don't have to settle for whatever I can find at Target! I could go on about this but will save it for another post :)
TAKES THE GUESS WORK OUT OF MAKING OUR HOME TOXIN FREE: Feels like a top priority more than ever while we're all home 24/7, right!?! Even though it doesn't happen overnight, it makes me feel better knowing I'm making small changes that add up. The full line up of oils and products that Young Living offers makes the process so much easier and more fun.
SAVES TIME + MONEY HONEY: This goes hand in hand with so many of things above, and you might be rolling your eyes at me right now considering the cost of a starter kit, however the investment pays off big time!
YOU CAN DO IT AS A BIZ: If the last few weeks have taught me anything it's that employment and finances aren't guaranteed. Feeling more inspired than ever to diversify our families income and increase our ability to contribute to savings and investments while having some fun money and helping other's provide for their families too!!!!
IT'S EASY TO SHARE + GIFT: especially with the cute labels we make at OILYAY! No but really, it's the best feeling being able to share either as a gift or to fill a need! I will never forget a friend bringing us a roller for bee stings after the kids had gotten into a hive… it was the sweetest thing ever!!!
IT COMES RIGHT TO YOUR DOOR STEP: The convenience is undeniable and we look forward to our our monthly orders like nothing else!
THE GENEROUS COMMUNITY WILLING TO SHARE SO MANY RESOURCES + IDEAS: It's easy to feel overwhelmed anytime you try something new, but it's such an amazing community full of people invested in other people making oils work for them in their home or as a business. Having people that care about your success makes all the difference and takes all the guesswork out of what to do!
Some oils around our house!
Keeping the diffuser(s) going for all the vibes and moods and support for our emotions and bodies!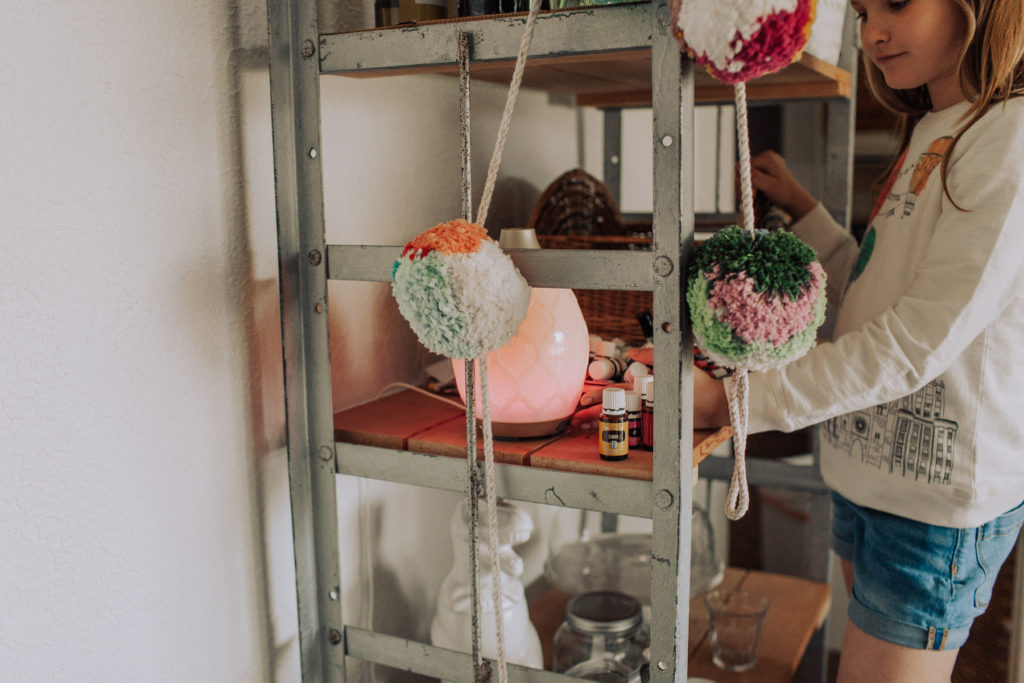 Rolly, rolly, rolly! From allergy and headache relief, to emotional and immune support (so important rn especially!), we have a whole stash of rollers for the whole fam-alama! Made some happy rollers with the kids as a morning activity before starting homeschool.
Cleaners that I make at home and are toxin free and safe for my favorite humans, animals and even plants!? Sign me up!
Effective beauty products (sans the toxins) that I use daily is one of the many ways I save money using oils! And if you look at the ingredients on many of the leading (and spendy) beauty products, chances are you'll see lots of oils on the list!
WANT TO JOIN ME?
You can snag your starter kit HERE! I'll send anyone who joins this week the little trio of skincare products pictured above (1. face mist and toner to freshen skin + reduce breakouts 2. under eye roller to reduce circles + puffiness 3. a face serum that makes you glow + reduces redness + wrinkles – among other things). You will love them!
Will also be working on a full DIY for all three + a round up of links for all the rollers, spray bottles, carrier oils, etc. that I use!
Let me know if you have any questions in the comments… feel free to DM or email too!
xo, Rae