OK mamas, I don't want to give you one more thing to think about over mother's day weekend, but I also know how important it is for all of us to capture moments in time with our families… Our moments in time. Regardless of whether you're a planned or spontaneous picture taker, I've put together a list of 10 tips we use to capture all the sweet moments as well as the tiny details of life. Hope they give you a boost of inspiration for clicking the shutter any day, but especially Mother's Day weekend!
10 TIPS FOR DOCUMENTING MOTHER'S DAY
1. Keep your camera (or phone) close!
2. Think ahead just a little and consider lighting! Of course we want things to be natural and authentic, buuuut, there's no reason not to open up the curtains in your room when you know the kids are on their way up with a breakkie tray.
3. Tell the whole story – the big picture and little details – Snap pics of your plate of food, cute notes, flowers, gifts, hand holding, your shoes, etc. :) This pic isn't the best example, but I love her tootsies!
4. Remember WHY you're taking pics – often times we want something to share right away or just want to check it off our to do list for the day, but taking photos is really about preserving memories for the future and capturing those precious relationships, everyday moments and time in general.
Maybe it's just me, although I doubt it, but I love looking back at my mom's outfits and accessories. Especially her glasses! So tryout your best pose and take a fit pic!
5. Focus on the relationships and let go of the pressure to get the perfect pic. Love this fuzzy pic of Poppy being silly and pretending she's asleep! You can also see one of my frayed fabric swatch she set out to use as a napkin and the double spoons in the cereal bowl we shared — Priceless!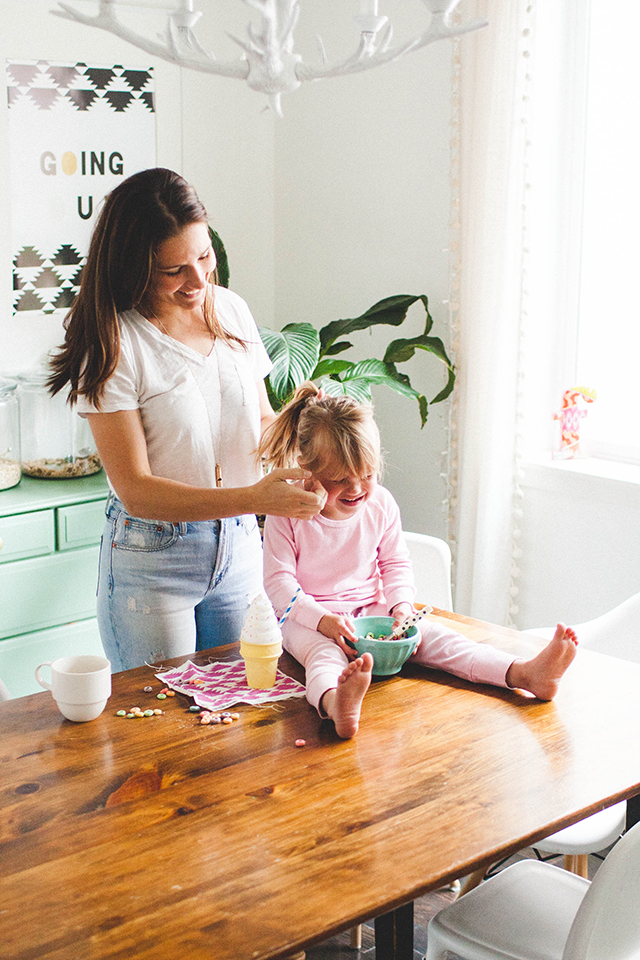 6. Take pics of the process and routine as well as the special parts. One of my favorite pictures is of my mom braiding my hair in the bathroom when I was 6 or 7. I'm on a stool looking into the bathroom mirror with my mom behind me in a hawaiian print off the shoulder dress that I'm pretty sure she made. At the time it probably seemed like an odd moment to snap a pic but I'm so glad my dad did!
7. Don't forget about videos – capture "small" moments, conversations and interactions. Like their little voices reading their mother's day cards to you. Ask them questions or better yet, have the kids interview you!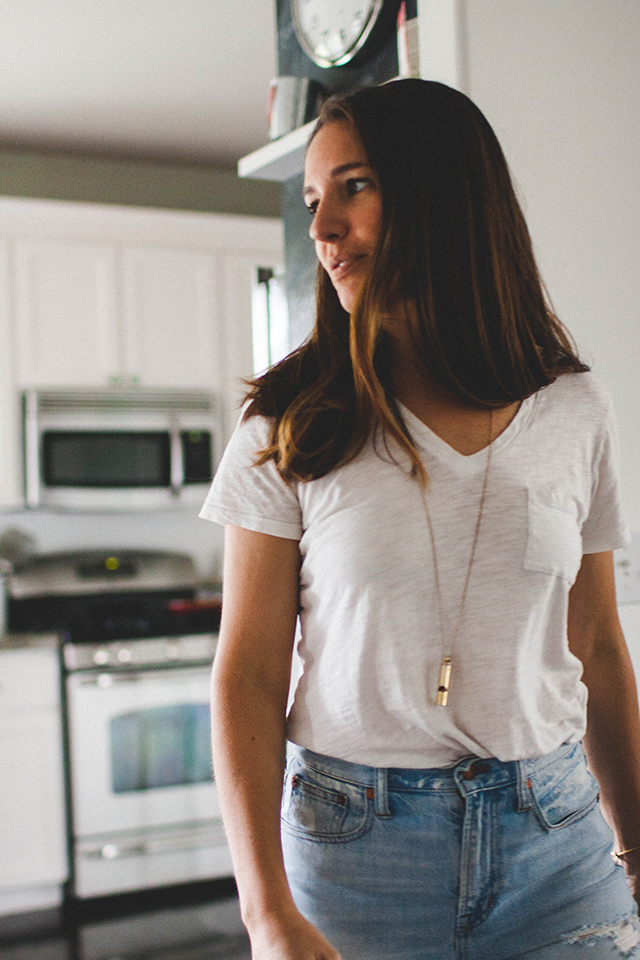 8. Need a group shot? Use your self timer or ask an extended family member or stranger. Want a variety of pics or just a little break from clicking the camera? Pass it off – even to the kids!!! Poppy took this pic of me and as random as it is, it's also an angle and perspective that only she would take.
(Poppy had just finished pointing out my neck wrinkles which prob have something to do with the 10 lbs. I added to my bod over the winter. Or maybe it's age? Most likely it's both tho, huh? Lols.)
9. Practice positive self talk – you don't need to be a certain size, have all your makeup on or even be dressed to be in a photo. Of course, you can plan ahead a little (like number 2 suggests) and be in cute jammies with makeup on by the time the kids bring you breakkie, OR you can stay in bed, in an oversized tee and hipster undies with a morning face like you deserve, LOL. It's really about what you want and what your kids will remember most. Although if the no make up thing really bugs you, just avoid eye contact with the camera… instead, engage, play and love on everyone else in the frame.
10. Selfies! Always a good idea.
Hope these help, inspire, and maybe take the pressure off too. Remember, perfection is never the goal so snap away!
Now tell me… what else would you like to learn about photography?
We're leaving in a couple weeks with my friend and brilliant photographer, Stacy Jacobsen, for a photography workshop weekend and I'd love to share some of the things we learn, so leave me all the questions in the comments!
xo, Rae
SaveSave