The morning struggle is real you guys especially when transitioning from summer into a back to school schedule. In the past, a big part of that struggle in our home had to do with getting dressed. Picking out an outfit is never easy in a cluttered closet (right?) so today I'll be sharing how I simplify my kid's wardrobes as well as a few other tips that will help with the morning rush!
For those of you in the Seattle area, I'll also be chatting on this subject today on KING5 around 4:45pm. Trying to be more excited than I am nervous so tune in and send me all your good vibes! :)
STEP 1: CLEAN OUT THE CLOSET
Slightly obvious, totally necessary and also my least favorite part is going through all the kids clothes. I try to bribe them into trying on their pants and dressier clothes. Everything else is usually easy to tell sizing. Then I make piles and decide what to keep, give and store for a later season. Don't be afraid to part with items that are in really good shape that the kids hate wearing or you don't like.
STEP 2: DIVIDE + CONQUER 
Next I place their ready to wear items within reach, off season items out of the way and giveaway items in the trunk of my car because you know they will find a thing or two they don't want to part with if given the chance! Then I separate the graphic tees from the hoodies and pants, etc. in their closet and drawers. This makes it easier to see what they do and don't need which often saves me money. No more spontaneous Target purchases unless of course they need it or it's too cute to pass up! It's harder to justify buying another graphic tee if I know they already have 10 (or 20) of them hanging in their closet.
Using labels and hanging dividers can help keep things organized. Download the simple template pictured above:
STEP 3: KEEP IT SIMPLE
Now that their closets are organized and I know what they have and need, here comes the hardest part… Not purchasing every cute pint-sized garments I see. Fewer clothes saves time so I try purchasing items that will work well with their existing wardrobe, that I know they will enjoy and wear and that I also like (sorry kids).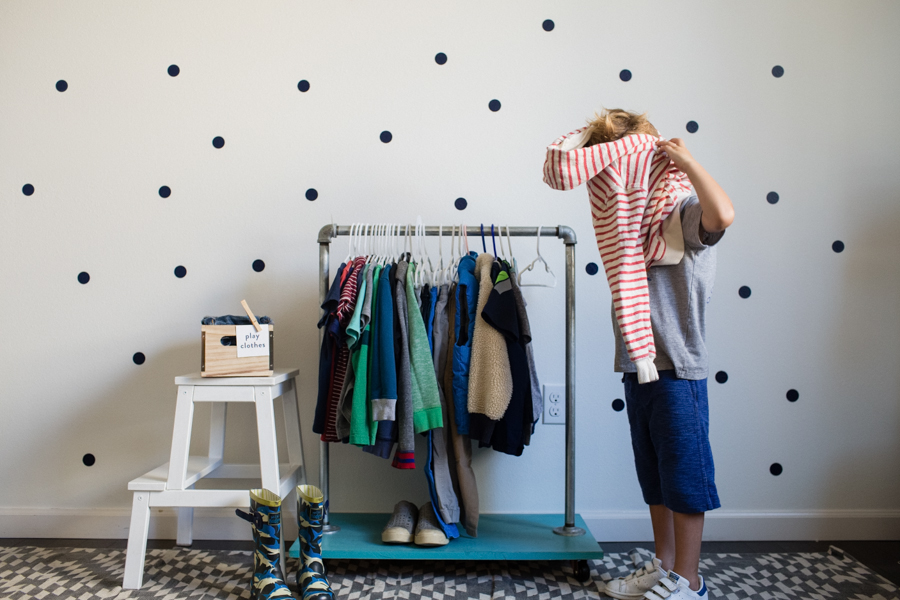 A COUPLE MORE TIPS:
It's always a good idea to set clothes out the night before (we rarely do this but always love it when we do!).
I highly recommend having your kids get dressed before eating breakfast (at least the older ones). Mine tend to get dressed much quicker this way!
It's always a great time to let kids dress themselves but especially now because almost anything goes in fashion at the moment. They can mix stripes with florals, girly with tomboy, and summer with fall until their hearts content!
Have any other tips you can share? How do you transition from summer into a back to school morning routine?
XO, Rae