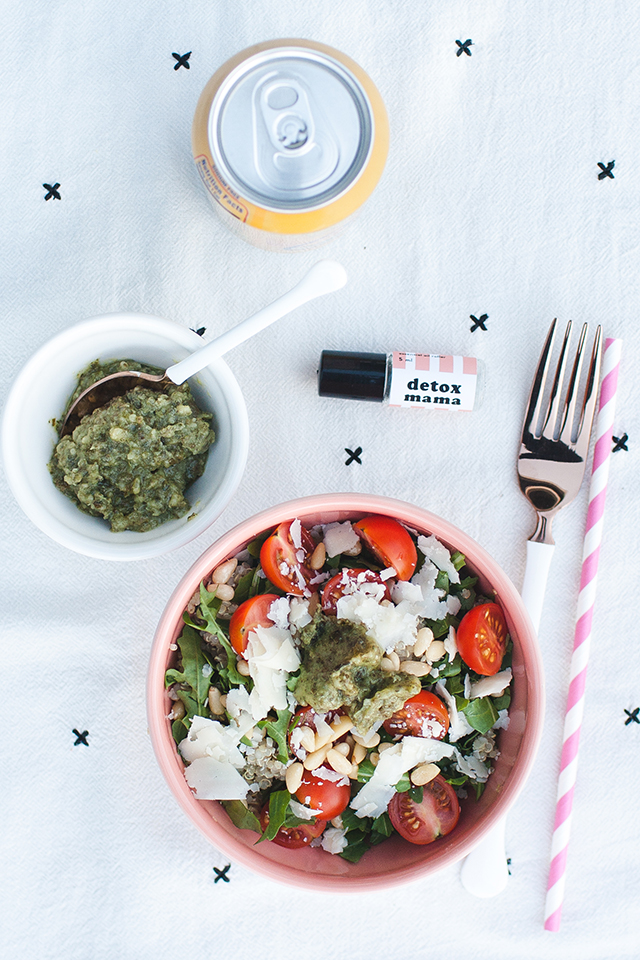 Christmas is only a couple (and a half) weeks away (how can that be!?) and I'm having the hardest time thinking about or doing anything that doesn't involve holiday prep or family time. Unfortunately all other tasks have taken a backseat, including any kind of self-care. Let's just say my abs, nails, hair and eyebrows could use some serious TLC. A little extra sleep would probably be a good thing too.
And even though I helped Poppy inhale a small bag of fish crackers on Thursday while we meandered through Target, I've made sure to feed my body healthy stuff too and this salad makes it super easy! It helps that it's been my go-to side dish for family and friend get-togethers and after so many requests for a recipe, I figured it was time I shared something more official than a verbal list of salad fixings!
YOU'LL NEED:
5 oz baby arugula, chopped
2 cups quinoa, cooked
8 oz grape/cherry tomatoes, halved
1/2 cup pine nuts, shaved almonds, sunflower or pumpkin seeds
4 tablespoons pesto
parmesan to top, optional
bite sized salami or chicken, optional
salt and pepper to taste
HERE'S HOW:
Toss together arugula (or sub with spring mix), quinoa, tomatoes, nut or seed of choice and pesto. Add olive oil to thin pesto if you like so it coats more like a dressing. Top with parm and choice of meat (optional) and serve!
I make it at least a few times a week, mostly for myself and Johan if he's home, and will even add a fried egg over the top and enjoy for breakfast!
Another thing I've been good about (which is a pretty short list!) is using my detox mama roller! The combination of grapefruit and cypress boosts your immune system and energy while decreasing toxins, inflammation, anxiety and appetite and smells delish! It's currently in Johan's car at the fire station but I love it so much I'm contemplating going to get it ASAP.
With that in mind, TODAY is the last chance to shop the holiday pop-up! Everything will ship on Tuesday and should take 2-3 days to arrive.
Thanks for all the love and feedback on wednesday's video… If you missed it, go take a peek HERE.
Happy weekend you guys!
xo, Rae
SaveSave
SaveSaveSaveSave